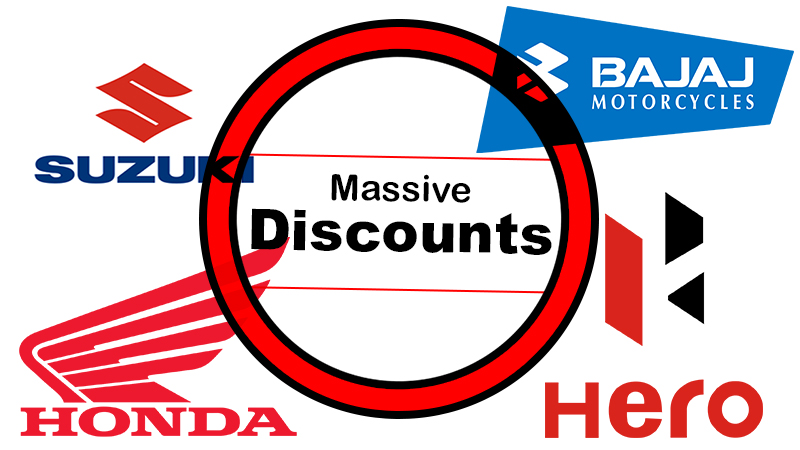 As the BS IV emission norms come into force from tomorrow, Indian motorcycle giants like Hero MotoCorp, HMSI, Bajaj Auto and Suzuki are offering discounts of upto Rs 25,000 to clear BS III stocks. Yesterday, the news spread like wild fire across the country when dealers of the aforementioned motorcycle makers announced huge discounts to sell the remaining BS III stocks before the ban on sale and registration of said vehicles comes into effect from tomorrow (April 1st 2017).
The Society of Automotive Manufacturers or SIAM had appealed for an extension on the sale and registration of BS III vehicles for atleast a year so the manufacturers could clear off all the remaining stocks. However, on 29th March 2017, the appeal was rejected by the Honourable Supreme Court of India. This left the manufacturers disappointed as they still have massive inventories of BS III two-wheelers.
However, the manufacturers and their dealers are putting in their best effort to sell the remaining bikes as soon as possible by offering discounts upto Rs 25,000 on some of the models. We contacted several dealerships in Pune city yesterday and found out that the discounts varied from Rs 5,000 to Rs 25,000. One of the HMSI dealerships quoted that the Navi was available with a massive Rs 25,000 discount. Scooters like the Activa 3G, Activa i, Dio and Activa 125 were being offered with discounts ranging from Rs 5,000 to Rs 10,000.
Hero MotoCorp dealers were also offering discounts up to Rs 15,000 on the Maestro Edge and Rs 5,000 – Rs 10,000 on the commuter motorcycles. Suzuki dealers were also offering discounts on the Gixxer and Let's. Bajaj Auto dealers, who have very little BS III inventory, were also seen offering discounts and free goodies like insurance. Bike makers like Kawasaki and KTM are also offering massive discounts and special finance schemes on their motorcycles as well. However, one key fact that we observed was that the discounts on the same models varied from dealership to dealership.
In the wake of discounted two-wheelers, many dealers in Pune and elsewhere in the country have been able to clear off much of their BS III stocks however, the companies still have some stockpile left them. To clear off this stock, manufacturers like Bajaj Auto and Hero MotoCorp have said that they will be exporting the BS III stocks to markets where they can still legally sell these two-wheelers.
Yesterday, the new channels and the internet was abuzz with the news of unheard discounts being offered by bike makers however, today seems to be the last day and if you wish to get a bike or scooter at a bargain price then do contact your nearest dealership soon to known whether they have anything left in stock.