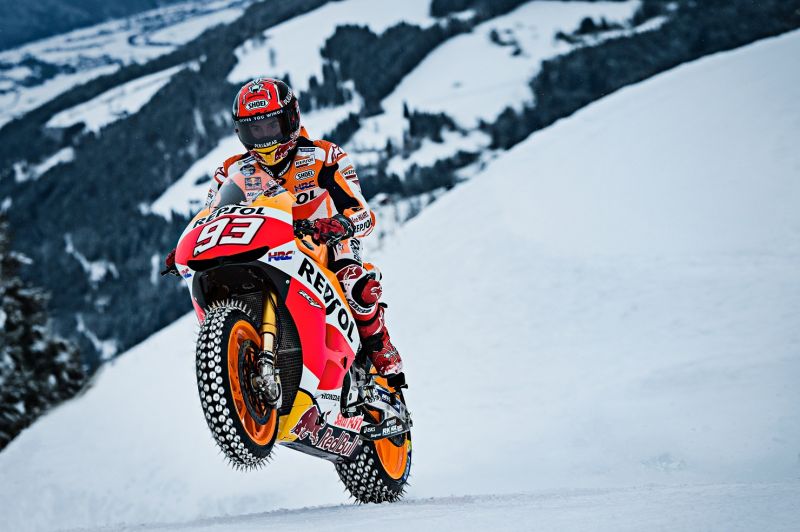 Triple MotoGP World Champion Marc Márquez becomes the first man to ride a MotoGP bike on a snowy Alpine mountain summit.
While the weekend held a lot of excitement for skiers and their fans, Marc Márquez made sure that his fans were not short on the entertainment factor. The Hahnenkamm race is scheduled to happen on Saturday and we will get to see the likes of Max Franz and Peter Fill battle it out for the coveted Hahnenkamm ski race winner's trophy.
A hundred metres above the toughest section of the track, Marc Márquez tore the ice to shreds with his RC213V shod with spiked tyres. Incidentally, it was on this same stretch that Max Verstappen logged a similar event last year. Márquez signed up for this feat fully prepared. He had help from the legends like Austrian ice speedway legend, Franky Zorn and Austrian TV ski pundit, Armin Assinger, who prepared him for the challenges the terrain and weather could possibly throw at him.
Talking about the experience, Marc Márquez said, "It was really difficult to keep the bike under control, but I'm young and it's good fun to try some crazy things! We enjoyed it, and we could see after a few runs everything that was possible. The piste was really well prepared. I could really get going and I had a great feeling out there. The grip was unbelievable, even for a wheelie!"