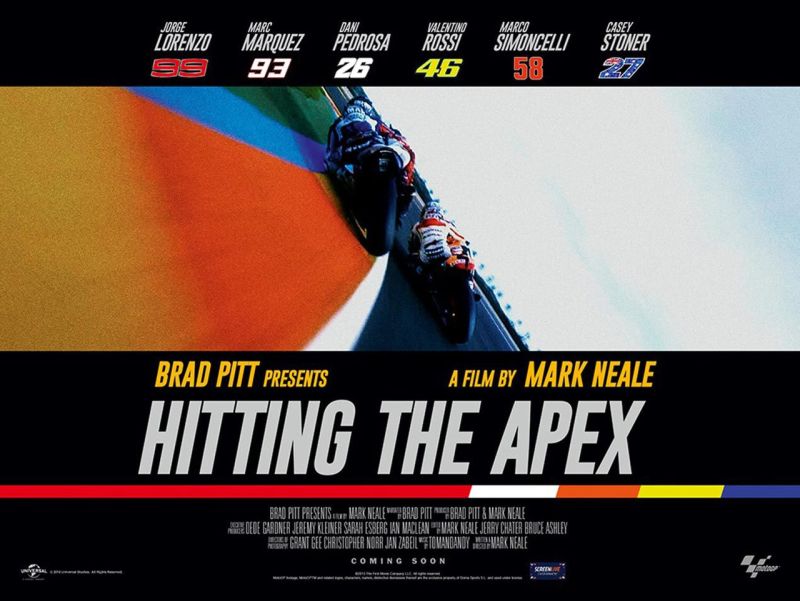 Director Mark Neale and celebrated Hollywood superstar Brad Pitt have teamed up and are working on the latest in an illustrious line of MotoGP themed films – 'Hitting the Apex'.
If you are a true blue MotoGP fan, you will probably have a folder put away somewhere titled MotoGP movies, and in this folder you will have Faster, The Doctor, the Texas Tornado and the Kentucky Kid, and the sequel Fastest. And we all owe this to Mark Neale, director of this new venture that will not only be produced by Pitt, but who also lends his voice as the narrator for this flick.
The movie will revolve around the lives and careers of the top six riders in the premier class, namely – Valentino Rossi, Jorge Lorenzo, Dani Pedrosa, Casey Stoner, Marc Marquez and the late Marco Simoncelli. While one may enjoy the close calls and the paint-swapping action from the sidelines, it is a different story from inside the helmet. And that will be the focus of the film. The movie also takes a closer look at the superlatives of the sport and the dangers resulting from this.
Brad Pitt will be taking over from Ewan McGregor as the voice for this film. Hitting the Apex will debut at the Silverstone MotoGP and will hit theaters in UK on September 2nd. If the movie will be released here in India is still unclear, but if it does, we are sure it will find a spirited audience among the Bike India community.