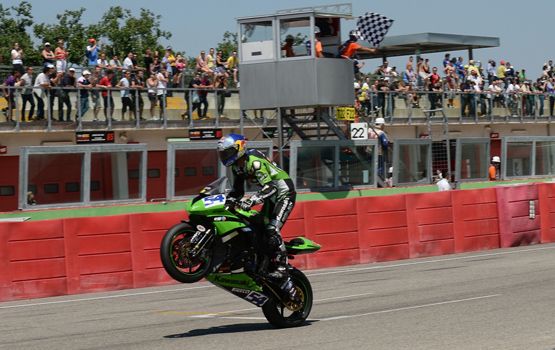 It was a good day in Imola for Mahi Racing Team India with their rider Kenan Sofuoglu finishing on top in the seventh leg of the 2013 World Supersport Championship, pipping leader Sam Lowes from previous race by three seconds.
The 2012 world champion, Sofuoglu began the race in second after the qualifying on Saturday, and overtook Lowes on the very first turn going on to maintain the lead throughout the race, which had its share of drama with an oil spill on the track. Until the oil incident, Sofuoglu had asserted his supremacy on the race, setting the fastest lap of 1'51.960 on the third lap to open up a considerable gap between himself and Lowes.
With 14 laps to go, the race was red flagged when Valentin Debise, the Prorace Honda rider, had an engine blow and spilled oil onto the track. Though not an immediate stop, two more incidents of riders slipping due to the oil spill forced the stewards to bring out the red flags and end the race.
Sofuoglu's victory also meant the end of a four race winning sequence for Lowes. The team's second rider, Fabien Foret, finished 12th in the race.
With Mahi Racing Team getting back to a winning spree, Sofuoglu is now second in the overall standings with 106 points, 35 points behind Sam Lowes. His team mate Foret is in third position with 85 points.
Arun Pandey, Chairman of Mahi Racing Team India congratulated Sofuoglu for securing top honours and said the performance on Sunday was proof that they were indeed the strongest contenders in this year's Championship. He stated, "With half way mark, the performance of the riders are very satisfying right now and we are confident we will be only bettering ourselves hereon".