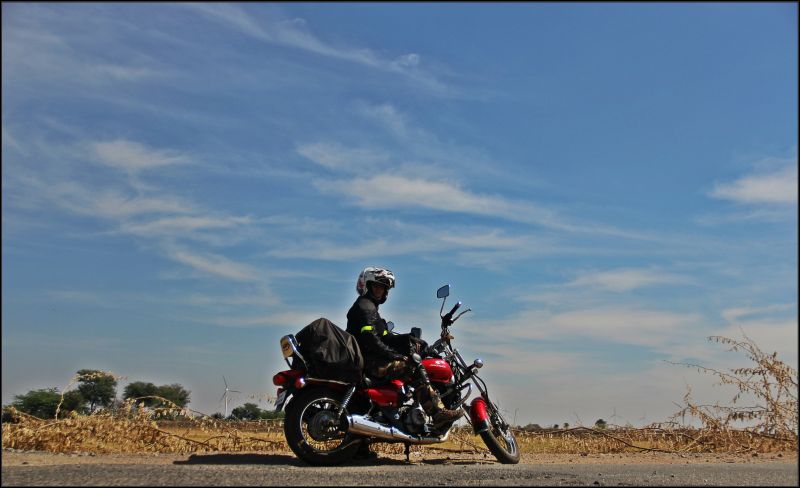 Esha Gupta from Bangalore explores the nation solo on a motorcycle
An inspiration to us all to go out and explore the world, Esha Gupta ditched her job in 2012 and decided to travel. Two years ago, the then 34-year-old bought a motorcycle, learned to ride, and now has completed a 110-day, 32,142-kilometre solo ride around India. The ride was sponsored by Throttle, an online platform to bring together motorcycle enthusiasts across brands and regional boundaries, with the intention to shake the prominent misconception that India is not safe for lone woman travellers. Esha passed through Pune on the 6th of April, 21,388 kilometres and 11 states into her ride, and was able to devote some time to a chat with us, before heading towards Rajasthan and Uttar Pradesh via Gujarat.  Here is what we spoke about.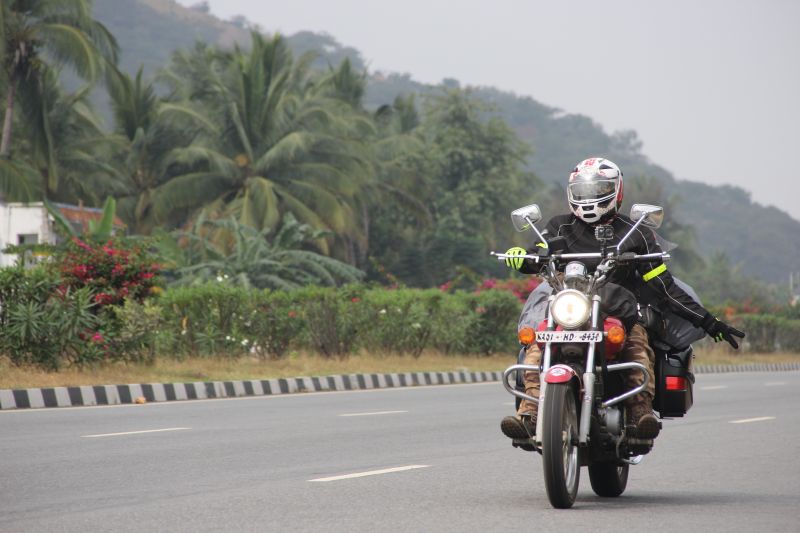 Bike India (BI): How did this passion for travelling come about?
Esha Gupta: It was my childhood dream to travel across my country. I quit my job as a senior manager at an MNC four years ago to take a 'break' and travel a bit, and that break never ended!
In 2013 I spent a month backpacking solo through Maharashtra, followed by a month and a half backpacking through the Himalayas, from Himachal Pradesh to Ladakh and up to Jammu & Kashmir. Being a solo backpacker I was always using public transport and never booked accommodation in advance; usually I would find a place for the night by the time dusk fell. I greatly enjoyed living like a gypsy, and I felt secure; I used to interact with locals in all these places, stop at dhabas and talk with random people, and not once have I felt the negativity that people talk about when they hear of a woman travelling alone. Most people have been extremely respectful, and through my travels I want to show our countrymen that India is a safe country; even for a woman travelling alone. Somewhere I started enjoying this vagabond lifestyle, and didn't want to get back to the daily grind of an office job. I wanted the freedom to be able to travel whenever I wanted to just get out.
BI: So you currently aren't working?
Esha: No! I'm just spending whatever I earned over a decade of working. Luckily I made a few good investments back then but honestly, after four-and-a-half years of not working, I'm heading towards bankruptcy (laughs).
BI: How did you go from backpacking to motorcycling?
Esha: During my time in the mountains I met up with a group of foreigner bikers at Keylong who had come to India specifically to do the Delhi to Leh ride. Till then I had absolutely no fancy towards bikes, but after witnessing the beautiful landscapes all around, I realised that a two-wheeler would be the most fun way to explore the country. This was the turning point for me; I got back to Bangalore and asked a couple of my closest friends if I could learn to ride on their bikes, and they flatly refused. Thanks to them I went out and bought my own bike. Being only 5 feet 1 inch tall and wanting the security of being able to get my feet down, I shortlisted a Royal Enfield Thunderbird and the Bajaj Avenger, finally settling on the Avenger as I preferred its refined and smooth motor to the Thunderbird's thump. Being a nature lover, I would rather ride through a forest on a quiet machine than disrupt the serenity with a loud motorcycle. I was also concerned about being able to pick up that heavy a bike in case I ever put it down. Hence my Avenger, Mike.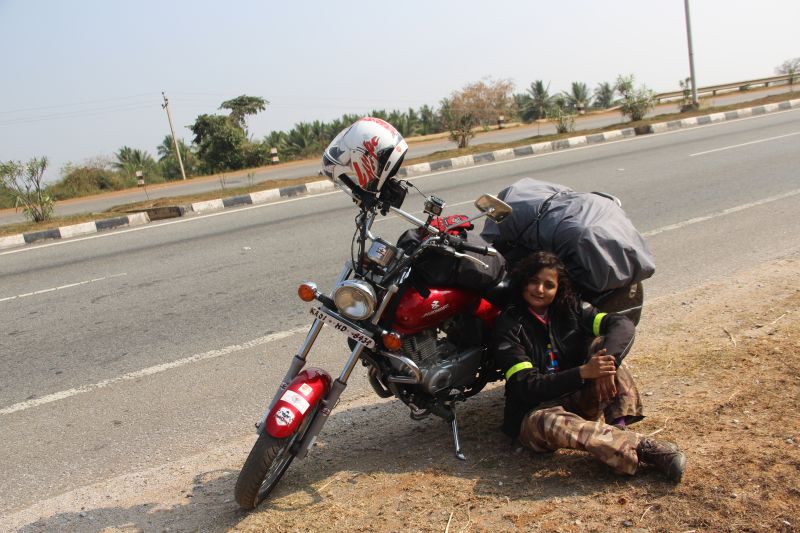 BI: Have you been in that kind of situation on this trip, where you dropped the bike and had no one around to help?
Esha: Yes I have, and am so proud of myself! The bike had all the luggage on it and this happened in a forest in Chhattisgarh, on a rocky path with nobody around for miles. It's great that I was able to do that by myself.
BI: Who is the first person you would look to for help, should you need any?
Esha: I have the continuous support from my friend Ankit (Gandhi), who I met through the Bangalore Bajaj Avengers Club that I joined within 5 months of buying my bike. He read about me when I was planning my 2014 Kanyakumari to Kashmir ride, got in touch and offered his complete support to my endeavour. We have since become good friends and while I am physically on the road, he is virtually on the road with me, keeping track of my location via GPS and working out where I'll stay. Even if I'm in the middle of a forest, he's like my pit crew back home.
BI: How's the ride been so far?
Esha: (In an excited voice) Amazing!!!  It's been really good.
BI: How rigid or flexible is your itinerary?
Esha: Completely flexible. There is a rough plan that I try to follow, but where and when I halt is ultimately up to the bike's condition and my condition. As I approach state borders, we get in touch with local riders to share the route with them and take their feedback on places to stay.
BI: So there is never a compulsion to cover a certain distance in a certain time?
Esha: The daily target I have set for myself is 350 to 400 kilometres. I have covered up to 500 kilometres in a day, but there have also been days when the route has been especially challenging, with roads that haven't been that great, and we have had to cut the day's riding short.
BI: So you don't ride at night?
Esha: I don't much like night riding, especially with the perpetual high beams in our country. I usually like to be off the highways and in a town by the time it's dark, but there have been times that I have been riding till post nine, due to some delay or the other.
BI: Is your accommodation pre-booked?
Esha: Ankit works out those details a day or two before I reach a particular city. There have been times where I don't know where I'll be staying till the last minute, because he's in discussion with somebody about the possibility of hosting me. If that doesn't happen we book a hotel.
BI: What safety precautions do you take when travelling and staying alone at unknown hotels?
Esha: Nothing but my instincts. Travelling alone sharpens your instincts, and having been a manager for 10 years I am good at reading people and understanding their energy. If I get negative vibes from someone I keep my distance, and if I get positive vibes from people I immediately know that I can trust them.  I am confident that I can take care of myself in any situation.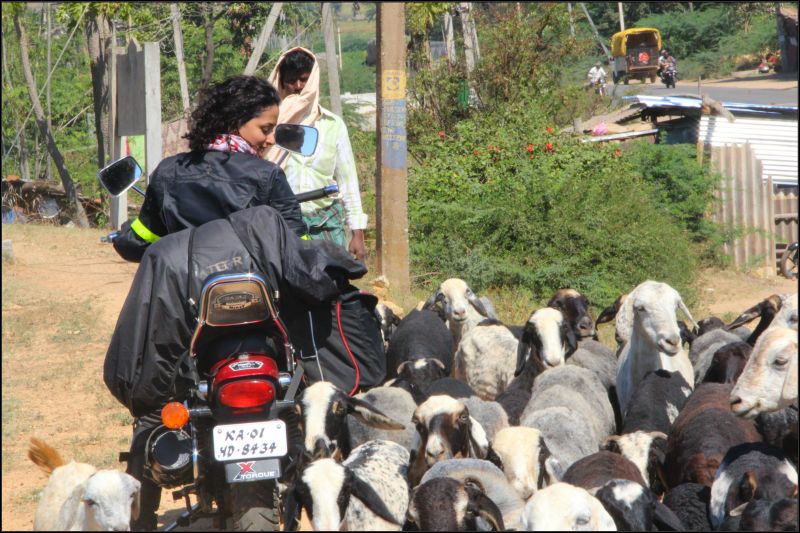 BI: What do your family and loved ones have to say about this ride?
Esha: My parents are no more; my family is my two sisters, and they know I'm a hopeless case (laughs). Having made a decision to undertake something like this, they know I'm capable of handling myself and difficult situations. Being the youngest, they have seen me growing and have confidence in me; however, they do face the expected concerns that a loved one would have, about my health, and whether or not I'm eating right, or if I'll be safe in an unknown place. I know that I have 200 per cent support from them.
BI: You are clearly a very courageous woman, and I'm sure that you are a hero to girls all over. Who are your heroes?
Esha: Very frankly I don't idolise anybody or consider anyone to be my hero, however I have always looked up to my mother, who I lost quite early in life. She was a South Indian Christian who left her family and all she knew to marry a North Indian Hindu and migrate up north. She learned to cook and run a home and brought up three girls while our dad, a government-employed doctor, was away on postings. She was a much-loved woman, and I greatly admire her for her strength and fortitude.
BI: Women have reached great heights in the last few decades; what's your message to the women still trapped within the social norms of family life in India?
Esha: I am on this ride because it's something that I want to do. I'm not doing this for anybody. We have very stereotypical views about what a woman should and shouldn't do, hence most women don't realise their true potential. We are limited by our thoughts, so my message to all women would be live life to the fullest and don't limit yourself; there is nothing you can't do if you set your mind to it. If you want to do it, go ahead, break all stereotypical images, fight the fear and follow your heart.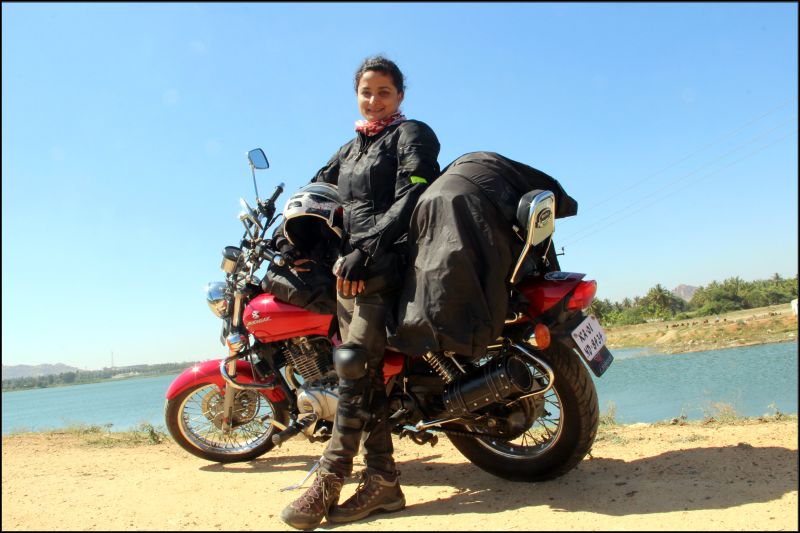 BI: Does your curly hair get in the way in the helmet or bother you on long rides?
Esha: (Laughs Loudly) No it doesn't get in the way, but nowadays my hair is getting straight because of the helmet, and I'm really missing my curls! When I was living a normal life at home I used to spend a lot of time on my hair, but nowadays I go days between shampoos.
BI: After completion of this ride, what next for Esha Gupta?
Esha: Don't know. I haven't thought farther than this ride. I am focussed only on this as of now.