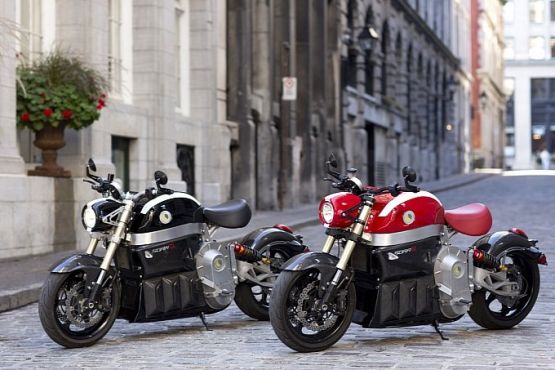 Lito Green Motion have finally put their masterstoke, the Sora, up for sale which has delighted superbike enthusiasts worldwide.
The Sora's liquid-cooled, direct drive motor derives its power from a hand-assembled 12 kWh lithium-polymer battery which has a recharge time of 9 hours with the on-board J1772-compatible charger. The motor churns out 90 Nm of torque, propelling the Sora to a top speed of 190 km/h. The battery has an impressive range of 200 km within the city, just about exceeding half of that on the highway.
The Sora's 1498 mm wheelbase is perfect for a congested, urban environment where the shorter wheelbase is a boon, allowing for easier maneuverability within the city. The bike is also relatively light, weighing in at 260 kgs. The Sora has 27-degree, 43mm inverted forks along with a fully adjustable Elka rear suspension. The wheels are 17-inch, made of a lightweight aluminium with dual 310mm petal rotors in the front and a 250mm rotor at the rear.
The Sora comes packed with several features, both to increase the comfort of the ride as well as to prolong the battery life without causing the performance to suffer. A clever feature to enhance riding pleasure is the electically adjustable seat, which even allows adjustments on the move, bringing a whole new level of riding comfort and ergonomics. Another interesting feature on the Sora is the Battery Management System, a software onboard which ensures the rider has adequate power to reach his or her destination. Prior to the start of the journey, the rider inputs the destination in the onboard GPS via the 5.7-inch LCD touchscreen.The Sora then automatically adjusts power delivery to provide the rider the best ride possible with the amount of charge available in the battery.
The Sora is available with custom colours, but they cost extra. The Sora ships at a cost of $44,385 (approx Rs 26 lakhs). Definitely not cheap, but the good things in life seldom are.
Story: Pranjal Bhatnagar