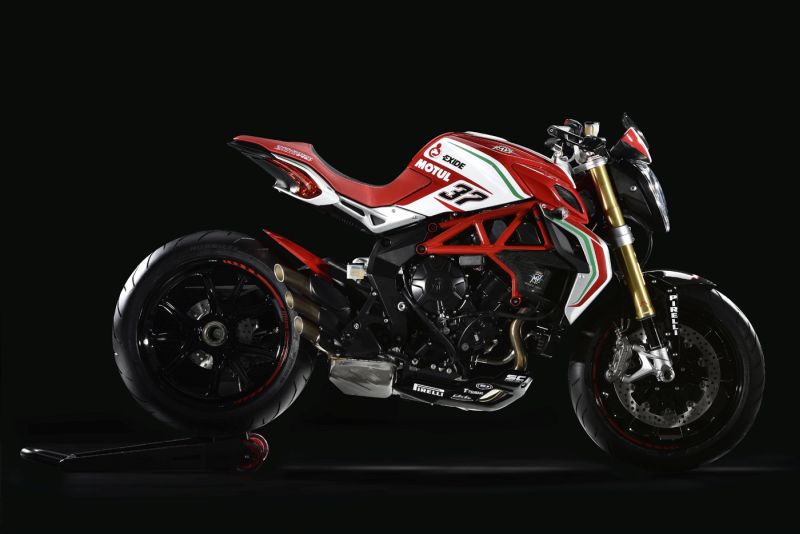 MV Agusta have unveiled a special limited-edition Dragster 800 RC, based on the current Dragster RR.
The new Dragster 800 RC has been enhanced with the RC livery, with racing-enhanced graphics designed by the MV Agusta Reparto Corse (Racing Department) and inspired by the bigger four-cylinder super sport F4 RC, currently competing in the World Superbike championship. MV Agusta claim that at one glance of the new Dragster 800 RC the rider will imagine himself exiting the pit-lane and hurtling towards the first corner.
The new Dragster RC claims to offer a mix of chassis, mechanics and style. Despite the extreme styling on the bike and the choice of fitting a 200-sec rear tyre, the bike should promise a drag racing sensation. From a technical standpoint, the Dragster RC is very similar to the existing Dragster RR and is powered by the same 800-cc three-cylinder motor producing 140 PS at 13,100 rpm.
Despite the similarity to the Dragster RR, the bike features many new components and changes on it. The exhaust valve has been relocated in the exhaust manifold. A harmonic damper which reduces the vibration and noise. The balancer shaft has been redesigned with a 2.25 gear module with 30 percent more engagement to reduce noise. Plus, modified profiles with optimised contact to reduce friction. The Dragster RC also gets a bunch of parts from the F3 range – the new gear shifter, with redesigned gear dogs to make the changes more fluid, as well as new engine covers to increase protection and amplify frequencies.
Story: Sahej Patheja