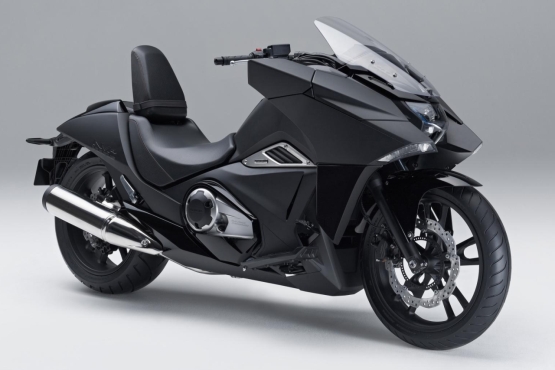 Honda's new stealth fighter on two wheels is like few other creations. So what's it all about?
WHAT IS IT?
Honda's newest addition to automatic motoring inspired by futuristic machines seen in the anime and manga television and film styles, known collectively as 'Japanimation'.
WHY IS IT HERE?
The NM4 Vultus builds on the success of the DN-01 and NC700 series, putting a reasonably large motor in a motoscooter-like mould which looks like a stealth bomber. It represents a machine capable of crossing traditional two-wheeled lines and reaching out to a wider audience.
WHAT DOES IT HAVE?
A 745cc twin-cylinder engine, angled forward for a low centre of gravity and boasts of several low-friction technological advances. A 7-speed dual-clutch automatic transmission sends the power to a fat rear wheel. It also has 'D' and 'S' ride modes for trigger-style manual gear shifts. LED lights round off the future-shock package.
DO WE LIKE IT?
Yes.
DO YOU LIKE IT?
Comment.
Story: Jim Gorde
Images: Honda