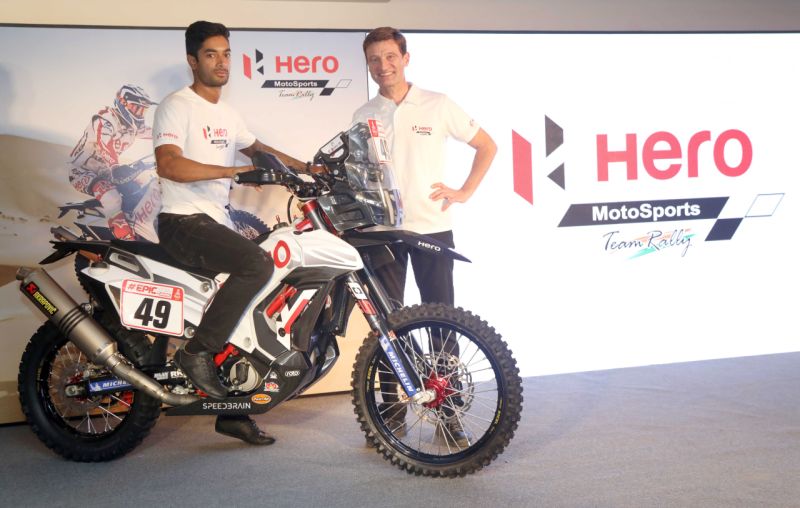 Hero Motosports announce CS Santosh, Joaquim Rodrigues and Oriol Mena as their team riders for the Dakar Rally 2018. The motor sport division of India's leading two-wheeler manufacturer, Hero Motocorp, will be making their second appearance in Dakar in the coming year. After making an impressive debut at Dakar 2017 by finishing 12th, the team is now gearing-up to further improve their performance in the upcoming Dakar 2018.
Dakar 2018 is the 40th edition of the rally which will cross three countries, travelling close to 9,000 km. Starting on January 6, 2018 from Peru, the participants have to brave all odds and ride through Bolivia before crossing the finishing line in Argentina on January 20, 2018.
Markus Braunsperger, Chief Technology Officer, Hero MotoCorp and Head of Hero MotoSports said, "We are excited and prepared for Dakar 2018. The team is stronger, both in terms of men and machine. We are focused on improving our last year's performance at the Dakar next month and believe that we have the right tools to do it. Next year will be important for us, as we aim to win more rallies and grow the sport in India"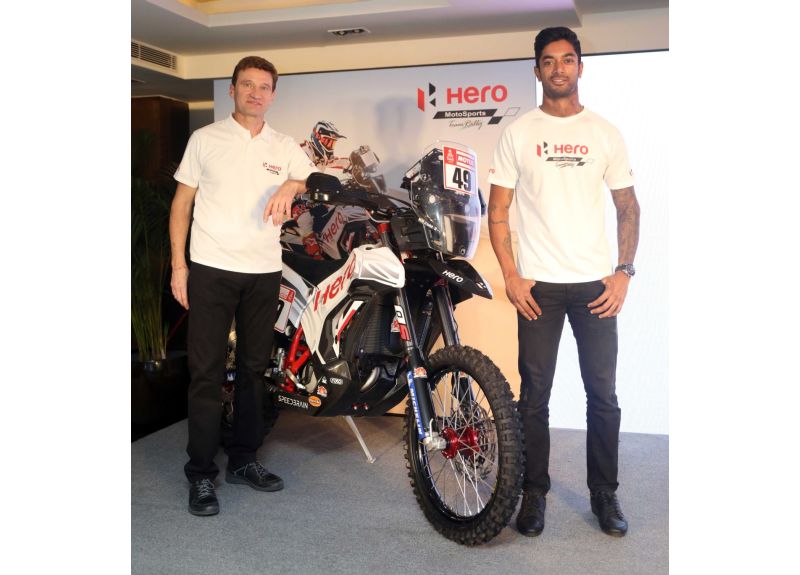 The Hero 450 RR is powered by a 450-cc liquid-cooled single which makes power and torque in the range of similar production-ready models. It is a basic bike without fancy rider aids or ride-by-wire, and all the rider gets are GPS navigation, a compass, road-book etc. mounted on the console. To make it lightweight, the rally bike uses carbon-fibre body parts and a robust chromium-molybdenum steel frame. High-end parts include WP suspension, along with 21-inch front and 18-inch rear wheels. There is also a three-litre water tank under the engine; for the rider in case of an emergency.
The team has upgraded their Dakar 2017 rally bike to make it even more reliable. The 2018 Hero 450 RR proved its capabilities at the OiLibya Rally in Morocco this year and the learnings have been implemented on the 2018 bike. For instance, the fuel tanks are no longer on the rear of the bike and have been moved to the sides to improve mass centralisation. Tweaks like these have improved the 2018 rally bike's ergonomics, making it more comfortable and sure footed on the varying terrains of the rally.
Last year's Dakar team consisted of CS Santosh and Joaquim Rodrigues and in Dakar 2018 the duo will be riding along with Spanish talent, Oriol Mena Valdearcos who will be making his debut in Dakar next year. Wolfgang Fischer, Team Manager, Hero MotoSports Team Rally, said, "The last race for the Team was in October this year. The riders have been under intense training sessions, to improve their mental and physical fitness since their Dakar 2017 performance. They had a good run on the new bike at OiLibya and are now more confident on it. There is excitement in the Team with addition of Oriol and the entire team is now raring to have another go at the Dakar."