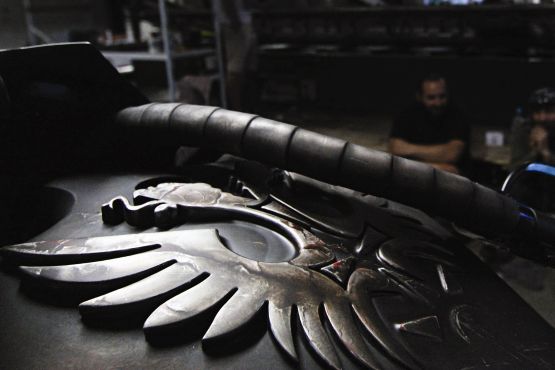 So what makes this custom build stand out? Well, for starters, this bad boy is powered by a monster of a 1,802-cc aluminium V-twin engine. This monstrous RevTech 110" Evo style engine on the 'Behemoth Bike' produces a whopping 115 PS of power and 163 Nm of torque. If you consider these figures on paper, it can even smoke your standard Harley-Davidson motorcycle. Scary stuff, isn't it?
What's even more appealing is the fact that all the basic elements of the motorcycle such as the fuel-tank, frame, suspension, fenders, exhaust and wheels feel as if they have been forged straight from the fires of hell. Believe it or not, these hand-crafted elements of the 'Behemoth Bike' were created by the GOC crew at their Lubaczów workshop.
The motorcycle's unique character is generated not only by its general look, but also all the elements of Behemoth's ornamentation implemented in its construction, such as the front suspension, which is inspired by Nergal's mask, the fuel-tank, proudly embossed with the band's logo: a Phoenix with a shiny Thelema hexagram placed on the engine casing. Did we forget to mention 'Air Ride'? Yes, you heard that right, for the 'Behemoth Bike' sports a rear air-suspension kit from Legend Air Suspension, USA.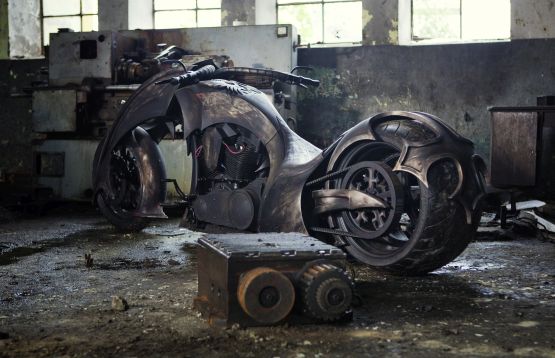 The 'Behemoth Bike' rides on a set of mammoth wheels, 19" front and 18" rear, wrapped in a 120-section front and a truly colossal 360-section rear. The standout dark paint scheme on the motorcycle is the work of custom painter Artur Wiśniowski and reminds you of the medieval period: gallant knights in shining armour astride their steeds, all geared up for war.
The 'Behemoth Bike' premiere took place on 4 June 2013 in Warsaw during the Impact Festival, where Behemoth was one of the leading acts. The iconic music festival stage also hosted giants like Rammstein, Slayer, Korn and Mastodon. On the next day, 5th of June, at the Hard Rock Café in Warsaw, Poland, there was a global press meet with the band members and the GOC crew.
We feel it's only natural to conclude this story with a quote by Adam 'Nergal' Darski himself: "This bike is like an animal, a beast. What you feel about it is fear, adrenaline and respect. This whole project is something that came out from our respective passions and the final effect of is something absolutely unique."
Story: Sayem Parvez Syed
Photography: Game Over Cycle – Poland