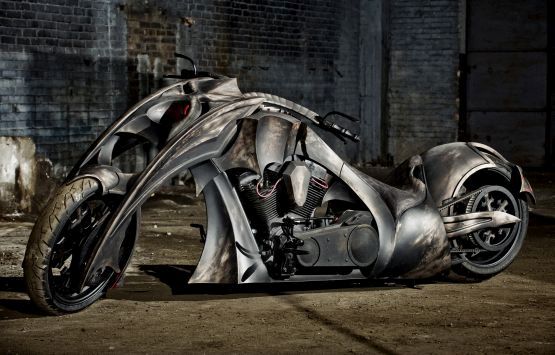 Imagine a motorcycle straight from the depths of hell; a motorcycle so satanic that the devil himself will get the shivers riding it. Bike India takes you on a last ride aboard the 'Behemoth Bike', a sinister creation that is taking the custom motorcycle world by storm.
When it's pitch dark, a star shines the brightest. This was exactly what Polish custom bike builders Game Over Cycles (GOC) thought when they decided to collaborate with Behemoth, the iconic death metal band, to create a motorcycle so dark, it would actually give the devil the shivers. Behold the 'Behemoth Bike', the brainchild of heavy metal music's living legend Adam 'Nergal' Darski of Behemoth and acclaimed custom bike builder Stanislaw Myszkowski of GOC, Poland.
The 'Behemoth Bike' started with a vision: to fuse the two different worlds of motorcycles and heavy metal music. The GOC design team as well as the Behemoth band members were of the same mindset: to create a powerful and brutal one-off custom motorcycle. The 'Behemoth Bike' has already garnered quite a bit of popularity in the custom bike scene by winning two awards, including the popular People's Choice Award, at the prestigious European Bike Week, one of the biggest motorcycle rallies in the world held annually in Austria.