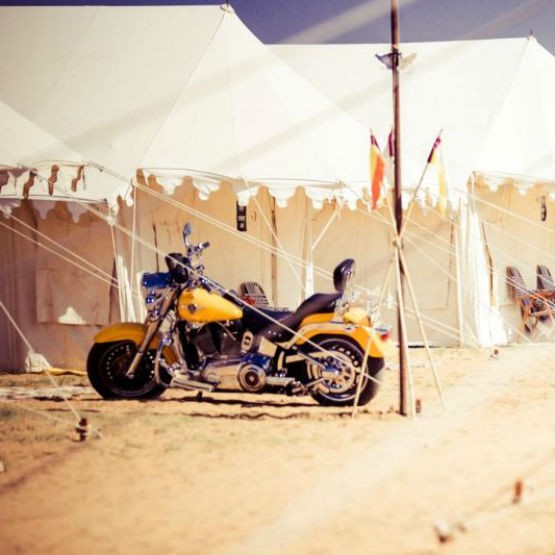 More than 700 Harley-Davidson owners gathered for the 3rd Northern Harley Owner's Group (HOG) Rally in Pushkar recently. Harley owners from across 13 Indian H.O.G. Chapters gathered in Pushkar, making this the largest zonal rally so far.
The riders had the privilege of camping amidst sand dunes and got to participate in a assortment of activities such as hot air balloon, and helicopter rides above the mystical city of Pushkar. This along with a custom motorcycle zone, arm wrestling competitions, workshops on pre-ride motorcycle maintenance,a fusion music night, and, not to forget Harley's signature custom contest where riders showcase their creativity in customizing their motorcycles. After such an enormous turn out, the H.O.G. will ride on, next stop, the 3rd Eastern H.O.G. Rally to Khajurao in December 2014.
The festivities, however, continue. This time in Mumbai with the Harley Rock Riders festival. This year Grammy nominated American alternative rock band Mutemath will be performing along with other popular names like Zero, Scribe, Blackstratblues, Modern Mafia, One Night Stand, The Circus, Such Nice Boys (feat. Kanan Gill & Kenneth Sebastian), The Supersonics, Devoid, Blakc, Ravi Iyer, Pangea, Tough on Tobacco, Undying Inc, Reverrse Polarity, Duncun Rufus and Until We Last. Along with headbanging to great tunes, attendees will also get a chance to view the first ever Harley-Davidson Street 750 which has been customized by Rajputana Customs. So, overall, It should be one wild fun night.
Tickets available at Insider.in.
Dates – November 15th to 16th, 2014
Time – 3pm to 10pm
Venue – Richardson & Cruddas Foundry, Sri JJ Flyover, Mazgaon, Mumbai, Maharashtra, India
Story: Rommel Albuquerque