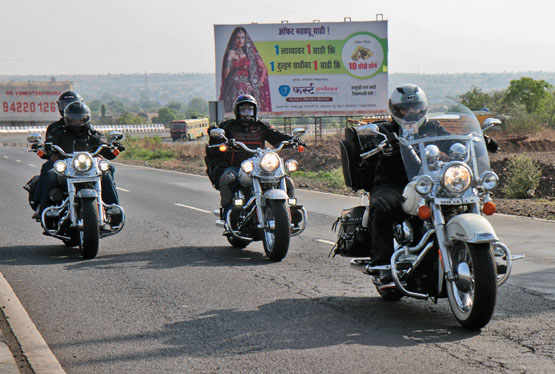 It's amazing how my persona seemed to change with the change in my motorcycle. Even if only for a short while. I was no longer another pea in the pod as I rode past other motorists. Cruising along the tarmac on the Breakout (or any other Harley-Davidson for that matter) sends a surge of power throughout your body and even if you happen to be downcast, that V-twin engine is definitely going to put a smile on your face.
The excitement you get from riding and owning a Harley-Davidson is just the beginning. For this two-wheeler manufacturer, it's all about the brotherhood of bikers. The HOG members go out for a ride almost every weekend and almost always ride in a group. Group riding with your buddies on the weekend can be a lot of fun and the HOG members take this a step further. I saw many riders who had brought their families along for the ride as well. I saw a father and son duo riding together, as also a couple and father and daughter duo. As for kids, they come along in a car. Safety first.
As we started from Pune, with me astride the Breakout and others on Fat Boys, Heritage Classics, Iron 883s and Street 750s, we cut across the city on to the Pune-Aurangabad highway. The distance is about 240 km and from my previous experience of riding in groups I knew that riders tend to take breaks more often than required. To my surprise, however, the HOG riders did not stop until we had finished 100 km and they also maintained a good cruising speed throughout the ride. I was impressed by the speed and stamina the HOG riders had and it felt exhilarating to ride with them.