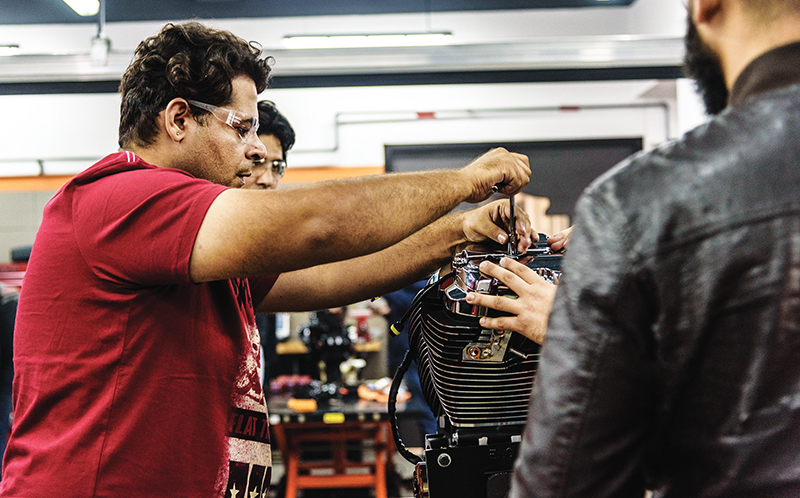 After going through the manual, we started opening the engine up, one major component at a time. One might get tempted to simply take a wrench or a spanner and go about opening every nut and bolt in sight. However, it doesn't work like that. There is a process of opening or dissembling an engine because a large number of components are packed in tightly to ensure proper running of the engine. If we take the bolts out without considering the sequence, chances are that we will damage the engine quite easily. This is where the workshop manual comes in handy. Simply follow the procedure and take the components out exactly in the same order as described.
We started out by removing the oil pump before moving on to major components such as the intake and throttle bodies, all the small sensors near the head, rocker box covers, rocker arms, cylinder-heads, valve actuation system or the pushrods, cylinders, pistons, oil-pump assembly, and camshaft, before moving on to the pine table to take the crank apart. The entire process was quite a learning as we had to maintain a mental log of how we dissembled the engine so that we may put it back together the next day in the same order.
The reason I keep mentioning the pine table is because pine is not just any wood, it belongs to the soft-wood category. When I asked John why H-D use pine for the table and nothing else, he said that since it is a soft wood it doesn't damage the components that are placed on it. He also mentioned that if we use hard-wood such as teak or something similar, then chances of the engine parts getting damaged while working on them are higher.
The process of taking the engine apart was a simple one as the Milwaukee Eight engine doesn't use a lot of moving parts and many of the components are quite large in size, which means that taking them out in one go completes a big task. We also had our work cut out for the next day as we labelled everything and set it down on the work bench in exactly the same order we would put it back together the next day. It was quite a learning on day one and I was eagerly looking forward to the next day.