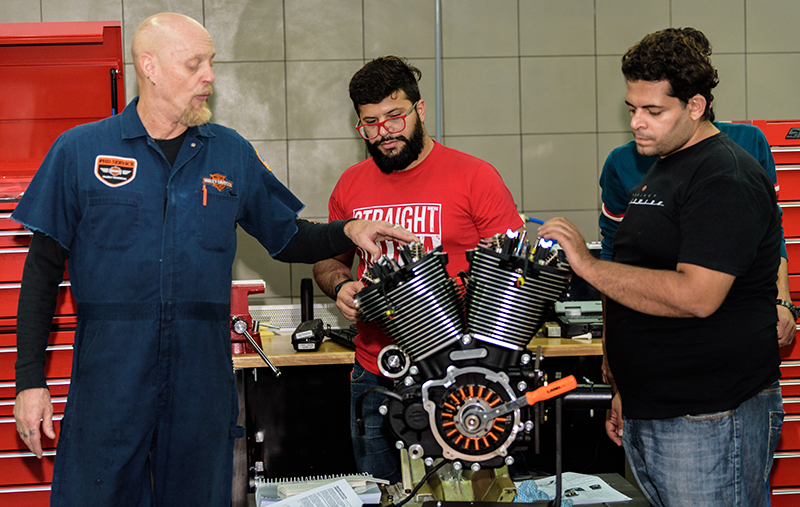 As we returned to the H-D University the next day, John did not let us waste any time and we went straight to the shop floor for the engine assembly. The first thing we zeroed in on was the crank. After we put the crank back together, it was time to put the counter balancer, camshaft assembly, and the oil pump back together. This completed the assembly of the crank. From there it was a matter of just a few hours as we threw together the pistons, cylinders, heads, push-rods, rocker arms, rocker boxes and so on. Everything was put back together in an orderly manner, following the manual and taking care of the BDC and TDC while working on the cylinder-heads and rocker arms. This was a crucial step, for missing any of these steps would have resulted in a damaged piston or valves. The manual was a great help as it guided us to tighten each bolt and screw in order, applying the right amount of torque. It is very important to use the right sequence and torque while working on an engine as it can result in the engine not running smoothly or even getting damaged.
The tools were another great help; they made life so much easier. It takes you no time to put back or take apart components with the right tools. That was something I discovered when I realised that we were the first team to complete the whole process. There was no trace of the components or tools on our bench and the engine was back in the same position as it was before we began taking it apart.
There was a sense of achievement when I finally put that engine back together and walked up to John announcing that we were done. He came and inspected the engine and a simple "good job" came as an affirmation. Those words also put a smile on my face. Over those two days I had learned that it's not just knowing how to work a wrench or spanner that matters, but also understanding the intricate details of how every component in a motorcycle engine comes together to form the powerhouse that propels the bike forward. This was also the time when I learned a great deal about the formerly mysterious Harley-Davidson V-twin motor.
My respect for the engineers who developed this engine and all the associated technical members of the H-D family has doubled after knowing what goes into the smooth operation of a Milwaukee Eight 107 V-twin motor. I hope someday to work on H-D's other engines as well.