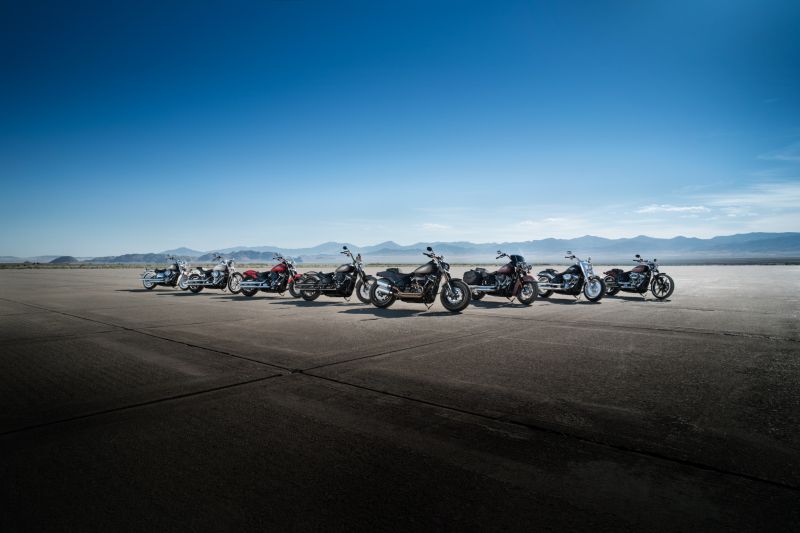 In their largest product-development project ever, Harley-Davidson have launched five new touring motorcycles and eight Softail big-twin cruisers to commemorate their 115th anniversary. Sources say that each cruiser was reimagined from scratch and features the Milwaukee-Eight engine, an all-new frame, and the latest in two-wheeler technology.
The company is merging two iconic lines, ending the illustrious Dyna line of motorcycles. The new models are a blend of the Dyna line and the Softail range; an initiative to attract new riders without losing the current clientele. The stiffer and lighter frames seem ideal to rein in the massive power produced by the Milwaukee-Eight 107 and 114 engines. The new Softail models for 2018 are the Fat Boy, the Heritage Classic, the Low Rider, the Softail Slim, the Deluxe, the Breakout, the Fat Bob and the Street Bob.
These models will feature 'Daymaker Signature' LED Headlamps, an integrated USB charging port, improved electrical system charging, new instrumentation, and new fuel tanks.
The Touring model line-up comprises redesigned versions of the Street Glide Special and the Road Glide Special, in addition to three new top-end Custom Vehicle Operations (CVO) models powered by the most powerful engine ever offered by Harley-Davidson.
Harley-Davidson have partnered with celebrities and motorcycle enthusiasts to promote their bikes. To find out who the celebrities are, look up #FreedomMachine and you might get to see unboxing videos of the motorcycles.
We still haven't received confirmation on when these models are set to arrive in India. Stay tuned for more updates.
Story: Joshua Varghese