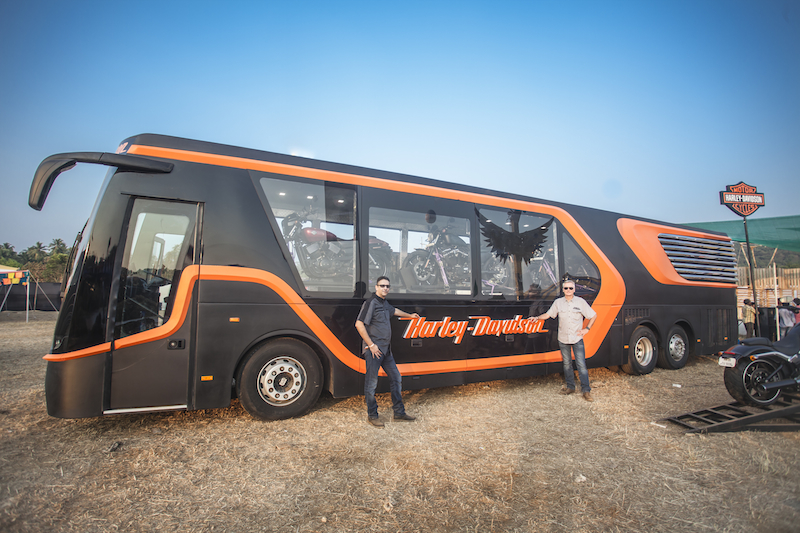 On the occasion of India Bike Week, Harley-Davidson have launched their first mobile dealership, christened Legend on Tour
The bus, designed by Dilip Chhabria of DC Design, will feature bikes from the company's 2016 line-up, as well as genuine spares, accessories and merchandise. The dealership will commence a tour of the country starting February end, with the mission to expand Harley-Davidson's reach in the subcontinent.
Commenting at the unveiling, Vikram Pawah, Managing Director, Harley-Davidson India said, "At Harley-Davidson we are always looking for new ways to bring new riders to the brand and the sport of leisure motorcycling. We have an expansive portfolio of 13 motorcycles and ensuring the right motorcycle is available at the right place at the right time is crucial to a great customer experience. Legend on Tour is a strategic step undertaken by us to expand the reach of our brand and we are delighted to have DC Design, design it for us."
Dilip Chhabria had this to say, "Designing the Legend on Tour for Harley-Davidson India has been an absolute pleasure. We wanted to create something that is at par with the Harley-Davidson dealership in terms of its look and feel. The brand's rich heritage has been a source of inspiration for us while designing the mobile dealership"
We can catch sight of the Legend on Tour as it makes its way to Mumbai, followed by Pune, Goa, Bangalore and Coimbatore in March.