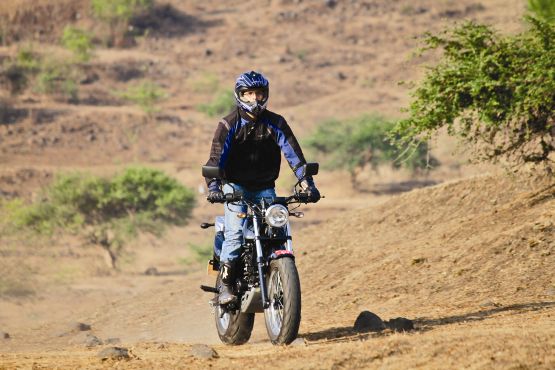 The big question which then arises is how good the RT125D is to ride. Well, for starters, let me tell you that the 125-cc, air-cooled, four-valve, single-cylinder, carburetted mill on the RT produces roughly 10 PS of peak power and 11 Nm of torque. Swing a leg over the bike and you will feel the instant lack of power as the four-valve DOHC engine tries hard to drag those massive (130/80–18 front and 180/80–14 rear) Shinko tyres. The RT weighs in at 135 kg thanks to those rubber soles and the bike is definitely not the most agile in traffic and on the highways. Both the front and rear ends of the RT feel heavy, and the bike feels quite slow to ride as compared to other off-road machines owing to its small-capacity engine. Lower gearing is used to compensate for the drag created by the big tyres and it affects the RT125D in the acceleration and top speed department. Also, due to its lower gearing one has to constantly keep the revs up. Doing so causes vibrations to creep in and the constant rattles are uncomfortable, especially during long rides. Despite the added weight, those huge tyres do keep the rider grounded and provide decent grip even in the tightest of corners.
In reality, the dirt is were the RT125D rightfully belongs. It takes to off-road like a fish takes to water. It is a completely different bike when it is kicking up some dust; this dirt-mangler brings out your wild side when you tackle those bumpy dust trails and steep jumps. The telescopic front shocks and the rear monoshock absorb a majority of the impact with ease when you take on the beaten path. The meaty on- and off-road tyres on the RT deliver decent grip and provide good traction and breaking, especially while riding uphill and while making your way down steep slopes during those dirt biking sessions. The RT125D might not be the perfect tool for the serious off-roader due to its lack of power, but, we certainly do think that it is a good buy for those who are looking for some economical off-road thrills.
For those serious off-road fanatics out there, however, this isn't the end of the road, as Hyosung have indicated that they are indeed working on offering the larger 250-cc engine from the GD250N (test report in this very issue) and give the RT a much-needed power boost. We expect Hyosung to make the RT250D a production reality soon, and I am all game for it.
Story: Sayem Parvez Syed
Photography: Rommel Albuquerque