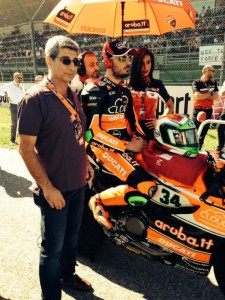 You have probably read this before, and, maybe, even started looking out for race tickets before the Indian round of the World Superbike Championship got dumped two years ago, but, racing enthusiasts in the country rejoice! We have exclusive news that the championship will finally make its Indian debut in 2017.
Bike India was at the Imola round of WSBK last weekend where we learnt from the right sources that Dorna, the rights holder of WSBK, and the Indian promotor (possibly the Jaypee group) are in the final stage of negotiations to host a round of the championship on the Buddh International Circuit from the 2017 season.
The Indian round of the championship was abruptly dropped from the 2013 calender due to "operational challenges" caused by lengthy customs procedures in India. The new project, however, has brighter chances of working out since the Indian government has recently recognised racing as a sport, which should make it easier to get the necessary clearances.
The World Superbike Championship is a world-class motorcycle racing series only second to MotoGP. Unlike the high-tech prototypes raced in MotoGP, the bikes raced in WSBK are based on street-legal motorcycles you and I can buy and that gives the championship a direct connect with the superbike market.