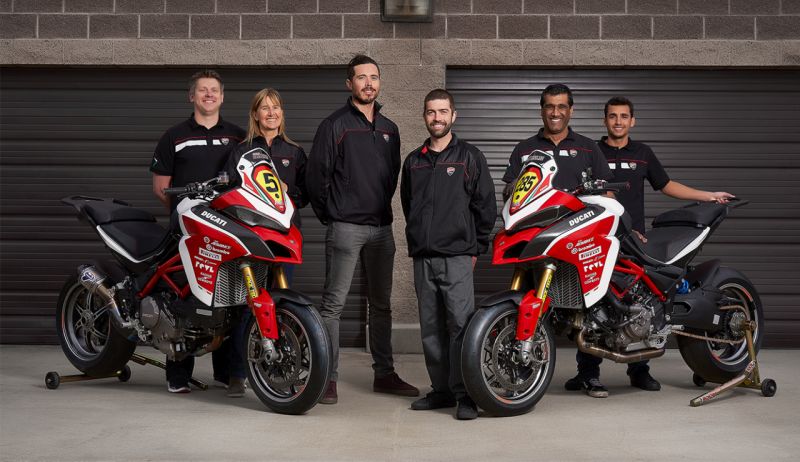 Ducati's new Multistrada 1260 Pikes Peak is about to make its race début at this year's Pikes Peak International Hill Climb.
The Italian company have made their intention of breaking the record again imperative. Carlin Dunne, who holds the Ducati team record, and Codie Vahsholtz, the current middleweight record holder, make up the 2018 Spider Grips Ducati Pikes Peak team.
Pikes Peak:
In 1990, a short film made rounds amongst numerous film festivals over the world, picking up a number of awards as well. The entire film was shot about a man driving a car up a mountain road until he reached the top. This might not be the most exciting film to imagine. However, when the car was a highly tuned monster, with Finnish legend, Ari Vatanen, at the wheel and the road being the famous Pikes Peak in Colorado, motorheads don't need any more words to describe the beauty of the short film called 'Climb Dance'. What that film did was bring the Pikes Peak International Hill Climb into our radars and lives, where it remains always.
Pikes Peak is a hill climb that measures 19.99 km in distance with a 156 turns and climbs from 4,720 feet at the start upto 14,110 feet at the finish. Hence the nickname 'Race to the Clouds'. The race takes place on a Sunday and continues to be considered one of the most challenging road races in the world.
The Riders:
The Ducati team's Carlin Dunne was the first man to break the under 10-minute barrier on a motorcycle in 2012 on the Ducati Multistrada 1200S and held the record for the heavyweight category until 2017. Ducati did not partake in official race competition in 2017, where their record was marginally broken by Chris Fillmore on a KTM 1290 Super Duke R the same year.
Carlin Dunne returns to the team after taking 2017 to lead the Pikes Peak Squadra Alpina which, in partnership with Ducati and the Pikes Peak International Hill Climb, helped new riders with safety, proper preparation and knowledge of the course. He is joined by a new team rider, Codie Vahsholtz, a native of Colorado with a number of victories under his belt. Vahsholtz is also the current middleweight record holder, one which he set last year on a 2016 Husqvarna Supermoto.
The Motorcycle:
The Ducati Multistrada 1260 Pikes Peak has a larger displacement 1,262-cc Testastretta DVT engine which creates 18 per cent more mid-range torque. A re-designed chassis and a slew of electronic aids such as cornering ABS, Ducati Traction Control and Wheelie control are also part of the package.
The Multistrada 1260 comes in three variants: the standard 1260 Multistrada, the 1260 Multistrada S and the 1260 Multistrada Pikes Peak.
Story: Zal Cursetji