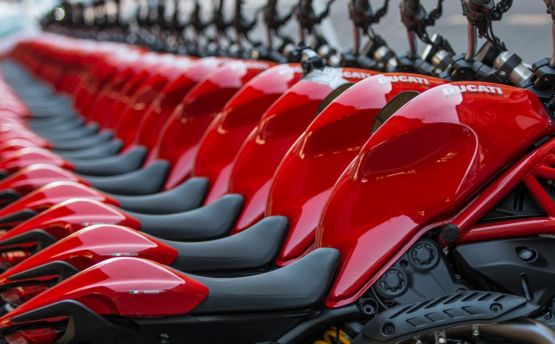 Italian premium superbike makers Ducati are pretty much a household name here in India, as much as anywhere else in the world.
Popularity however doesn't always translate to success. The manufacturers from Bologna though aren't reading from that particular script, because they have recently announced a record breaking year in sales volume. In fact, this has been the latest in what has been a five year streak of sales increases for Ducati.
With a total of 41,500 bikes handed over to customers, Ducati have taken their sales up by 2% over the previous year. The new Monster 1200 and 821 have seen a lot of traction with the consumer base, because 16,409 of the 41,500 bikes sold last year were part of the Monster catalogue. The Panigale 899 too has left an indentation on Ducati sales with an individual total of 5,806 units sold.
What's really interesting though is that this increase comes off the back of a year where Ducati's European operations have taken a bit of hit. In home country Italy for example, Ducati sales dropped by 14% (4,284 units). And while this was slightly mitigated by a 16% (2,742 units) sales growth in the UK, overall, Ducati's European operations lost out on about 3% (19,743 units) sales in totality. There was no upward movement in the United States market either, despite the fact that with 8,804 bikes sold, more Ducatis were sold there than anywhere else in the world.
The record sales increase then, has come off the back off less established markets like Mexico, South America and Asia. Brazil saw a 74% expansion with a 1000+ bike sale tally, and Mexico saw 8% more sales with 8,804 units delivered. With the help of Thailand (22%, 3,057 units), China (97%, figures withheld), Australia 13% (2,132 units) and Japan (1%, 2,558 units), Asia saw a record 11% growth overall, and formed the core of the total 2014 sales growth for Ducati.
This brings us to India. With Ducati set to launch in our country in the first half of this year, we can see a pattern emerging. The success of the Asian market will have definitely provided impetus to Ducati's Indian foray, not to mention the massive potential that this bike crazy nation has, to provide the Italian marque's sales volume another boost this next year.
Story: Harket Suchde