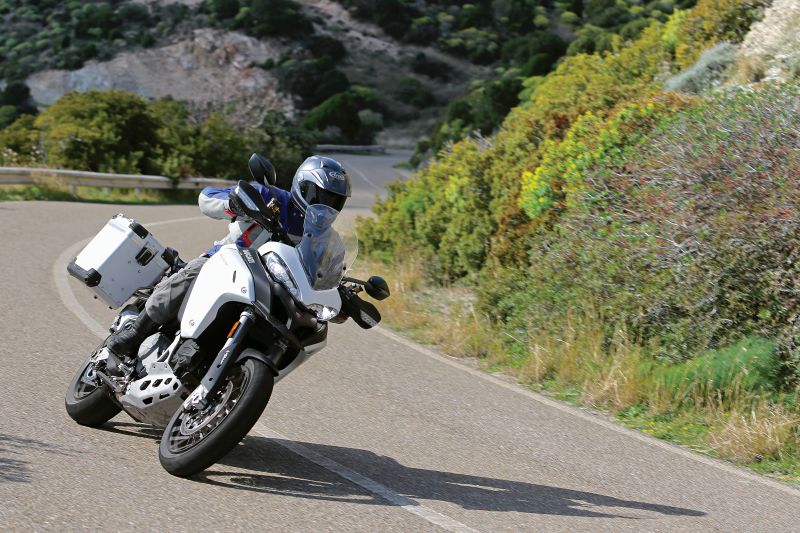 It was soon clear that the Enduro is almost as superb a road-going all-rounder as the other Multistradas, and, in fact, has some distinct advantages. Of course, that big V-twin lump felt as wonderfully grunty as ever, if anything even more lively and responsive due to the lower gearing, and was so long-legged that I can't see the bike seeming stressed on a long trip despite a marginally revvier cruising pace. The Enduro seemed to sound even rortier than normal; perhaps, because noise is reflected up by the tank and side-panels.
Straight-line performance was as immense as ever, especially in Sport mode which gave a notably sharper response than Touring, with a sweet throttle action and an impressively strong delivery from 5,000 RPM or below. We didn't have much call for the softer Urban mode, or the standard-fitment cruise control, but the Ducati's back-lit buttons were easy to use, and the colourful 5.0-inch TFT screen was as informative as it was attractive.
One obvious Enduro asset is that big fuel-tank, which increases capacity by 50 per cent and extends realistic range to 400 km or more, even at my easily beaten average of just less than 7.0 litres/100 km. It also gives some useful leg protection. And I was impressed by the screen, which is easily adjusted on the move in familiar Multi style, and on its highest setting gave a turbulence-free ride although I'm very tall.
I was less impressed by the fact that the hand-grips don't give full wind protection, that heated grips don't come as standard, and that the redesigned two-part seat is not adjustable for height like the other Multis'. Nevertheless, it seemed comfortable, and, at 870 mm, is only moderately tall for a big adventure bike. (There are 20 mm higher or lower options.) Despite its shallower geometry and longer wheelbase the Enduro was respectably manoeuvrable at low speed.
And its chassis performance was excellent on the open road too. As you'd expect with all that travel the ride was plush, whether the Ducati was floating over village speed-humps in Urban mode or flattening smaller bumps on its firmest setting in Sport. Most of the 140-km afternoon route was on twisty roads, where the wide bars' leverage helped the bike steer precisely and easily despite its more relaxed geometry (rake is 25 rather than 24 degrees; trail just one mm longer at 110 mm, due to an offset front axle) and longer wheelbase.
No doubt, the other Multi models with their shorter suspension travel and 17-inch front wheels would have felt slightly sharper, but the Enduro gave away very little while providing a very stable ride. The only times I really noticed a drawback was occasionally when using an extra touch of front brake on entering a tightening turn, when the forks dipped noticeably unless I was very gentle with the lever.
Then again, the Enduro's Brembo Monobloc front callipers are plumbed with Bosch's brilliant cornering ABS system, so in theory I could have grabbed a big handful without worrying. In normal use the stoppers were predictably powerful. The Enduro also follows its Super Adventure and Tiger Explorer rivals with a useful "hill-hold" feature that locks either brake with a firm press of lever or pedal when the bike is stationary.
That's just one more on a list of standard features that also includes cornering headlights, keyless ignition, Bluetooth integration, an under-seat USB port and a centre-stand. Mind you, the Enduro doesn't come cheap, especially as most will doubtless be enhanced with accessories such as the Touring Pack of hot grips, handlebar bag and those broad but beefy Touratech panniers.
The classy Multistrada Enduro isn't a bike for everyone; and for some serious adventure riders its chain drive will remain a major flaw. But the Enduro's all-terrain ability and toughness add a new dimension to the Multistrada, finally justifying Ducati's old advertising line about the Multi being four bikes in one. It's an exciting, characterful, hugely capable machine that is arguably as complete an all-rounder as any of its rivals in the class.