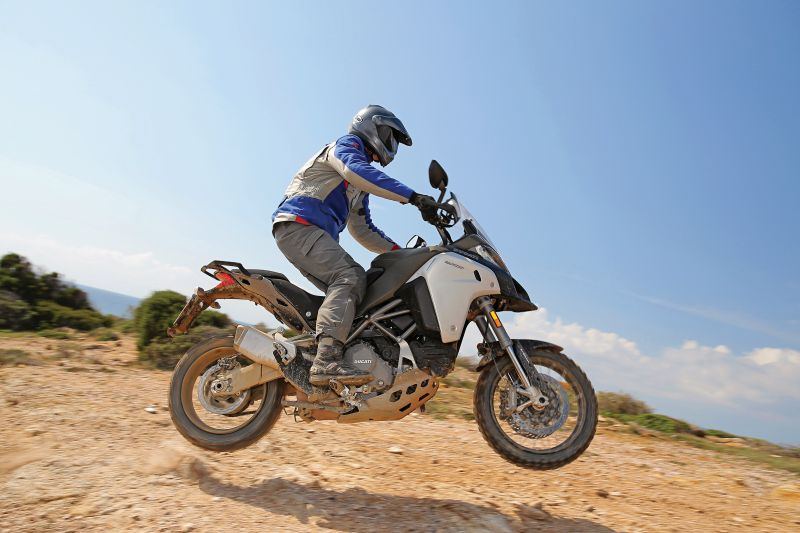 'The Ducati Multistrada 1200 Enduro is a very different type of Multistrada, one that is intended to be ridden off-road as well as on tarmac.' We put it through its paces in Sardinia with results that can only be called highly satisfying.
Story: Roland Brown
Photography: Milagro
You don't have to speak Italian to know that "Multistrada" means "many roads", or that the 1,200-cc V-twin of that name has been a hit over the last six years, having brought a new level of versatility to the familiar Bolognese format of style, speed and sweet handling. However, despite their talk of "four bikes in one", even Ducati never really pretended that the original Multi, with its 17-inch front wheel and distinct lack of crash protection, was designed for unmade roads, let alone for places where there wasn't a strada at all.
The 1200 Enduro, on the other hand, is a very different type of Multistrada, one that is intended to be ridden off-road as well as on tarmac. A few of its core components, including the tubular steel frame and the 1,198-cc, DOHC eight-valve V-twin engine, are shared with existing Multistradas. Almost everything else — from the longer-travel suspension and stiffer, twin-sided swingarm to the big fuel-tank, new ergonomics and considerably beefed-up protection — is purpose-built.
On the launch in Sardinia it doesn't take the Enduro long to show the value of that. After barely 10 kilometres on a winding coast road we all stop, select Enduro riding mode — and then turn sharp left, stand up on the pegs and gun the Ducati up a steep, bumpy path of gravel and sand, with plenty of hairpin bends.
This is a proper off-road test, and the 1200 Enduro passes it with flying colours. It thunders out of the turns, kicking up dirt with its rear Pirelli but with the traction control moderating the big V-twin lump's torque. It glides over bumps, ruts and occasional rocks, its 200 millimetres of well-controlled semi-active suspension soaking everything up and its wire-spoked 19-inch front wheel and chunky aluminium bash-plate making light of the tricky terrain.
The Enduro's off-road competence (especially with knobbly Scorpion Rally tyres fitted) is hardly a surprise, given how seriously Ducati had approached the project. The firm must have been tempted to toughen up last year's revamped Multi with a few bolt-on accessories but instead they went far further.
That tank, for example, is a complex, 30-litre plastic creation that is flanked on each side by protective aluminium plates. The bash-plate is longer than other Multis', made from thicker aluminium, and bolted to the frame rather than the engine. The handlebars are 50 mm higher for easier use when standing, on heavy-duty foot-rests that come with crash-resistant and easily adjustable brake and gear levers, plus quickly removable rubber inserts.
This all helped as soon as we rode off the road and on to that steep dirt path, where, despite being tall, I could reach the bars easily enough, and the slim seat combined with the well-positioned foot controls to make riding while standing up easier than on most adventure bikes. The Ducati felt pretty big and heavy — with a kerb weight of 254 kg it's only a few kilos lighter than BMW's R 1200 GS Adventure — but it was very controllable, helped by the engine's easily used low-rev power delivery.
The big desmo lump is basically unchanged from the Testastretta unit introduced last year, although first gear is shorter, overall gearing is lowered by three extra teeth on the rear sprocket, the air intakes are higher (for increased "wading depth") and the silencer is raised to improve clearance. That means the Enduro benefits from the Desmo Variable Timing technology that gives very smooth low-rev delivery, allowing the Multi to chug forward sweetly from below 2,000 revolutions per minute, which in first is now only 16 km/h.
As with the other Multi models there are four riding modes, all giving different engine maps and also dedicated settings for suspension, traction control, wheelie control and ABS. Enduro mode (like Urban) has a soft throttle response and a maximum of 100 PS rather than the full 160 PS of Touring and the sharper Sport. As usual (but unlike most manufacturers' systems), you can fine-tune just about every parameter with a few presses of the button on the left 'bar.
It's a brilliantly versatile (that word again) system that helped make the Ducati remarkably rider-friendly on dirt for such a big and powerful bike. Throttle response was superbly crisp, and the resultant acceleration immense, with the chunky rear Scorpion finding improbable levels of grip and the electronics allowing a modest amount of sideways action in complete control.
Perhaps, the only slight disappointment was that the 75-km off-road section was mostly tight first- and second-gear stuff, rather than the more open dirt roads that would have allowed the Ducati to confirm its off-road stability and suitability at higher speeds. But in a way, the fact that such a big, heavy adventure bike worked so well on those trails was even more impressive.
The more expert off-road riders were exploiting the Enduro mode's lack of rear-wheel ABS to skid the rear end into turns, then power-sliding out, having turned off the traction control and fine-tuned the power output to give Touring's full 160 horses. Being less of an expert, I sharpened the throttle response with the Touring map but mostly kept the TC on, and generally stuck to steering rather than skidding into turns.
I was also glad to retain the front-wheel ABS, which worked remarkably well even on downhill sections, given the very loose surface. And I was seriously impressed by the semi-active Skyhook suspension, especially after I'd pressed a few buttons to firm up the Sachs units slightly from the Enduro mode's standard settings. With 200 mm of very well-controlled travel (30 mm more than the other Multis) it coped well with everything from ruts to occasional boulders.
One rider crashed at a gentle pace and was back up with minimal damage to a bike that looks a lot more robust than other Multistradas. Perhaps, its only flaw in that respect is the hand-guards, which give useful protection but hold the easily broken indicators. And, inevitably, it shares with other adventure bikes the drawback that tyre technology, for all its advances, hasn't yet come up with rubber that works remotely as well both on and off road.
The press-launch magic that even Ducati (or Pirelli) can't replicate in the real world is the way that we emerged from the lunch stop on to Multistradas that were fitted not only with accessory Touratech aluminium panniers, but also with the Scorpion Trail II tyres that the bike wears as standard. These were infinitely better suited to the afternoon's road route, but would have been the Enduro's Achilles heel on the dirt.