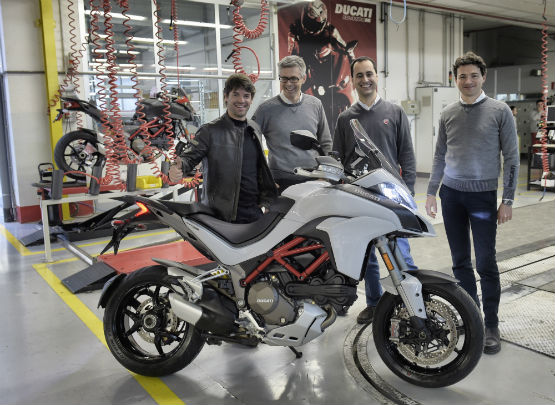 Carlos Checa heads to Borgo Panigale to pick up his 2015 Multistrada, the very first bike off the production line.
The 2015 Ducati Multistrada was unveiled at the World Ducati Week in November last year and promised a number of new features. That's including revised electronics, Inertial Measurement Unit(IMU) and the industry-first Testastretta DVT engine. The four-in-one bike (sports, enduro, urban commuter and tourer) not only impressed the crowds but had Carlos Checa, the 2011 World Superbike champion ready with his cheque book! And as a true blue…er red Ducatista, he flew down to pick up the first bike off the production lines in Borgo Panigale. Carlos Checa who won the 2011 WSBK Championship astride the 1098R also owns the 2010 Multistrada which used the very same engine from the 1098R.
The new bike incorporates several new changes over the 2013 model and will be available in three version- Standard, S and the D-Air. The bikes will be available with four accessory packages. The aforementioned electronics package includes the Ducati Traction Control (DTC), a dynamic tri-axial Inertial Measurement Unit (IMU) developed by Bosch, Ducati Wheelie Control (DWC), Ducati Cornering Light (DCL) and cornering ABS that works in tandem with the IMU to allow riders to brake hard into corners without losing traction. The IMU also provides data for the Ducati Skyhook Suspension (DSS).
The Testastretta DVT engine is capable of varying camshaft phasing for both intake as well as exhaust camshafts independently, resulting in optimum performance across the spectrum of the engine rev-range. This translates into a punchy low-end grunt, a torquey mid-range and a top-end whack for the higher revs.
The bike will be available in UK by the end of March.
Story: Aniruddha Mulgund