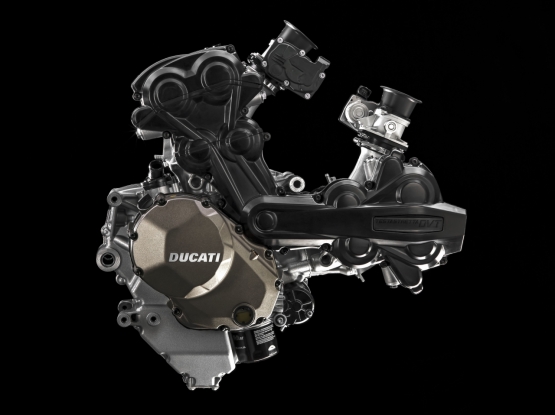 Ducati are set to give the motorcycling world is set to receive its first variable valve timing system.
The Italian marque have developed an all-new engine which, among other things, features Desmodromic Variable Timing (DVT) for both the inlet and exhaust camshafts. The variable timing system can continuously adjust valve timing, by acting independently on both the intake and exhaust camshafts. It optimises engine performance throughout the rev range and in any operating conditions, guaranteeing the highest power, smooth delivery and high torque at low revs with reduced fuel consumption. Furthermore, it's Euro 4 compliant and thus sets a new standard in the combination of power, delivery and usability of motorcycle engines.
The engine, an 1,198cc wider-angle V-Twin, features a dual-spark ignition system, with two spark plugs per cylinder. With a 106mm bore and 67.9mm stroke, the DVT-equipped high-performance engine delivers the goods at revs which are rather hard to fathom. Peak power is 160 PS at 9,500 RPM, while a hefty 136 Nm of torque peaks at just 7,500 RPM. What's more, is that at 3,500 RPM, the torque is already 80 Nm, and it remains consistently over 100 Nm between 5,750 and 9,500 RPM – a massive band indeed.
Do we expect to see this motor in the upcoming 1299 Panigale? Maybe. Will it feature in a new Monster? Maybe. Will it be a development model and lead to even greater things? We're absolutely sure about that!
Story: Jim Gorde