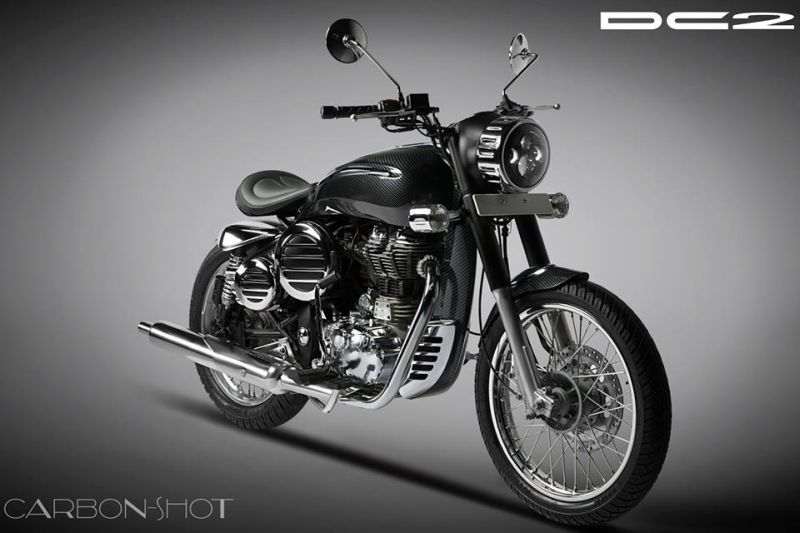 DC Design will be launching DC2, a sub-brand exclusively for motorcycles.
The Mumbai-based Indian brand headed by Dilip Chhabria will be providing customers with the option of a new sub-brand, DC2, exclusively for customising motorcycles. DC2 will offer customers a variety of materials like glass, carbon-fibre, aluminium and magnesium to give their motorcycles a unique look on the road.
For their first product, they will be launching the 'Carbon Shot', a kit that is based on the Royal Enfield Bullet 350. The Carbon Shot will offer all-LED headlamps, front indicators with billet casing and a carbon fuel tank cover with a dash of chrome, designed to mount on to the original fuel tank. Other parts include a carbon front micro fender, high quality leather, and steel single rider seat with built-in LEDs for stop lamp and indicators. There's a carbon rear fender, luxury watch-inspired air filter, and battery cover with a mix of billet aluminium and carbon.
The DC2 Carbon Shot will be a limited edition package for only 5,000 motorcycles. The entire kit with all the accessories shown in the picture will be available at Rs 76,000 (excluding the cost of the motorcycle). Those interested could book one of the 5,000 motorcycles for themselves at Rs 25,000 and get their hands on the motorcycle by June 2017.
DC plan to unveil the Carbon Shot on January 25, to coincide with the launch of their north-east showroom in Guwahati.