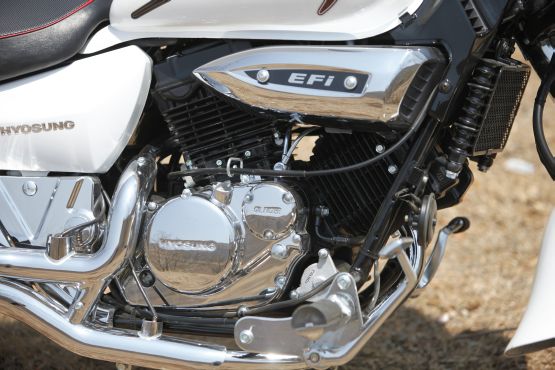 The Aquila 250 is a cruiser with a heart of a sports bike. No, really. The bike is powered by a 249-cc liquid-cooled, fuel-injected V-twin engine borrowed from its sibling, the GT250R. It becomes evident when the engine comes to life as the oversquare configuration has given it an uncharacteristic free revving nature and the high frequency exhaust note sounds like that of an industrial engine. Maximum power output of the engine has been reduced to 26.21 PS at 9,500 RPM from 28 PS at 10,000 RPM while the peak torque of 21.37 Nm is marginally lesser than the GT's and is achieved at 7,000 RPM instead of 8,000 RPM. Nevertheless, it is a powerful motorcycle in its class and is nine kilos lighter than the GT.
The engine feels sluggish below 5,000 RPM but pulls strongly past that, all the way to 12,000 RPM. So the bike needs to be ridden aggressively to stay in the powerband. Acceleration and roll-on figures suggest that it is an average performer, but I found that it manages three-digit cruising speeds without feeling stressed. It is only while overtaking and in traffic that one needs frequent downshifts to increase the revs. The bike has a five-speed transmission with the conventional one-down-four-up pattern and the gear shifts are precise.
Braking equipment may seem inadequate as the Aquila has a single 275-mm disc brake on the front wheel and a drum brake on the rear, but the brakes feel strong and provide sufficient stopping power, if not extraordinary.
The Aquila is easy to manoeuvre in traffic because of its compact size and light steering. It has a high ground clearance (150 mm) for a cruiser, which means the underbelly won't get hit while riding on bumpy roads but the rider's back will suffer since the rear suspension set-up is stiff. It can handle sweeping corners at high speeds, but it obviously feels more comfortable to ride in a straight line on wide open roads.
As explained earlier, the Aquila 250 does have a mixed identity because of its engine. However, it makes up for that in other areas. It is a stylish motorcycle with the right proportions, has a decent performance and offers a comfortable ride. There is stiff competition in the quarter-litre segment and at Rs 3.0 lakh (OTR, Pune), the Aquila 250 is an expensive offering, but for those who are looking for something unique, this comfortable V-twin cruiser can be a good option.
Story: Piyush Sonsale
Photography: Sanjay Raikar