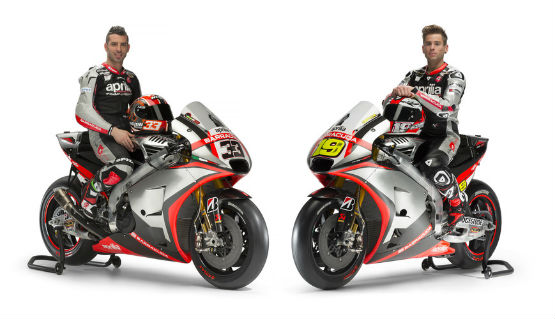 Up until 2015 MotoGP had just three factory teams – Honda, Ducati and Yamaha.However, the 2015 season seems to be brewing up quite a storm amongst the fans. In addition to Suzuki making a comeback, Aprilia too have confirmed their entry as a factory team and we now have the first images of the RS-GP bike in full race livery. The two riders Marco Melandri and Alvaro Bautista have clocked 156 and 157 laps respectively of the Sepang circuit which should provide exhaustive amount of data. This will play a pivotal role in the development of the bike. Romano Albesiano, Aprilia Racing Manager had confirmed positive results after three days of testing. While Marco is settling into the new environment and adapting his riding technique to match with the new tyres, Alvaro focused on the 2014 ART bike that will form the basis for the RS-GP bike.
Commenting on the 2015 season, Albesiano said, "For us this will be a year of testing, development and in some ways even sacrifice, to be taken full advantage of as we look toward 2016 when we will be able to ride a real Aprilia prototype bike onto the track. We do not underestimate the difficulties of this effort but we have all the elements we need in order to take it on successfully: a solid technological platform, a top shelf racing department and a partner to support us in this new challenge."
The team is intent on working its way up to the result board with a more stable foundation and groundwork instead of taking risky shortcuts. The first stage will be the development of the chassis that will allow the riders to push the limits of the bike. Alvaro also mentioned an Aprilia exclusive electronics package that will be developed on a priority basis.
Marco Melandri and Alvaro Bautista have had a commendable history with a world championship each astride an Aprilia-Marco in 2002 in the 250cc class and Alvaro in 2006 in 125cc class. 2015 not only marks Aprilia's return to MotoGP but also a comeback for Marco after four seasons in World Superbike Championship including the last season astride the Aprilia RSV4. The final pre-season test in Qatar will be held on Mar 15th and the lessons learnt up until now and throughout the season will form the basis for the 2016 prototype bike.
Aprilia does not expect to win this year, as much as focus on getting closer to the top teams. For a factory that has racked 56 laudable titles in MotoGP, it has never won a championship in the premier class. With this aggressive development strategy, Aprilia is intent on changing that soon and for good.
Story: Aniruddha Mulgund
Images: Aprilia Italy