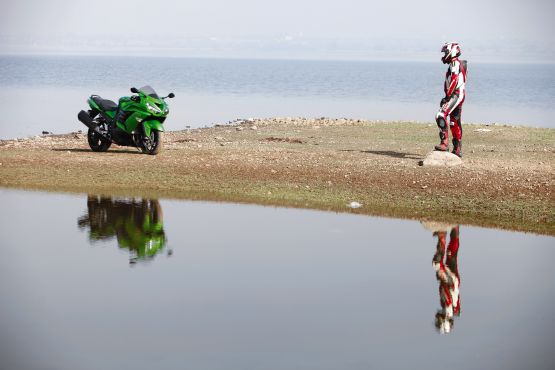 Kawasaki have employed a number of sophisticated electronic aids to tame this beast and make its performance more useable. There is the 'KTRC' traction control system, which has three incremental modes that let the rider decide the influence of electronics via a toggle switch on the left handlebar. It can also be switched off, but only when the bike is at standstill. Along with the traction control, the ZX-14R also lets the rider manipulate the amount of power generated by the engine. In the 'F' mode the bike unleashes all the horses while in the 'L' mode the power curve is changed to make the bike slightly docile.
Kawasaki motorcycles are priced steeper in India as compared to their competitors. The Ninja ZX-14R is imported as a completely built-up unit (CBU) in India and carries a price-tag of Rs 18.56 lakh (OTR, Pune). The bike is currently sold only through a single showroom in Pune, but Kawasaki might soon start selling it in Delhi as well.
The Ninja ZX-14R is not a motorcycle for the faint-hearted. It is a fantastic sport tourer and is easy to live with in spite of its credentials. And, of course, the pride of owning the world's fastest, most powerful motorcycle is complimentary.
Story: Piyush Sonsale
Photography: Sanjay Raikar