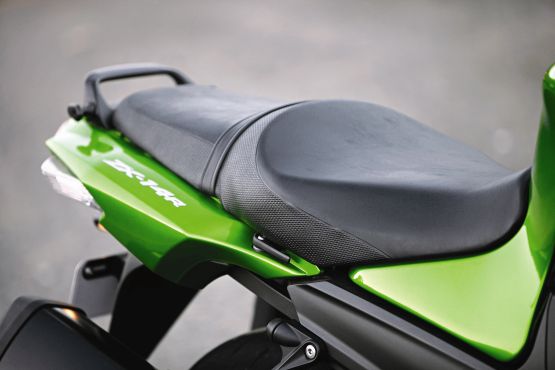 The ZX-14R has 43-mm USD forks with top out springs and a gas-charged rear monoshock. The stock suspension setup delivers excellent ride quality on Indian roads and feels perfectly firm in corners. Moreover, there are many setting options for those who would like to try something different. The front forks have fully adjustable spring preload along with 18 settings for compression damping and 15 for rebound damping while the monoshock has fully adjustable spring preload and step-less compression and rebound damping settings.
The most impressive quality of the ZX-14R, though, is its rideability. The bike feels light-footed in spite of its mass and can be ridden through traffic effortlessly at speeds as low as 10 km/h in the first gear while it can pull cleanly from as low as 50 km/h in the top gear. The air vents on both sides of the fairing channel the engine heat away from the rider's legs and the engine temperature rarely exceeds 100 degrees Celsius while riding.
As for performance riding, well, that's what it was born for. The ZX-14R can munch miles at three digit speeds all day long and its refined engine, complete absence of body vibrations and a surprisingly quiet exhaust note make it a fatigue-free ride. However, it can go absolutely wild on demand. The engine provides overwhelming amount of torque the moment you crack open the throttle and fires the bike well past the two-ton mark from standstill in a matter of seconds without losing composure, courtesy the long wheelbase. Throttle response is crisp throughout the rev range and it manages wide curves confidently, although its bulk can be felt while flipping it through corners.