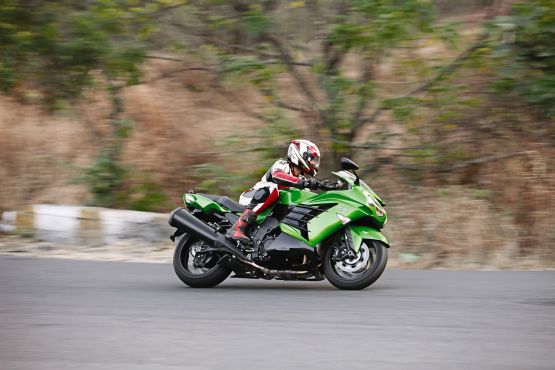 In the 1900s motorcycle manufacturers were obsessed by making the world's fastest production motorcycle, for the marketing advantage and prestige of the title. By the end of the 20th century, however, this unofficial race had reached a dangerous level. Engine capacities had gone above 1,000 cc, power outputs neared 200 PS and top speeds had crossed 300 km/h.
In the year 2000 Kawasaki launched the Ninja ZX-12R superbike with an electronically restricted top speed of 299 km/h, mainly to avoid a possible import ban in Europe. The restriction was adopted as a policy by almost all the major bike-makers and the meaning of the term fastest has shifted to acceleration times since then. Kawasaki replaced the ZX-12R with the ZX-14/ZZR1400 as their new flagship motorcycle in 2006 and it has held the coveted title ever since. The bike was updated in 2013 and has been launched in India recently as the Ninja ZX-14R.
Unlike its predecessor, the ZX-14R is a super sport tourer. So the design philosophy is focused on aerodynamics, high-speed cruising and stability as well as long-distance touring rather than agility and weight saving. It is a huge motorcycle that looks intimidating with its sheer size, while its twin headlamps and sharp nose add aggression to its appeal. The headlamp clusters have two projectors and a pilot lamp each and there is a massive ram-air intake between the two. The fairing is well chiselled and the bike has top-notch build quality and finish. The ZX-14R has a beefy tank with 22-litre fuel capacity, massive upswept exhaust on each side and a long and wide single-piece seat. The seat is designed for long-distance comfort and the wide tail section has a rear grab-rail and hooks for bungee cords and cargo nets. The instrument panel has two analogue dials for the speedometer and tachometer respectively while a rectangular digital screen in the centre displays other information.