Just like the new 390 Duke, the 2024 KTM 250 Duke has received a comprehensive update as well. We spent a day with the bike to bring you insights into all that it has to offer.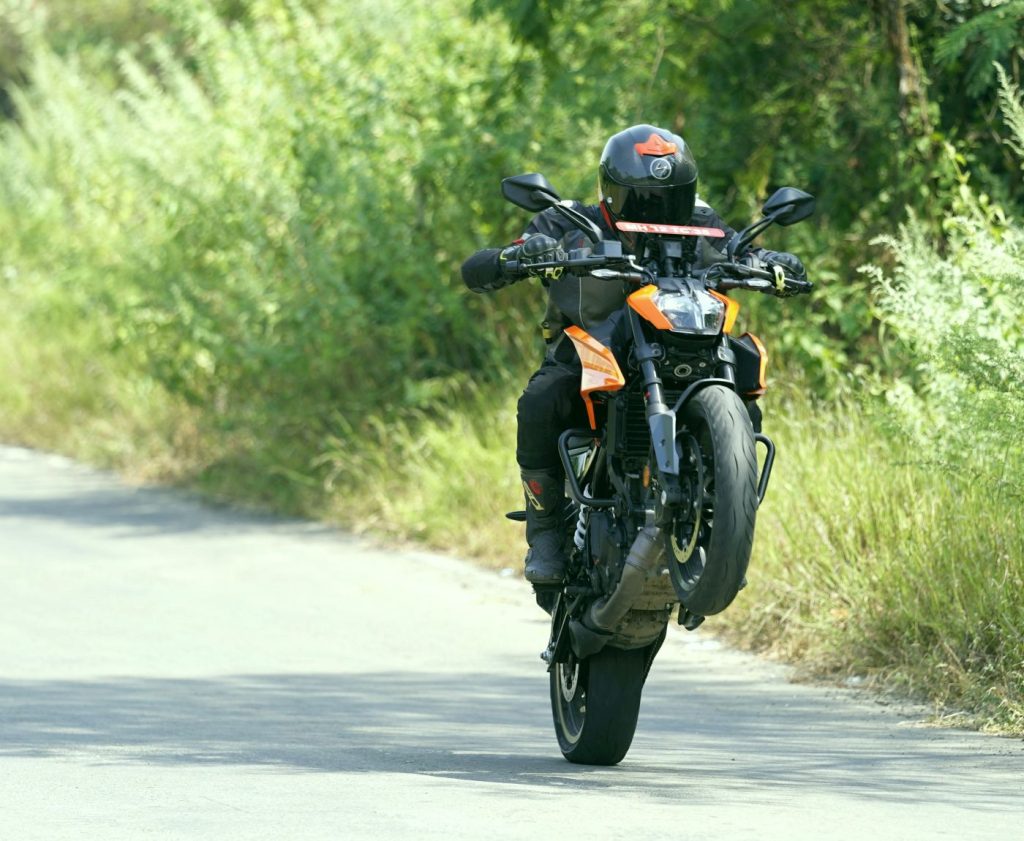 Story: Azaman Chothia
Photography: Sanjay Raikar
The Duke lineup has built a reputation of fun and desirable machines for the youth of today. The KTM 250 Duke was launched in our market in 2017 and KTM tells us that sales for this model have just been growing over the years. The design for the 2024 KTM 250 Duke has drastically changed with this iteration; it is now a substantially larger motorcycle than before and the styling has been inspired by their flagship Super Duke 1290. It now makes use of a 15-litre fuel tank with sharp shrouds jutting out on either side. The split seat set up is larger and we also see the pillion seat much higher up than before. The front end gets those sharp LED DRLs and the rear end misses out on the tyre hugger and gets an underbelly exhaust unit to keep the look as slick as possible. Even though this is a larger motorcycle, it has a kerb weight of 163 kg meaning that it is eight kilograms lighter than the previous-gen model and also has a better power-to-weight ratio. The futuristic design language looks good from some angles but I am personally not a big fan of the proportions. That being said, looks are subjective and the full story is not just in the styling. The bike sports a 5-inch LCD screen which is essentially a digital version of the TFT dash from the 390 Duke. There is adequate information available and it is well laid out on this screen.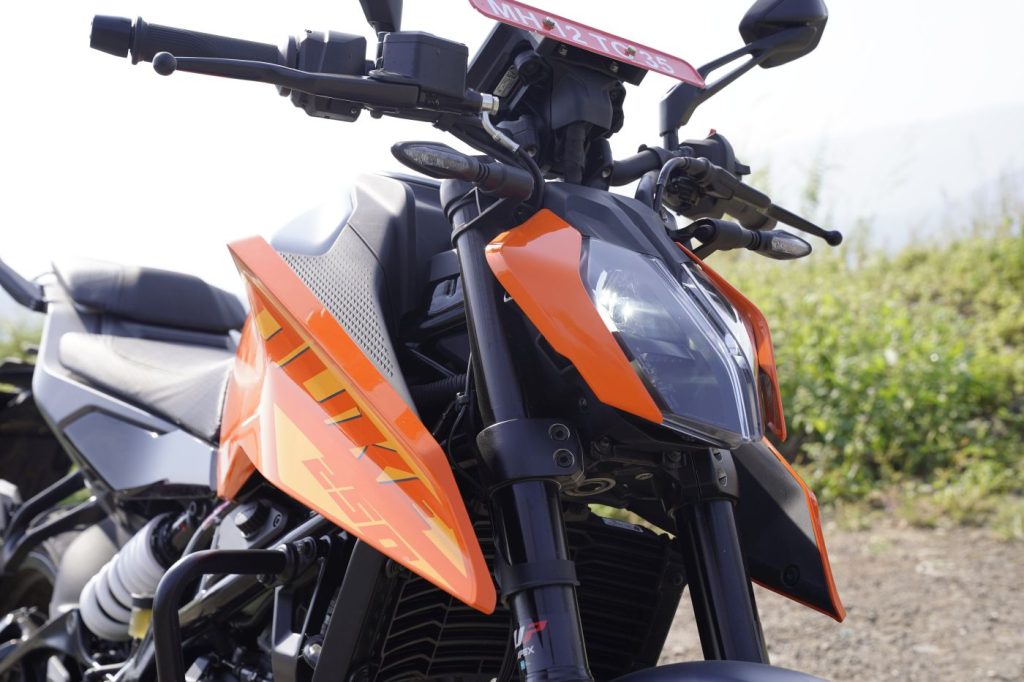 Ergonomically, the new 250 Duke is a comfortable bike to get astride; a rider is placed sitting into the motorcycle and there is a fair amount of space to move around. While the international spec model gets a seat height of 820 mm, the India-spec model gets a seat height of 800 mm so it is more accessible to shorter riders. Riders who want to can also opt for the taller seat option. Previously, the Duke has been a machine that suited shorter riders but this new gen model with larger proportions accommodates taller riders as well. The footpegs are set in a sporty manner towards the rear and the wide handlebar keeps a rider upright. There was no fatigue after covering a good distance so this is a motorcycle that can be used for short tours as well, thanks to the fairly well-padded seat.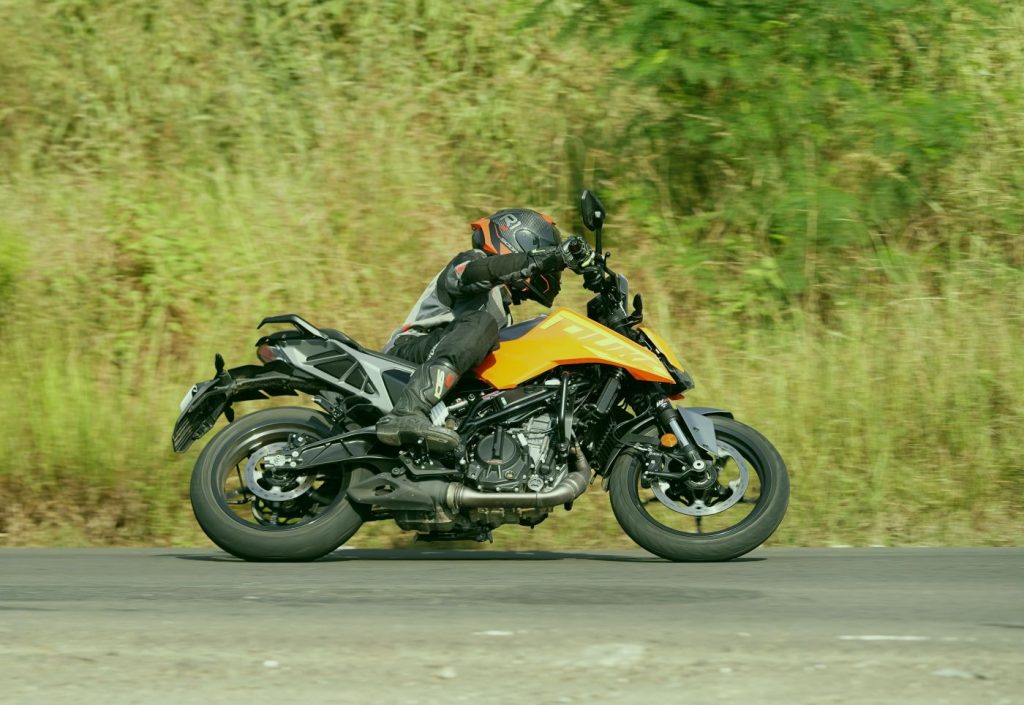 Just like the updated 390, the 250 Duke gets a steel trellis frame with an aluminium bolt-on subframe. Sitting in this chassis is an updated version of the 249-cc, liquid-cooled, single-cylinder motor. It has an increased compression ratio, a larger airbox, and a curved radiator. This motor churns out 31 hp and 25 Nm of peak torque. This indicates an increase of 1 hp and 1 Nm when compared to the previous model and the peak torque comes in 250 rpm earlier. The first thing I noticed about this motor is how refined it is; the power delivery is linear and there is a surge coming in at around 7,000 rpm after which it rushes to the 10,000 rpm redline. In the city, it is a much better motor to live with on account of how tractable it has become. I was able to do speeds as low as 35 km/h in 4th gear and also chug along at around 55 km/h in 6th gear. The clutch action is light and the gear shifts are slick. In terms of electronic assists, this gets the new Quickshifter + straight from the new 390 Duke. This unit works nicely although it is extremely sensitive and the slightest touch from your riding boots to the lever will cut power. The good part about this system is that it is switchable so it can be turned off while riding around in the city and quickly switched back on when hitting the highway or a set of twisties.
The elements contributing to the lighter unsprung mass are newly designed bionic wheels, a hollow front axle, and a disc rotor that is mounted directly on the wheel. We had first this on the 2022 RC390 and now the updated 390 Duke. The suspension setup comprises 43-mm, USD, Big Piston, front forks at the front, and an offset monoshock unit at the rear. The rear monoshock is 10-step preload adjustable. This setup is on the sportier side and when it comes to handling, this really impresses with how it carves up corners while providing a rider with a lot of confidence. It is effortless to correct your line mid-corner as this machine is nimble and it flicks over from one side to another in a flash. What allowed me to push even further was the grip offered by the W-rated, MRF Steel Brace tyres. Compared to the previous model, this one has a slightly shorter wheelbase as well. Brakes are another thing that do a superb job; the feel at the lever is good and they get the bike to stop at an instant with good calibration from the ABS unit. Another electronic assist is switchable ABS where the rear can be turned off and that is a nice little addition for experienced riders.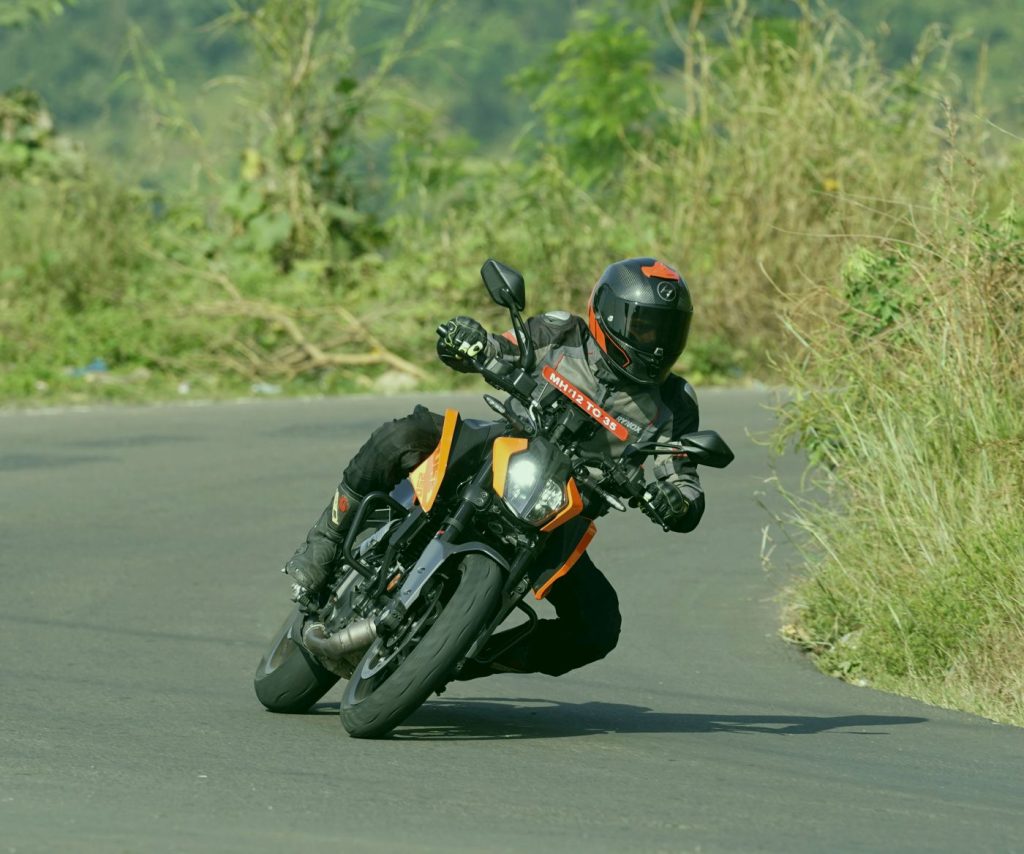 Coming to the best part and why I would recommend this machine to anyone looking for their first sporty naked is the price that it is being offered at. For 2.39 lakh (ex-showroom), which is the same price as the older-gen model, this is really good value for money when you consider all the new stuff that you get on offer with the motorcycle. In the 250-cc segment in India, the 250 Duke is the most powerful motorcycle, and with assists like Quickshifter +, it has become an even more engaging bike to ride. It is a machine that is a great better beginner's tool with its linear and tractable motor as well as its confidence-inspiring nature when it comes to handling. With the 200 Duke still not receiving a major update, interested customers might as well shell out a little more money and get this one instead.