In other respects the GS felt instantly familiar, which, of course, is no accident. Riding position is similar to the old models, though the footrests are slightly lower and narrower. Seat height is unchanged and, as before, the rider's part is quickly adjustable, with the lower setting (850 mm, against 870 mm) allowing riders of average height to get feet down, just about.
This being a GS, there's also a 30 mm lower seat option, plus a low suspension option that sheds another 30 mm to a minimum of 790 mm. The seat also helps by being slightly slimmer at the front and it's also now adjustable for angle. The pillion section can be adjusted forwards or backwards by a couple of centimetres, answering complaints that pillions sat too far back.
There's also an improvement to the wind protection, more obviously in its adjustment system: a simple knob that the rider can use on the move with a twist of the left hand. That system works well; and the re-shaped screen, which BMW say is more protective despite being slightly smaller, also seemed effective. Cruising at 100-140 km/h, with occasional bursts towards the likely top speed of about 210 km/h, I found wind protection pretty good on the highest setting, despite being very tall.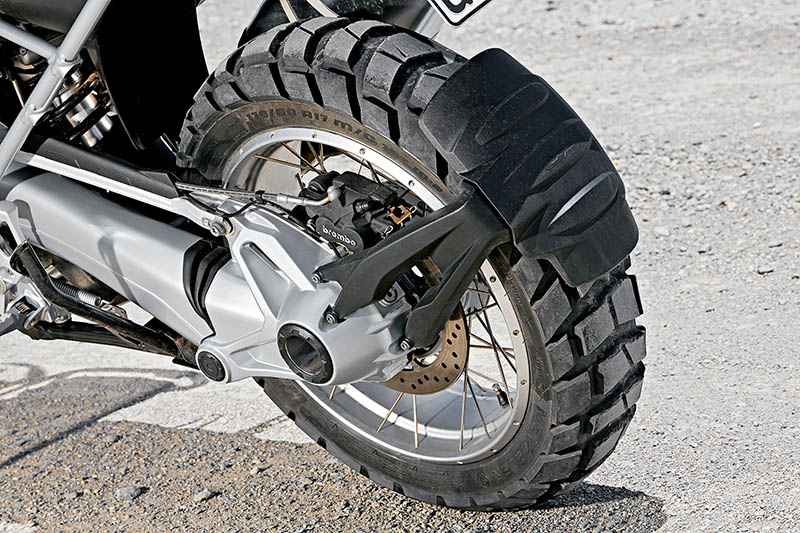 Predictably throttle response was slightly sharper after I'd pressed the button on the right bar to select 'Dynamic', the sportier road mode, though not so much that it became remotely snatchy. On the fairly straight sections I was happy to stick with 'Road', which automatically puts the ESA suspension on its 'Normal', mid-way setting. But when we reached the twisty roads in the Swartberge hills it was good to be able to choose 'Dynamic', partly because this also put the ESA to hard, firming up damping at both ends.
Conversely, choosing the 'Rain' mode softens suspension as well as throttle response. There was no chance of rain on a sweltering South African day, but the soft setting was pleasantly compliant on the straight bits, just a bit soggy for quick riding on twisty roads. Ride quality in normal was good, without exactly being plush. Even the hard setting was fine, though slightly harsh on bumpier sections. You can also change load setting between solo, two-up and fully loaded.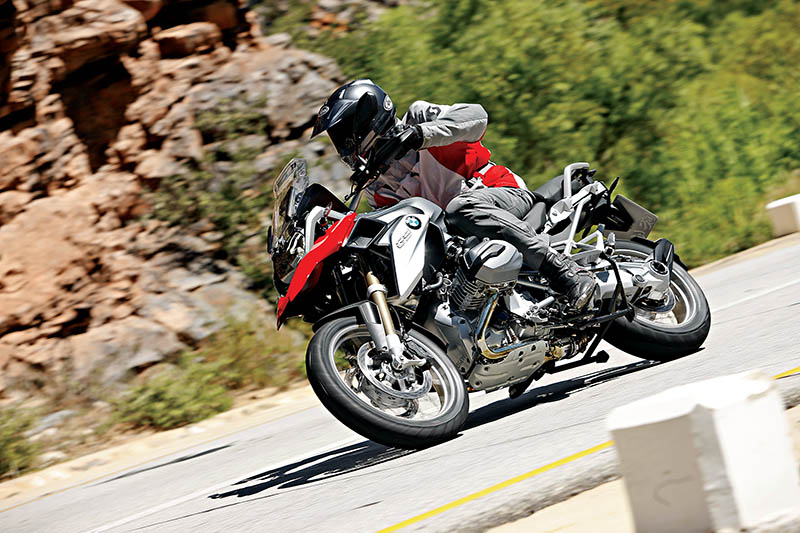 I found the GS perfectly comfortable on our day's ride, though that involved numerous stops and I'd need to go much further without stopping before I could say for sure. It should be very capable of eating distance. BMW say fuel consumption is slightly improved at low speed and unchanged at normal cruising speeds, which would mean average consumption of about 6l/100 km and a respectable range of at least 250 km from the fuel tank's unchanged 20-litre capacity.
Handling was familiar GS: stable, reliable, and responsive enough to encourage a decent pace. At 238 kg ready to ride this GS is nine kilos heavier than the previous model, which explained why nobody at BMW was talking about weight (let alone displaying large water containers to highlight the difference, as they did in 2004). But the light-heavyweight boxer felt good enough to match its sparring partners for road-going handling, unless you include the more road-biased Multistrada.
On curvy sections I found the BMW requiring a bit more pressure than expected on its inside handlebar to pull the bike down into the turn. Once down there it tracked very well, though. Perhaps, the Telelever front end gives a bit less feel than good telescopics, but I've never found that a problem. And there was plenty of grip from Metzeler's new Tourance Next tyres, which, with a 19-inch 120/70 up front and a 17-inch 170/60 rear, were wider at both ends than the old model's or those worn by rivals such as the Tiger Explorer.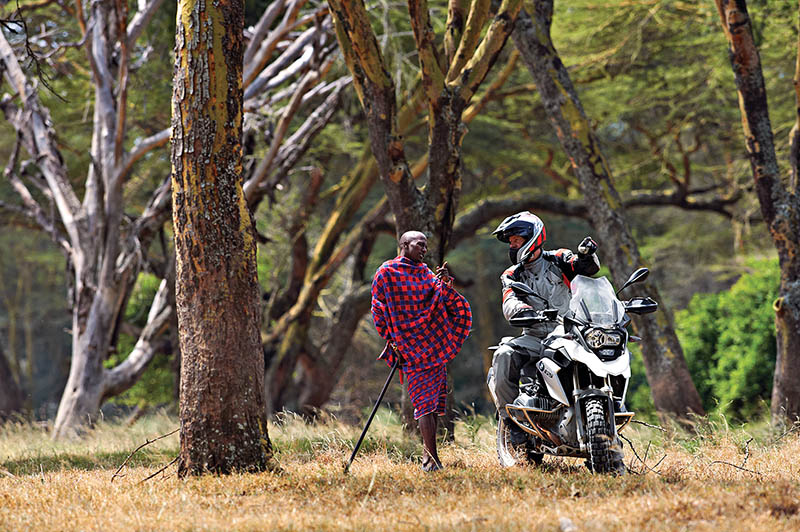 Of course, there's another, dirtier, side of the GS, which we had a chance to test after arriving at the lunch stop near De Rust, where a batch of bikes were fitted with accessory alloy bash-plates and Metzeler Karoo 3 rubber — this time the German tyre marque's updated knobblier design — for more serious off-roading. For this BMW had fitted the under-seat electrical plug that allows the bike to be put into Enduro Pro, the fifth riding mode. The difference is that while the standard Enduro mode selects the soft throttle response and suspension, Pro gives normal throttle and hard ESA and disables the rear brake's ABS to allow skids.
The track was pretty short and not demanding by serious off-road standards, but it contained enough hills, tight bends, sand, gravel and rocks to be a severe examination of a big adventure bike and the GS emerged with high marks. It was manoeuvrable for a tall, heavy machine and the Karoos found grip where I sometimes thought there'd be none. The ABS and traction control worked really well, especially in the way the anti-lock system allowed improbably hard braking even on sand or stones.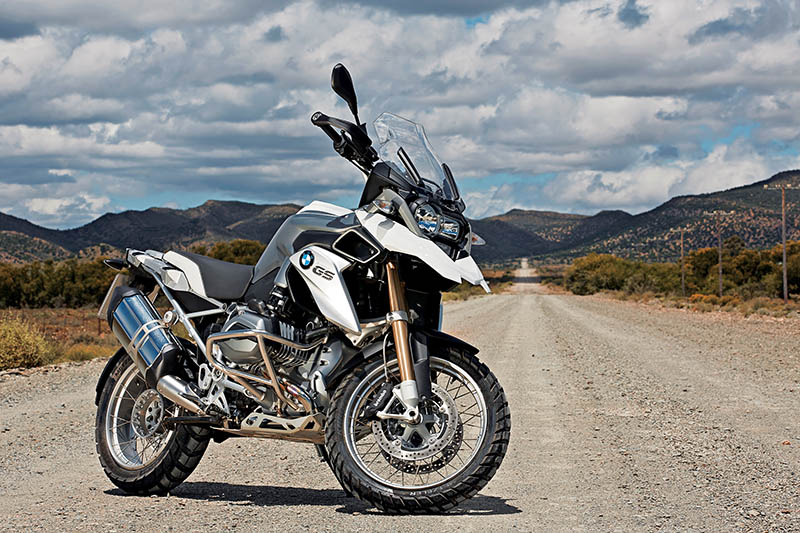 That rough, narrow track was great fun in an intense, first and second gear, see-what–the-bike-can-do kind of way. Even better was the faster, less challenging section in the afternoon, after we'd taken another short road route heading east towards Barandas, then turned off onto a dirt road that carved through the lush countryside. For this, our guide Jürgen recommended choosing the normal Enduro mode (rather than Enduro Pro), to activate rear wheel ABS, but with suspension tuned up to hard.
This was really fantastic riding. Faster, mostly 80 km/h plus, with a pretty smooth, reliable gravel surface and the occasional sharp dip of a dry riverbed. Much of the time I was standing on the pegs, after removing the quickly detachable footrest rubbers for extra grip and glad that the slightly slimmer tank allows easier control in that position. (Being very tall I found the bars too low when standing, but that could be easily cured with risers from one of several after-market firms.)