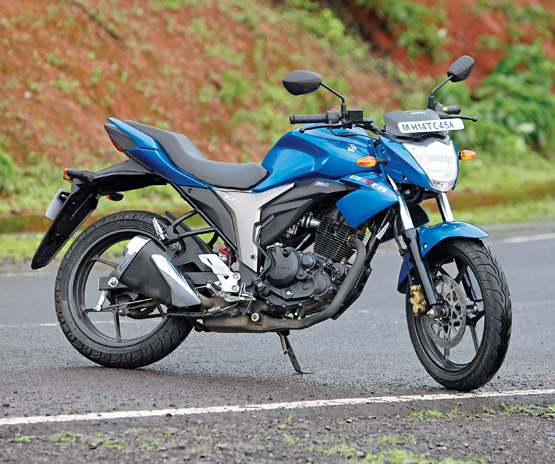 Connecting the bike to terra firma are a set of 17-inch MRF Revz tyres: a 100/80 at the front and a 140/60 at the rear. The combination of the suspension set-up and the tyres works seamlessly well together, inspiring confidence and providing good feedback to the rider while going round corners even on a wet road. The MRF Revz tyres provide exceptional grip and deliver sufficient feedback to the rider. The stopping power in this bike comes from a Bybre disc brake at the front and a drum brake at the rear. Braking is progressive, leaving you reassured.
As you accelerate, you can feel the punchy engine of the Gixxer take you forward. This new 155-cc engine by Suzuki has what they call SEP (Suzuki Eco Performance) technology. They have looked at and analysed every component of the engine and reduced as much mechanical losses as possible. This has resulted into the engine delivering great performance as well as good mileage.
The engine has been tweaked to offer broad low-end torque and dynamic mid-range power, which are perfect for city riding conditions. The mid-range power is constant through the rev-band, as a result of which you do not have to shift gears too frequently. The powerplant churns out 14.8 PS at 8,000 RPM and 14 Nm at 6,000 RPM, which is good for riding in the city as well as cruising on the highway. Even at high RPM the vibrations from the engine are minuscule, which is a big plus-point for you'll be able to ride longer distances without feeling rattled. In our performance test we achieved a top speed of 111 km/h, with an acceleration of 0-100 km/h being achieved in 15.51 seconds and 0-60 km/h in 5.85 seconds.
Overall, the Suzuki Gixxer is a fabulous motorcycle with good performance and great handling. Its sporty muscular looks are sure to entice the younger generation of riders while its good performance will keep intermediate riders happy. Priced at Rs 81,900 (OTR, Pune), it's an affordable street sports bike. Suzuki have definitely put a lot of effort into the Gixxer and have come out with a great product.