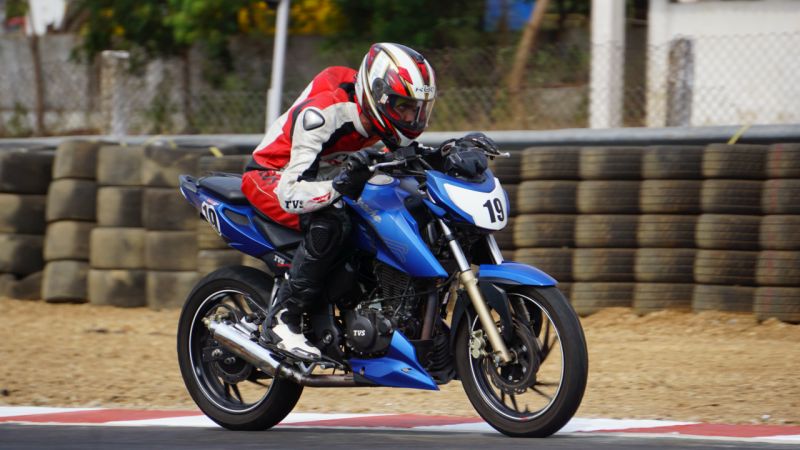 There have been innumerable e-mails and queries over the past few years: how do I take up racing as a career?

No doubt, there is an increasing curiosity in the minds of the youngsters as to where to start and how to pursue a career in motorcycle racing. Unfortunately, in our country very little importance is given to the sport of motorcycle racing and knowledge about it is limited. We, at Bike India, would like to enlighten our readers on how to kick-start a career in racing and move up. So zip up those leathers, strap on the helmet and get going as we guide you through each minor aspect of how to go about circuit racing
Master Those Basics First
There are several basic facts that need to be clear in one's mind before we move towards this career and we will quickly run through them:
You can start racing at 13 years of age
A driving licence is not a must to start circuit racing
Being on two wheels and riding fast will invite troubles in the form of falling and hurting yourself. Be prepared for those
Motor sport has an element of glamour in it, but not at the grass-roots level and that is not what you should join the sport for
Racing requires a high level of physical and mental strength. Start exercising and build up your fitness
This sport is a matter of passion and dedication. If you don't have either in sufficient measure, give a second thought to your ambition
Sort Out The Paperwork
As mentioned earlier, you need not be 18 and have a driving licence to start circuit racing. In closed-circuit racing, one can apply directly for the 'Competition Licence' issued by the Federation of Motorsport Club of India (FMSCI) at the age of 13 years (that is, for a limited classes of racing only and not for the advanced and expert classes). Do the required documentation and then go racing.
The following is the list of the documents you need:
A 'Competition Licence' issued by the FMSCI (forms available on

www.fmsci.in

)

A medical certificate as prescribed along with the form from an authorised medical practitioner along with his/her stamp, registration number and signature
A copy of the driving licence (for those who don't have a licence, an undertaking from guardians is necessary)
An indemnity, duly signed by the applicant, understanding all the rules and regulations along with the hazards of racing. In case of a minor, it should be signed by the guardian
Entry form for the class/es that you wish to ride in should be duly filled in
As mentioned on the form, the forms and documents have to be sent to the FMSCI by post along with a demand draft for the licence fee. It should be noted that the licence is issued for a maximum period of 12 months and in any case it expires on the 31st of December of that particular year.
The First Step
Having filled in the forms and submitted them along with the fees means that you have already taken the first step. However, the real first step comes when you finalise the class in which you will be racing. Technically there are classes of motorcycle racing at the circuit, which have bikes with 110-cc engines for the novice to lethal weapons like the 600-cc in-line fours for the experts. For someone starting for the first time, the simplest one-make series is highly recommended.
What is this one-make series then? Fortunately for the new generation getting into motorcycle racing, some of the major motorcycle brands in the country have started conducting their own racing series wherein they provide identical bikes to each competitor taking part in the race along with all the technical support. This ensures that the competitor has nothing to worry about apart from riding well. Among the big names conducting such series are Honda, Yamaha, Suzuki and TVS. The categories offered by each one of these are as follows:
Honda
One-make Series Honda CBR 150R – Open
One-make Series Honda CBR 150R – Novice
One-make Series Honda CBR 250R – Open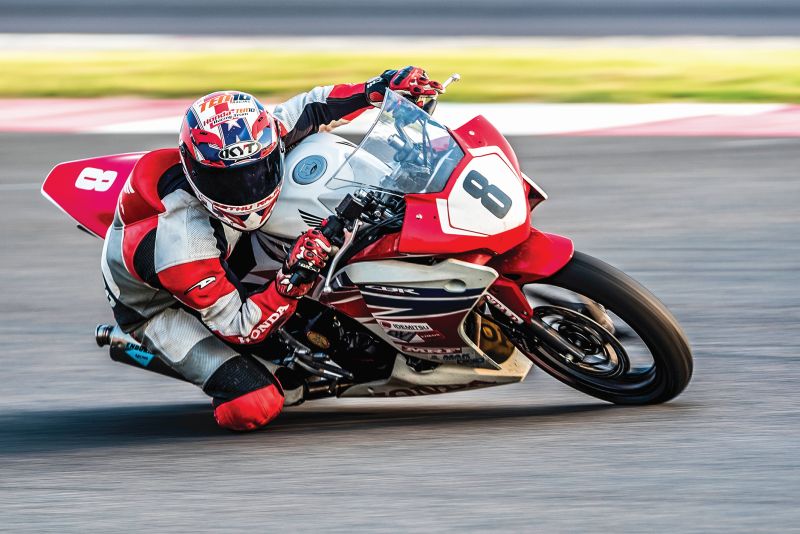 Yamaha
One-make Series YZF-R15 v2.0 – Novice
One-make Series YZF-R15 v2.0 – Open
TVS
One-make Series TVS Apache RTR 200 – Novice
One-make Series TVS Apache RTR 200 – Open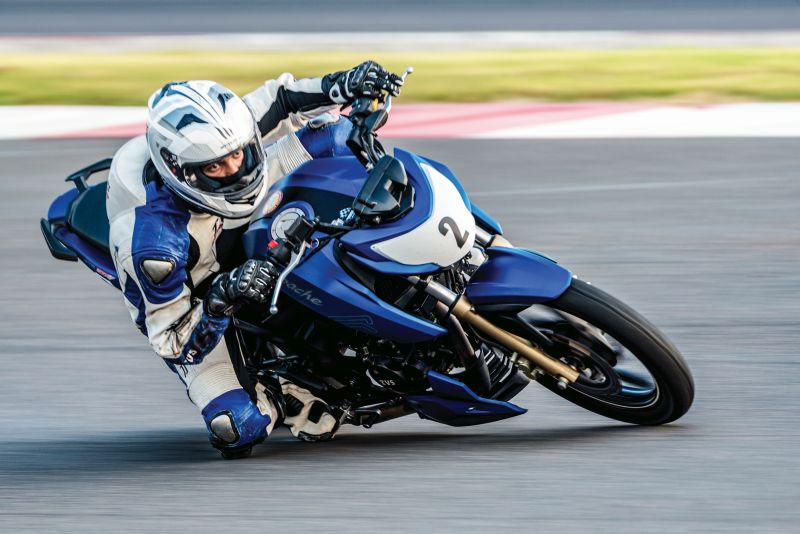 Suzuki
Gixxer Cup Suzuki Gixxer 150 – Novice
Gixxer Cup Suzuki Gixxer 150 – Open
Each organiser charges a nominal participation fee, which covers the participant's motorcycle, fuel and technical support for the complete weekend. The competitor will have to go through free practice and a qualifying session if there are more entries than the maximum number prescribed. The timing of the fastest lap set by every competitor is then taken into account for preparing the list of the qualified riders for the race. Depending upon the organisers, there will be one or two races over the weekend wherein the qualified riders will battle against each other.
One-make series suit those the best who do not have their own machines to race or do not have the necessary infrastructure to transport and maintain their race vehicles. Those who have their own bikes can participate in the regular National Championship that offers the following classes:
Group SUPER SPORT
All solo two-wheelers whether series production, specials or otherwise, Indian or imported.
All solo two-wheelers manufactured / assembled in India, homologated with FMSCI but modified within the frame work of the regulations listed.
All solo two – wheelers manufactured / assembled in India, homologated with the FMSCI but modified within the framework of the regulation listed.
All Solo two-wheelers manufactured / assembled in India, homologated with the FMSCI.
Classes:
All Indian two – wheelers other than SUPER SPORT, will be divided into the following classes according to the Cubic Capacity of their engines.
Motorcycles – 2 stroke & 4 stroke
Class Engine Capacity
Class M-1 Up to 130 cc
Class M-2 Above 130 cc up to 165 cc
Class M-3 Above 165 cc up to 200 cc
Class M-4 Above 200 cc up to 300 cc
Class M-5 Above 300 cc up to 400 cc
It must be noted here that a participant need not be the owner of the machine that he/she intends to ride in the racing event. However, if the bike has been borrowed from a friend or family member, a 'no objection certificate' must be produced, duly signed by the owner of the vehicle in question.
According to the rules laid down by the organisers, the definitions of 'Novice' and 'Open' are as follows:
Novice: Riders who are below 23 years of age and have not stood overall 1st in more than 2 events in a National Supercross Championship event. National Champions who have already won the Novice Class are not eligible to ride the Novice Class. FMSCI Supercross seeded riders are not eligible to take part in Novice Class. conducted in India or abroad.
Open: Any rider who is above 23 years of age or has WON any race in any previous Championship/Cup/Challenge/Series/Scheme in India or abroad.
---
Ride Fast, Ride Safe
You are participating in a race, which means you are going to push your bike to its limit, which, of course, means you are going to go faster than is normal. This also implies that you are out of the safe riding bracket and you need to take care of every safety aspect possible apart from the unsafe speed. The FMSCI rules and regulations demand the following riding gear as a must:
One-piece motorcycle racing/riding leather suit
Full-face, ISI-approved helmet
Full-length motorcycle riding gloves
Full-length motorcycle riding boots with ankle protection
Our additional take on safety gear is as shown in the illustration:
Helmet quality/brand, non-impact
Visor
Double D Ring
Leather suit with proper protection
Proper boots
Proper gloves
Preparing For The Race
Many don't yet know and we would like to take this opportunity to inform all of you that there are proper academies being run in India that teach you and prepare you for racing. They make efforts to make you understand the A-to-Z of riding motorcycles on the race track from the basics to the finest details. The three well-known academies doing this are as follows:
California Superbike School
Held once a year, mostly in January or February, the CSS offers the best coaches in the world with experience of coaching some of the highly successful MotoGP racers. This academy runs at the Chennai racetrack and can be followed on www.superbikeschoolindia.com
Apex Racing Academy
Held almost every month, the Apex Racing Academy not only offers coaching, but also has an option of providing you with race weekend pit services and infrastructure for vehicle transport, etc. Their academy is held at the Coimbatore circuit. They also have their own racing team for which you can race. They can be contacted at apexracing.in
Indimotard Throttle Wide Open
Run every four to six months, Indimotard TWO has coaches with immense track riding experience on bikes ranging from 100 cc to 1,000 cc. They can be reached on indimotard.com/two_racing.html
Apart from academies, you can also do practice track days. There is a nominal fee to be paid for the track authorities, but finding a free practice day is difficult, because the tracks are booked most of the days. There are free track days available too, but you will have to stay in touch with the track authorities to know the exact dates allocated for such practice.
Honda Ten 10 Racing Academy and MMSC Racing Academy are other options that are available.
Progressing Upwards
One may ask, after reading all this, where do we head after moving up the classes mentioned above. Well, to be honest, the sky is the limit. Unfortunately, motor sport has not got enough importance and infrastructure in our country. None the less, we can see a positive change in the recent past and we hope that it only improves in the future. There are several options to race abroad and thanks to the one-make series organisers, Honda and Yamaha, they have been regularly picking up top racers from their series and sponsoring them for participation at the Asian level.
For those who looking at an even bigger picture, they can always move to Asian level championships from here. For even tougher competition, the European series are there. Ultimately, it is the Moto3, Moto2 and MotoGP where one can head. Although we are yet to see an Indian in either of these classes, we hope this small effort to show the first step helps someone to make it in the world championship.
Other Essentials
There are a few other things that need to be thought of and we don't want you to land in trouble when it comes to these.
First of all, make sure you arrive in the city where the race is going to be held in advance. In case you are running your own motorcycle, you might have to come well in advance to get your motorcycle up and running. If you are participating in the one-make series, life is much easier. Arrive a day in advance just to make sure that there are no last-minute glitches.
Secondly, try to find a place to stay as close to the race track as possible, so that you do not waste a lot of time and energy in commuting. The Chennai track is located about 30 km from the city. However, there are innumerable options in various price brackets to stay at within 5-10 minutes of driving range. The Coimbatore racetrack is also about 45 minutes' drive from the city and, unfortunately, there aren't any hotel options near this track. One can find best deals on the hotels in Coimbatore near the railway station. We will soon see races happening at the Buddh International Circuit, which is more than an hour's drive from New Delhi. The closest place to stay near the BIC would be Greater Noida.
We hope we have taken the enthusiasts through every required detail for entering circuit racing and provided information that would be helpful to them. With the manufacturers stepping in, entering racing has become quite easier, simpler and less expensive for the current generation than what it was a few years ago. The organisers have been making efforts to improve the infrastructure and facilities to help the racers. We also hope that more and more people get involved in the sport and bring in help in every form for the uplift of motorcycle racing in the country.
Important: The normal life insurance policy does not cover injuries sustained in racing activities. For more information on insurance policies, do refer to the Supplementary Regulations laid down by the FMSCI or get in touch with FMSCI officials.
Important Note: At the beginning of every race weekend, the main organisers of the championship, FMSCI, conduct a riders' briefing. It is a must for every participant to attend this briefing as this session discusses the rules, regulations and other aspects necessary to be known and understood by one and all before setting out on the racetrack. Failing to attend this briefing can attract serious trouble for the participants.
Note: Each participant can take part in maximum three race events, including one-make series races, over a weekend.