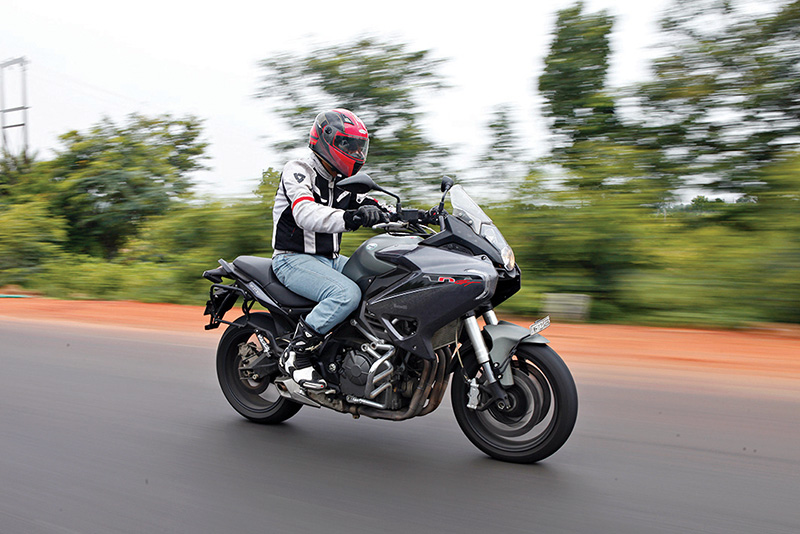 Day Four: Kolkata–Kanpur (1,009 km)
Aninda: Kolkata–Sherghati (461 km)
Scything through the monsoon, maintaining pace was a major challenge, courtesy slippery tarmac, unexpected potholes and decreasing visibility. Early symptoms of fatigue had also started showing but we rode on. Beyond West Bengal, the roads worsened. I rode to Sherghati where legend says Emperor Sher Shah single-handedly killed a lion, earning his name. But history must wait for thousands of kilometres beckoned from the future.
Sanjay: Sherghati–Allahabad (290 km)
Riding in Uttar Pradesh is a nightmare for any sane human being. The national highway is in such a bad state that it is impossible to cover a long distance in a single day. Besides, we encountered rain on the way. I was, however, able to clock close to 300 km in just about five hours during this stint which I am really proud of.
Ryan: Allahabad–Gopalpur (142 km)
Once again I rode after Sanjay, who handed the keys to me in Allahabad. I rode for about 140 km till Gopalpur where Sampat took over. Here also we encountered quite a bit of rain. I was a little sceptical, thinking that the bike would skid, but it remained well-planted, which gave me the confidence to push myself a little more.
Sampat: Gopalpur–Kanpur (116 km)
I had been reserved for the last slot of the day again and had to face heavy rain throughout my ride. The highway was full of potholes and ruts, which further reduced my speed and it took us over three hours for this 115-km stretch. We also encountered a subtle threat from an ambulance that kept cutting my way deliberately and followed us right till our hotel in Kanpur.
——
Day Five: Kanpur–Udaipur (960 km)
Aninda: Kanpur–Etawah (160 km)
Mine seemed a love affair with rain. Every time I rode, it poured. Today, however, the gods were smiling and the showers lasted just for 30 km. After that I rode into a swarm of bugs. A thoroughly unpleasant experience. The road was a mix of concrete straights up to a singularly mismanaged toll plaza, beyond which lay the road to Etawah.
Sampat: Etawah–Agra (150 km)
I got in the saddle for the second shift with reluctance due to fatigue and the bad state of roads. The first part of the ride till Fatehbad was relatively effortless, though, and, thankfully, it did not rain. A police barricade at Fatehbad diverted us off the highway and the average speed dropped to almost 20 km/h. It took me three hours to cross Agra through the chaotic rural roads but our enthusiasm had revived since the worst was over.
Ryan: Agra–Kishangarh Bypass (340 km)
After making his way through the long traffic jam, Sampat handed the bike to me. Once again we were back on smooth roads, but the only thing I had to be really careful about was cattle, either slowly walking across or squatting right in the middle of the highway. This meant I had to brake hard and, even without ABS, the bike would come to a standstill almost immediately with ease.
Sanjay: Kishangarh Bypass–Lambia (110 km)
After battling bad weather and broken roads we were finally in Rajasthan. As Ryan finished his stint, I took over. The roads were good, although narrow, and I enjoyed riding on the open highways where traffic was sparse and the road surface was excellent. In Rajasthan, too, I encountered a number of cattle on the highway. So I had to be careful.
Aninda: Lambia–Udaipur (200 km)
Rajasthan. No more rain! But the darkness amplified every bump and every rut. It's amazing what low visibility can do. The Benelli's headlamp did a fine job but couldn't overpower the headlamps from oncoming lorries. Udaipur came up as a police barricade at 1.00 am. By the time we pulled in at the RTDC run Hotel Kajri, I was exhausted.
——
Day Six: Udaipur–Bikaner (910 km)
Piyush: Udaipur–Ajmer (300 km)
I replaced Aninda in the team on day six and rode the bike for the first 300 km from Udaipur to Ajmer. Except for a five-minute break to mend the punctured rear tyre, I was able to maintain a high average speed during the stint since it was a four-lane highway with a good surface and there was hardly any traffic.
Ryan: Ajmer–Khari Khurd (300 km)
This ride was like a home run, because I come from Ajmer. I had boasted about the roads in Rajasthan while planning our route and they did live up to my boast – smooth and pretty much empty. We covered a lot of distance quickly. The cattle issue persisted, though; it was like playing 'I spy with my little eye'…oh, there's a cow!
Sampat: Khari Khurd–Kanji ki Sird (180 km)
As luck would have it, rain had followed me to the driest part of Rajasthan. Thankfully, it was a light shower but it soon got dark and I couldn't exploit the bike's full potential. The road was straight and empty and I was riding at a steady speed when, suddenly, the bike's headlight caught a cow crossing my path. I braked hard and swerved left to avoid it but the bike brushed against it and went off the left edge of the road. The front wheel of the bike slipped in the sand and I suffered a minor fall. The right side of the crash-guard took the brunt of the impact and saved it from a major damage. I was quite shaken by the experience, though, and we swapped riders immediately.
Harket: Kanji ki Sird–Bikaner (130 km)
In the immediate aftermath of what I'd like to call 'cow-gate', I took over and forged forward into the inky darkness of Rajasthan's state highways. With only the blazing white of the Benelli's headlight to guide me, my eyes were peeled and my nerves were on edge right until the moment we made it into Bikaner, and the breathtaking Laxmi Niwas Palace for a quick kip.