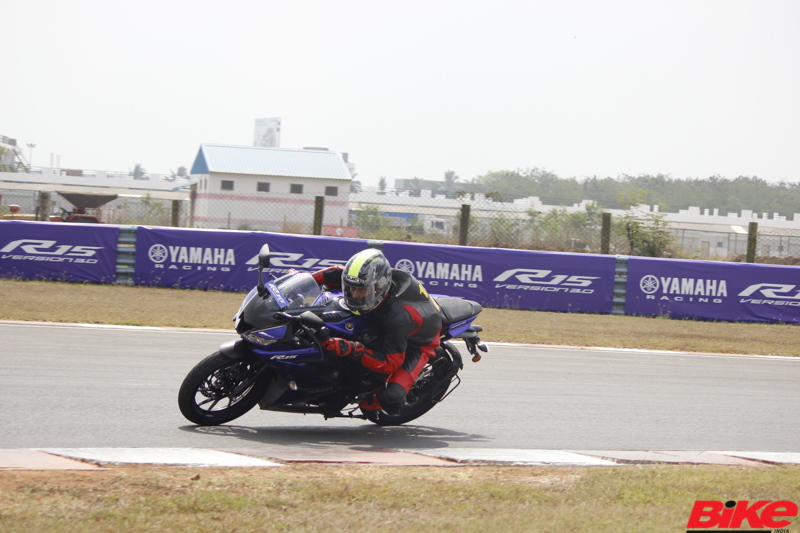 After the warm-up laps I began pushing the motorcycle. Power was always available at either end of the rev-range and the bike pulls steadily until it red-lines at 11,500 rpm. In order to take advantage of the power delivery at higher rpm, Yamaha have lowered the gear ratio. Hurtling down the main straight in sixth gear, the console showed 120 km/h at 9,000 rpm. The motorcycle was capable of even more if only I had a longer straight. To test the slipper clutch, I dropped a couple of gears while riding at 75 km/h in fourth gear. The motorcycle remained stable and there was no rear-wheel locking.
The R15 was easy to flick into corners and it held the line with an admirable confidence thanks to the rigid Deltabox frame and the equally capable suspension setup. Yamaha have managed to set up the suspension in such a way that it is perfect for everyday use and the bike is still a fast machine on the track. There was rarely an instance when I felt I was not in harmony with the motorcycle.
One area Yamaha should look into is the front brake. Most of us had issues with the front stopper. The lever play and feel were different on each of our motorcycles. Mine had a spongy feel at the lever. Although the bite from the larger 282-mm disc is adequate for city use, it needs to be more responsive for the track.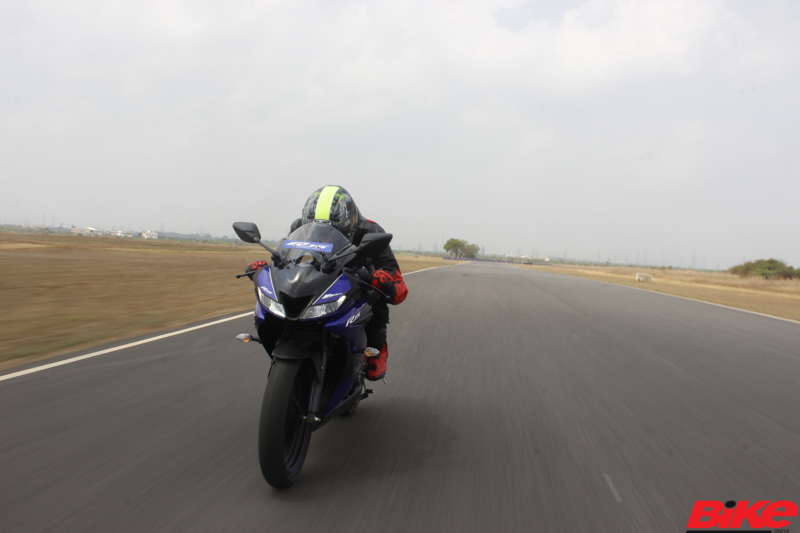 For a machine that revs to 11,000 rpm, the new R15 had almost no vibration at the pegs or the handlebars, even at the extreme end of the rev-range. The pillion seat has been lowered so the pillion rider can now ride with his head slightly below the stratosphere. Yamaha have maintained their high standard of quality and the R15 is among the better-built motorcycles in its price range. There are a few places where the attention to detail and finish could have been better but for Rs 1.25 lakh (ex-showroom, Delhi) the motorcycle is great value for money. Yamaha confirmed that they plan to introduce ABS in this motorcycle in the first half of 2019.
To summarize, the new R15 did not turn out to be a stranger at all. In fact, for the latest R15, Yamaha have taken everything we liked about the previous models and made it even better.