Yamaha's sports tourer middleweight receives a slew of smart updates, including those related to technology, for 2023.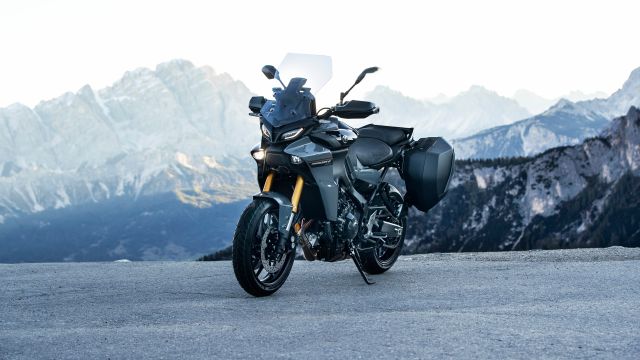 Story: Adam Child 'Chad'
Photography: Ant Productions and Yamaha
Yamaha's highly acclaimed Tracer9 GT sports tourer was launched in 2021 during the pandemic and, unfortunately, we missed the opportunity to throw a leg over the new model. However, everyone we spoke to who had ridden the GT rated it very highly of it, so we had high expectations of the new 2023 Tracer9 GT+, which gains a huge dollop of whizzy new technology, plus some smart updates.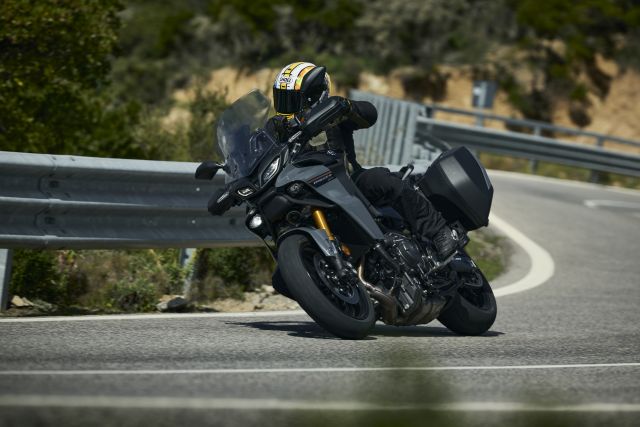 The salient developments are the introduction of Radar Linked Unified Braking System, a world first, and, for the first time on a Yamaha, Adaptive Cruise Control; hence the large radar at the front. That, however, is not all: a new seven-inch TFT display, slick new switchgear, a larger rear disc (for the new braking system), a new seat design, and a third-generation quick-shifter all make their début on the 890-cc triple.
Yamaha treated us to a full day in saddle, including some motorway miles, enabling us to test the new Adaptive Cruise Control around the stunning island of Sardinia.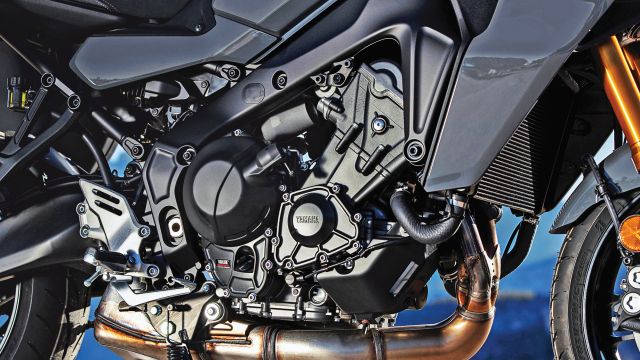 Yamaha have left the excellent and charismatic 890-cc CP3 triple alone. That means the same peak of 119 hp as before with the same 93 Nm (at 7,000 rpm) peak torque figure, too. A third-generation bi-directional quick-shifter that allows you to downshift with the throttle still open has been added, meaning you can knock back a few gears—to third or even second—without closing the throttle. The system is smooth and effortless.
For me the Tracer's power and delivery are close to perfect; strong but not too fierce with a lovely spread of torque, plus a sweetly tuned roar when you grab a handful of throttle.
Like the motor, the suspension also remains unchanged and retains semi-active KYB units front and rear. This was my first time on a Tracer with semi-active suspension and it did not disappoint. In many ways, it really should not handle as well as it does—this is a middle-weight sports tourer after all—but flick into Sports mode and the suspension and chassis deliver a wonderfully exciting ride.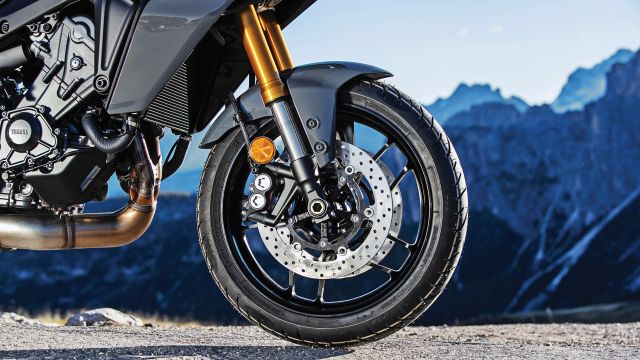 The crucial rider feeling is taken away with some semi-active suspension systems, but the feedback from the KYB set-up is excellent for this type of bike. I rode it fast and slow, smoothly, and aggressively and had undistracted fun on the outstanding roads of Sardinia throughout. The new GT+ is hard to fault.
The Bridgestone T32 tyres warm up quickly and offer great grip and only enhance the Tracer's intrinsic feedback. Yes, there are limitations to the sporty side of this sports tourer: the pegs will eventually touch in the softer, more compliant Street or Rain modes, especially with a heavyweight rider astride, but in Sport mode the GT+ was as accurate and almost as happy to carry corner speed as its naked MT-09 sibling.
So, the new Tracer9 GT+ is fun, sounds great, has plenty of grunt and handles well, which, apart from the new quick-shifter, make its sportier side much like that of the excellent Tracer9 GT (the one without the "+").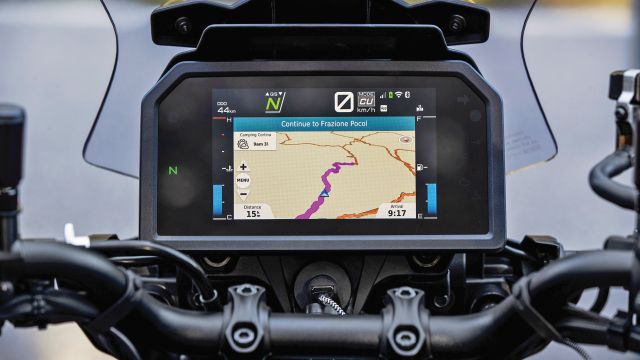 However, with the GT+, Yamaha have installed radar technology for the first time, which brings Adaptive Cruise Control (ACC) and the world's first Radar Linked Unified Braking System. Eager to demonstrate their new technology, Yamaha treated us to a decent motorway blast to test both systems as well as the functionality of the new seven-inch TFT dash and switchgear (which loses the unloved "Yamaha wheel" from the right bar and, hopefully, places it in the bin).
The ACC works by maintaining a selected gap of approximately one to two seconds between you and other road-users, increasing or decreasing the GT+'s speed automatically depending on the length of gap you have chosen. If the cruise speed is set to, say, 120 km/h and the GT+ approaches a slower vehicle doing 100 km/h, the bike will automatically reduce speed by utilising engine braking or activating the brakes if required.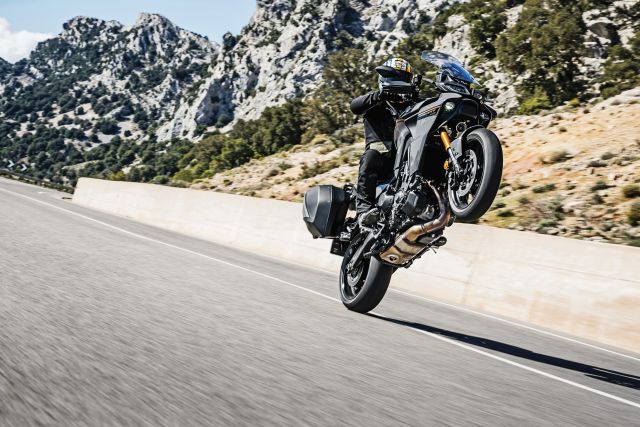 The ACC takes data from the IMU and adjusts its response to a changing gap depending on the GT+'s degree of lean angle. Additionally, as the suspension is semi-active, when the ACC accelerates or decelerates, it adjusts the suspension settings to reduce pitch or squat to maintain stability—all this on a sub-£15k (Rs 15.38 lakh) motorcycle.
On the move, you can increase or decrease the distance between you and other road-users, which is especially useful in the wet. You can also increase your speed in one-kilometre or 10-km increments and there is even the very clever Passing Assist, which smooths the GT+'s acceleration when you indicate from lane two to three and the radar can see the road ahead is clear.
I have tested similar radar systems before and this new Yamaha system is one of the best. It is easy to understand and use, while the new colour dash and new switchgear enable intuitive navigation. Once you have experienced the system, it becomes both addictive and second nature, helping to make long-haul touring effortless and less fatiguing. In theory, you should arrive at those distant twisty mountain passes bursting with energy.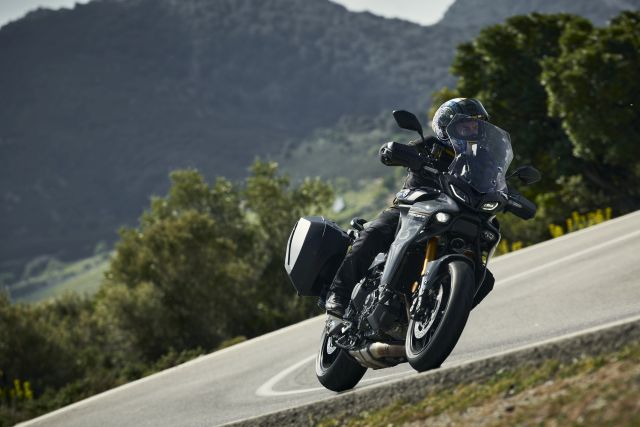 Sadly (or not), I did not get the opportunity to try the world's first Radar Linked Unified Braking System, despite trying. The system acts as a back-up to the lean-sensitive ABS, using information from the radar to optimize very hard braking.
Put very simply: a cow wanders unexpectedly into the road and you, the GT+ rider, obviously apply the brakes as hard as you dare. The new system can see you are approaching an object (the cow) at speed, via the radar. The system is also receiving masses of other data, knows critical stuff like brake pressure, wheel speeds, fork dive, lean angle, and even how much grip the bike has (has the ABS chimed in yet?). Within a fraction of a second it calculates if it can assist and whether the GT+ can brake more to avoid a collision.
If you are applying 50 per cent brake pressure, the system might add another 10 per cent, for it knows all the parameters and knows by taking data from all the rider aids, such as cornering ABS, how much harder the brakes can be used. The system gets activated only in an emergency to avoid a detected object and acts only if you have already applied the brakes yourself. It does not work if you are simply braking heavily into a corner, on track, for example. And if you brake hard enough or never encounter an emergency situation, you may never feel or see the system working (it illuminates the dash when it does).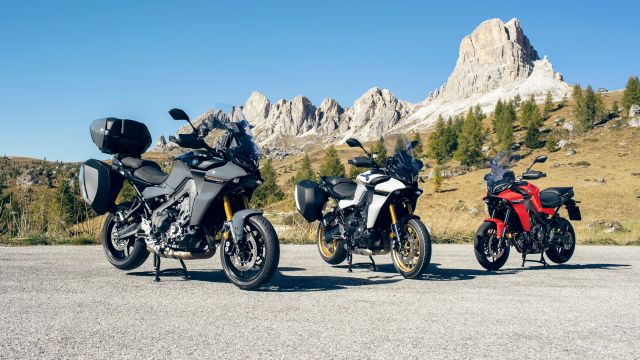 The level of new technology in the Tracer9 GT+ is incredibly high for this type of bike and makes it the most advanced Yamaha sports tourer to date. As well as ACC and Radar Linked Unified Braking, there is that smart and genuinely helpful quick-shifter and semi-active suspension; the new, high-luminosity, seven-inch dash has three layout options and is enabled for full-map integrated Garmin Navigation and, via Yamaha's MyRide app, full connectivity with your phone, too. Its new, backlit switchgear is far simpler to use than the older bike's while cornering LED headlights, a centre stand, heated grips, and 30-litre panniers, which can take a full-face helmet and be operated by the same ignition key, help make this sports tourer look like extremely good value for money. At £14,910 (Rs 15.28 lakh) it is not cheap, but you can certainly see where the money has gone. Furthermore, the GT+ is only £1,800 (Rs 1.85 lakh) dearer than the GT.
Yamaha already had an excellent bike in the Tracer9 GT and all of its key attributes have been carried over to the GT+. The sweet-sounding CP3 triple is still a gem-like combination of power, torque, and character. The handling, especially for a bike in the sports touring class, is as crisp as it is reassuring while the ride can be quickly switched between one of all-day compliance and comfort to a responsive sports naked.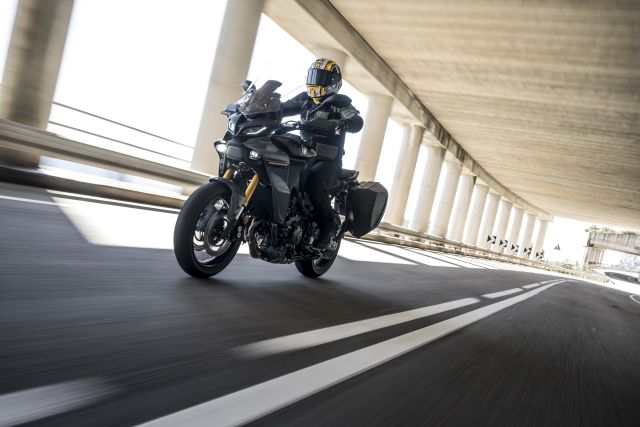 Now Yamaha have made the Tracer GT even more appealing with a near-avalanche of technology. Adaptive Cruise Control and Radar Linked Unified Braking System are the outstanding elements that make both touring and everyday riding that little bit easier and safer.
When you start to add up all the goodies festooned on the GT+—including standard equipment like an adjustable and comfortable seat, plus adjustable bar and pegs positions, plus a huge pair of panniers—it is a superb all-around bike for less than £15,000 (Rs 15.38 lakh).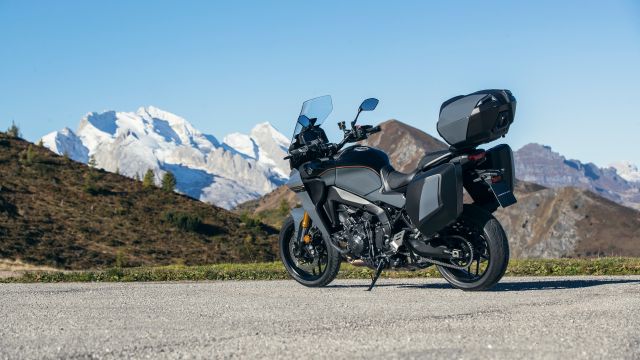 It really is hard to fault. The looks are not awe-inspiring and some may want greater power or extra comfort, but they would need to spend closer to £20,000 (Rs 20.50 lakh) to find it. For the price, there is no better all-round sports tourer in the market.
Technical Specifications
Yamaha Tracer9 GT+

Engine: Water-cooled, three-cylinder
Displacement: 890 cc
Bore x Stroke: 78.0 x 62.1 mm
Valves: DOHC, 12 valves
Power: 119 hp at 10,000 rpm
Torque: 93 Nm at 7,000 rpm
Chassis: Diamond frame
Wheelbase: 1,500 mm
Ground Clearance: 135 mm
Brakes: Twin 298-mm discs, radial four-piston calipers
Rear: Single 267-mm disc, two-piston caliper
Transmission: Six-speed, chain final drive
Suspension: KYB 43-mm telescopic fork, fully adjustable, semi-active, 130-mm travel
Rear: KYB single shock-absorber, fully adjustable, semi-active, 137-mm travel
Wheels/tyres:
Front wheel: 17-inch, cast alloy
Front tyre: 120/70 ZR17, Bridgestone T32
Rear wheel: 17-inch, cast alloy
Rear tyre: 180/55 ZR17, Bridgestone T32
Rake/Trail: 25°/108 mm
Seat height: 820-835 mm
Tank capacity: 18.7 litres
Fuel consumption: 5 litres/100 km
Weight: 223 kg (wet, fully fuelled)