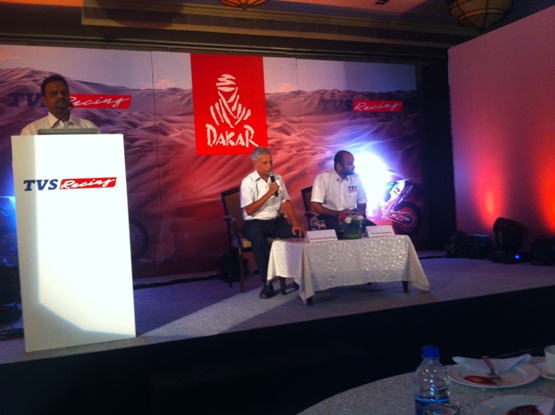 The Racing division at TVS is not one to rest on their laurels, and is gearing up to take things international. The company's racing division – TVS Racing has joined hands with French motorcycle manufacturer, Sherco Motorcycles, to participate in the Dakar Rally in 2015.The team will be participating under the banner of the Sherco TVS Rally Factory team.
Sherco motorcycles have long been involved in different forms of 2-wheeled motorcycling events such as Enduro, Supercross, and Motorcross and the team will feature French riders, Alain Dulcos and Fabien Planet astride brand new RTR 450Fs. The RTR 450Fs in question have been manufactured and developed by Sherco themselves and are extremely purpose built machines. Machines that are built to endure even the unforgiving terrain of the notorious Dakar Rally. Speaking of the motorcycles, TVS Racing Head Arvind Pangaonkar said, "We are building further on the success of TVS Racing. The racing motorcycles, christened RTR 450F, will be more competitive, lightweight and equipped with highly reliable 450cc engines developed and manufactured by the team at Sherco Motorcycles along with TVS Racing specifically for the 2015 Dakar Rally."
"Through this arrangement, the company engineers will get hands-on experience and deeper understanding of international racing programs and improve the competitiveness of TVS Racing. TVS Racing experience is the basis for developing high performance motorcycles for our customers," he added.
The Dakar Rally has long been the proving ground for Motocross and Enduro riders from all over the world and will play host to over 160 participants from 30 countries next year.
Story: Aniruddha Mulgund