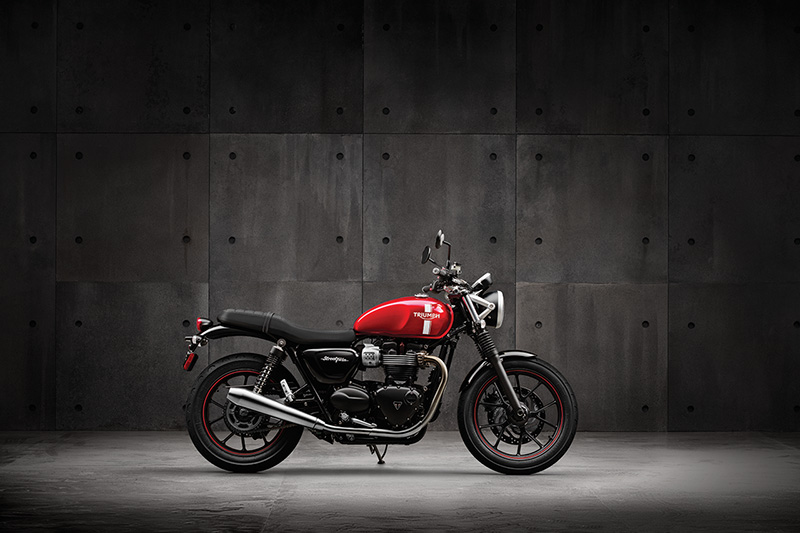 Anyway, getting back to the bikes, first up is the Street Twin, which is going to be your entry ticket into the Triumph family as it will be replacing the current standard Bonneville. The Street Twin has a brand new design that reminds you of the old Bonneville however, touches like a cast headlamp mount, modern console, slimmer profile, new rear-end and the Street Twin badging are some of the design elements that will make it a retro-looking modern heartthrob.
As for the engine, it may have the old Bonnie's look however; the internals are brand new. It features a low-inertia crank and liquid cooling for smoother and more efficient operation with ride-by-wire throttle adding a bit of modern-day tech. With a displacement of 900 cc and torque output of 80 Nm at just 3,200 rpm, the new Street Twin is 18 percent torquery as compared to the current Bonnie on sale in India. And transferring all that torque to the rear wheel is a six-speed gearbox.
Triumph claims that the torque spread is wider which makes this new Bonnie far easier to ride. Triumph will be offering the new line-up with ABS, traction control, slipper clutch, LED tail lamp, USB charge socket and engine immobiliser as standard however, this configuration might change a bit for the Indian market.
Triumph also claims that all the five bikes feature frames and suspension that were designed specifically for each model. The reason for paying this much attention to detail was because Triumph wanted to retain the character of the old Bonneville however, at the same time they wanted to give each motorcycle its unique identity apart from making it more rider friendly. Unfortunately, we would have to reserve our judgement on that new frame and suspension until we actually ride the new line-up.