This time we headed to the India Bike Week in Goa astride two extremely capable motorcycles: the Triumph Tiger 900 and Tiger Sport 660.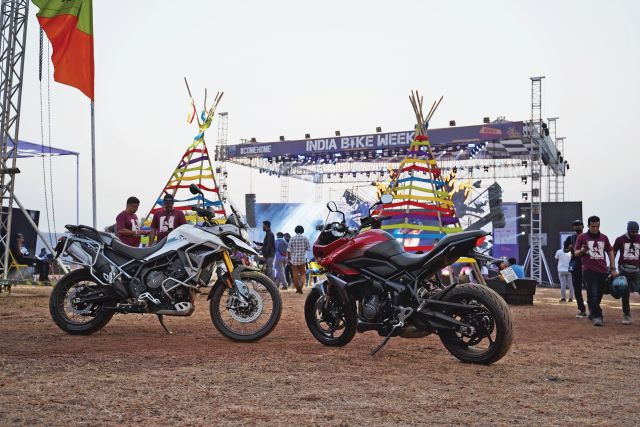 Tiger 900
The India Bike Week festival has been known to bring the motorcycling community together. It has been somewhat of a ritual for most bikers to ride down to the venue. After a long break it was exciting to prepare for this ride. While I have always enjoyed long-distance riding, I had not yet had an opportunity to do Pune-Goa astride a large ADV, so this seemed like a perfect time to tick it off my list. While I selected the Tiger 900 Rally Pro, my colleague, Kurt, chose to accompany me astride the Tiger Sport 660.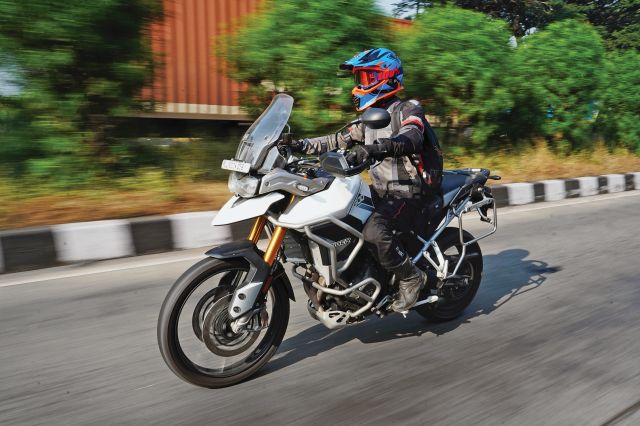 We got off to an early start from Pune and quickly found ourselves in the Katraj Ghat section that we had to tackle in darkness. This was made effortless due to the powerful headlights of the bikes illuminating the way and that is just one of the reasons why a large ADV bike is a perfect companion in just about any situation. We then got on to the main highway at around 6.00 am and started to cover distance. With the visibility still poor, we rode carefully until the popular breakfast spot just before the Khambatki Ghat. From there, we got a glimpse of the sunrise and met some fellow bikers who were also on their way to the festival.
While leading, it was surely helpful to have that large display feeding me information while the windscreen kept me cruising comfortably against the wind blast. Even though this Tiger is off-road focused with a 21-inch front wheel, it was amazing how stable, planted, and flickable it proved to be on those twisty roads. This made it easy to cut through all the truck traffic and the potent 888-cc motor allowed me to power through and overtake slow-moving vehicles.
About 164 kilometres later, we arrived at Kolhapur. What i really appreciated was how easy it was to cover the distance so quickly. On such bikes, cruising all day will be enjoyable and not a tiring affair. A little later, I did fuel up as the 660 Sport was running low, although the 20-litre tank of the 900 would have easily taken me all the way to our destination. We heard that our usual Amboli Ghat route had a lot of traffic that was slowing down bikers, so we decided to take the Chorla Ghat instead. Personally, the fairly isolated highway taking us there is where I enjoyed the most as I was comfortably cruising at 140 km/h with cruise control making things even easier.
The final stint of this ride took us through Belgaum, after which we took advantage of the narrow twisty roads of Chorla Ghat. While maintaining good pace, I didn't have to worry about any sudden sections of bad roads as the long-travel suspension of the Tiger 900 sailed through every obstacle and, in turn, I was able to guide the 660 Sport behind me very safely. With their commanding stance, the bikes were hogging attention all along the way.
As we entered Goa, the turn-by-turn navigation feature came to our help and brought us to our hotel in no time. Even though the Tiger 900 is a large motorcycle, I found it extremely easy to manoeuvre and it made the 430-kilometre ride a cakewalk. This was a memorable ride after which the bikes were put to good use in Goa, followed by a fantastic and even quicker return to Pune. Thanks to Triumph India for sorting us out with this firepower for our first ride to Goa after a long time.
— Azaman Chothia