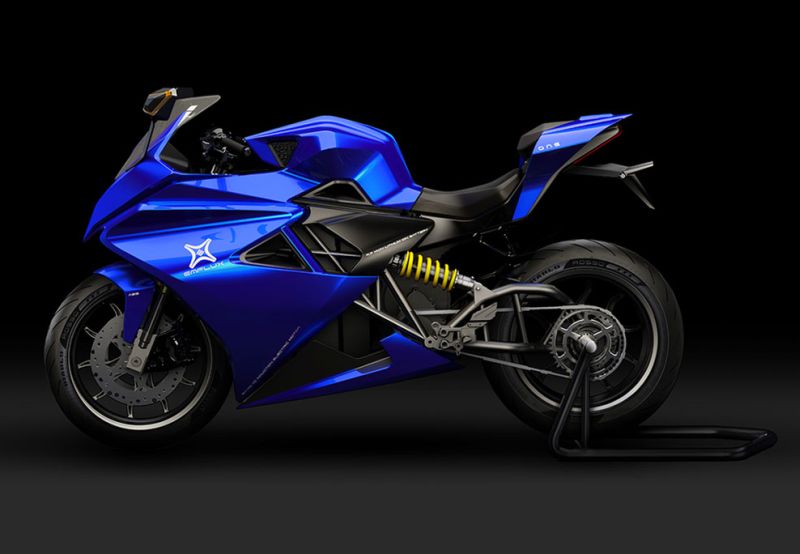 With the 2018 Auto Expo just around the corner, we get a sneak peek on the much talked about Emflux ONE e-superbike.
As the young team of the Bangalore-based start-up give their first model the finishing touches, we have a quick chat with Ankit Khatry, co-founder of Emflux Motors and a graduate of Indus Business Academy, about Emflux ONE and their mission to empower 10 million electric two-wheelers in India within the next decade! Here are some excerpts from the interview.

Bike India (BI): The Emflux ONE will be shown at the 2018 Auto Expo but, before that, could you tell us more about India's first e-superbike?
Ankit Khatry (AK): It has a range of 200 km in city riding conditions; acceleration from 0-100 km/h is achieved in 3.0 seconds; and the top speed will be 200 km/h which is electronically limited. Our motor can produce about 53 kW [72 PS] and a peak torque of 84 Nm which is electronically limited to 75 Nm. We are also developing a fast-charging solution which we call the 'WARP Charger'. This technology will charge ONE's completely drained battery to 80 per cent in just 36 minutes.
BI: Can you shed some light on the cycle parts of the Emflux ONE?
AK: The main features of the Emflux superbike are the Brembo brakes, Öhlins suspension, dual-channel ABS, single-sided swingarm, and the fully connected smart dashboard with AI capabilities. Battery and electric motor specs include a Li-ion 9.7 kWh high power-cell and a 60-kW [81.5 PS] AC Induction Motor which is limited to 53 kW [72 PS] from the controller. More Details and features to be unveiled at Delhi Auto Expo…
BI: How have you managed the funding so far?
AK: We initially raised some capital from co-founders, friends, and family. Followed by a round from some serial entrepreneurs including Samar Singla (co-founder of Jugnoo and Click Labs). As of now, we have a comfortable runway to showcase our bike in Delhi Auto Expo and a year thereafter. We will be focusing on fundraising after Delhi Auto Expo to bring the production model to market in record time.
BI: Have any major two-wheeler manufacturers shown interest or are investing in your company?
AK: As of now, we are not in touch with any major two-wheeler manufacturer, but recently a strategic investor from the automobile industry invested in us but due to confidentiality we cannot disclose it at present stage.
BI: When can we see a production ready version of the e-Superbike?
AK: We will be unveiling our Emflux ONE electric superbike in Delhi Auto Expo'18 which is starting from 9 February 2018 at Stall E16, Hall 08, with the design and circuits developed in-house, which will be 70-80 per cent production ready bike, but the sale will begin in early 2019.
BI: How did you come upon the idea of developing the Emflux ONE? What was your inspiration?
AK: Varun's dream was to make superbikes and supercars since his college days but he did not have the time, experience, money and resources to make it happen. So, he continued his studies and joined BHEL upon graduating from IIT Delhi. He then moved to Europe for pursuing Masters in Management. After working for several years in Europe and Africa, he returned to India and joined Jugnoo to led growth across the country.
During his time at Jugnoo, Varun met with an accident which halted his journey for several months. This accident gave him enough courage to follow his dreams of building electric vehicles. Right after his recovery from the accident, Varun started Emflux Motors with Ankit (Varun's team-mate at Jugnoo) and Vinay (former designer at TVS Motors) who shared a similar vision. They decided to join him on his journey to make electric vehicles. Meanwhile, investors like Meher, Nikhil, and a few others gave him the confidence and strength to follow his dreams and ideas by trusting and funding Emflux Motors.
We are working on a top-down approach for our motorcycle where our mission is to empower 10 million electric two-wheelers in India by 2027 with our two-pronged market focus – firstly build brand and loyalty by producing high – performance electric motorcycle and secondly create an ecosystem of partner OEMs to whom we will become the technology and component supplier.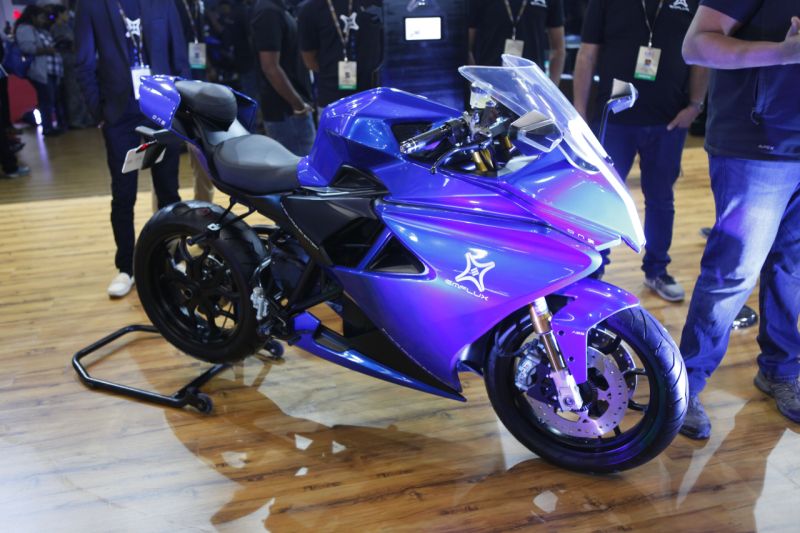 BI: What's next in store?
AK: We have plans for Model TWO which will have similar specifications as Model ONE but will be a naked sports motorcycle, and will be offered as two variants with different battery range.
---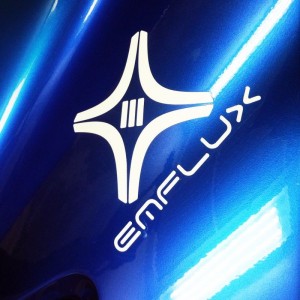 About Emflux
Emflux Motors is a start-up based in Bangalore, which is thriving to build India's first electric sport-bike. It is the brainchild of Varun Mittal, an IIT Delhi alumnus with a passion for electronics, robotics, and, of course, fast motorcycles. After winning Robocon India 2007, Varun went on to be part of two US$ 100 million plus B2C start-ups, Jumia and Jugnoo, as vertical head and the founder core member, respectively. He was joined by his Jugnoo colleagues Ankit Khatry and Gulshan Sharma in establishing his dream company.
A couple of months later, his core team was strengthened by the addition of Vinay Raj Somashekar, a national level design competition winner (SIAM 2014), and ex-TVS motorcycle designer. The talented core team, along with over 12 other passionate and talented engineers and designers from different disciplines now form the base upon which the future of this company and their 'electrifying' dream will be written.
Their first model, the Emflux ONE, will be unveiled at the 2018 Auto Expo and claims to transform the electric two-wheeler as we know it in India. The ONE promises a zero-to-100-km/h sprint in just three seconds flat and claims to have a top speed of 200 km/h! Yes, we can't wait to have a go on this one.
Story/Interview: Sarmad Kadiri