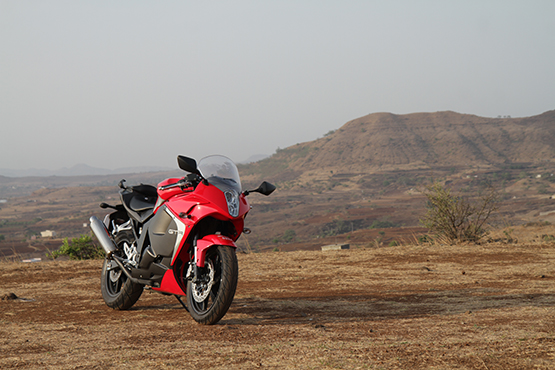 The Hyosung GT250R now sports a new set of graphics that enliven the bike's sporty styling. We get astride this Korean quarter-litre motorbike
Story: Aninda Sardar
Photography: Rommel Albuquerque
The first time I ever got astride a Korean motorcycle was over a decade ago. At the time, superbikes (the likes of which we now see with increasing regularity on our roads) were virtually non-existent. Honda, the giant of the motorcycle world, hadn't even introduced a bike here in India. All they had were scooters. The bike in question was Hyosung's Comet GT250. With its huge fuel tank, V-twin powerplant with an oil-cooler, sporty riding position, upside down (USD) front forks, rear disc brake and single rear shock, the Comet stood out from everything around it.
Much water has passed under the bridge since then and with the rest of the world, the Indian motorcycling scene too has moved on. Today, barring Ducati and a few other manufacturers of exotic two-wheelers, pretty much every motorbike manufacturer worth its salt is present in India. There are at least two more quarter-litre bikes available – one a single-cylinder, the other a parallel twin. Things like oil-coolers, rear disc, and monoshocks are now seen as normal additions to even mass-produced motorcycles, let alone anything that has even the first few letters of the word exotic. In this changed scenario, one wonders if a Korean 250-cc with such embellishments that are no longer seen as fancy can still hold its own.
Surprisingly, the new Hyosung GT250R does manage to stand out from the crowd, much like its predecessor, the Comet GT250, did back in the day. Its distinctive beaky head, that massive fuel-tank and racy stance all merge together to endow the bike with a fair amount of road presence. You'll be sure to grab a decent amount of eyeballs no matter where you go (except, perhaps, at a gathering of superbike owners). We can tell you because we did. Part of the GT250R's ability to pull attention also lies in its exclusivity. You're unlikely to find a similar machine next to you at the traffic signal. The fact that the bike on test was painted in a vivid shade of crimson only helped enhance its visual appeal and presence.