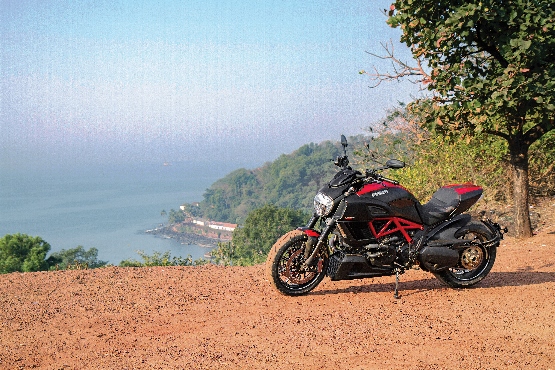 The Ducati Diavel Carbon is a machine unlike any other. With its sci-fi looks, car-like features and monstrous power this Ducati justifies its name, even though its devilish streak is hidden under a veneer of refinement
Story: Aninda Sardar
Photography: Rommel Albuquerque
It wouldn't be out of place to suggest this motorcycle as the chosen steed of Judge Dredd if one were to do a remake of the original. Remember that sci-fi film featuring Sylvester Stallone (he, of course, played the dreaded Judge Dredd) back in the 1990s? Indeed, the Ducati Diavel Carbon looks devilishly futuristic. I mean, just look at that stubby visage, the muscular stance, and the blacked-out treatment with the exposed crimson trellis. It is so totally sci-fi. But, believe you me, this bike is very real, even though the experience of riding it was quite surreal.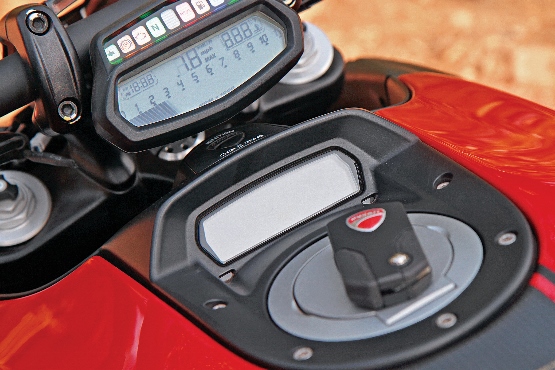 The first time you approach the bike, it's a terrifying feeling. It looks mean and is menacing in its countenance. As you come closer, you also realise there's little that's familiar about this bike. For example, there's no slot for the ignition key to go in. Want me to repeat? There's no slot for the ignition key. Instead, as in the case of many a car, this bike operates on a key-less Start/Stop principle. Keep the key in your pocket (there's no need to move it from there at any stage of riding the motorcycle) and press the triangular button with the embossed Ducati logo, located just ahead of the muscled petrol tank and on the top of the tank-mounted part of the digital info display. Press it once to switch the ignition on, if you hold it for a few seconds then the bike is locked and the alarm is set to stand by. And, yes, in case you missed that bit, all essential information is displayed on what Ducati call a "split level instrumentation". Innovative? You betcha!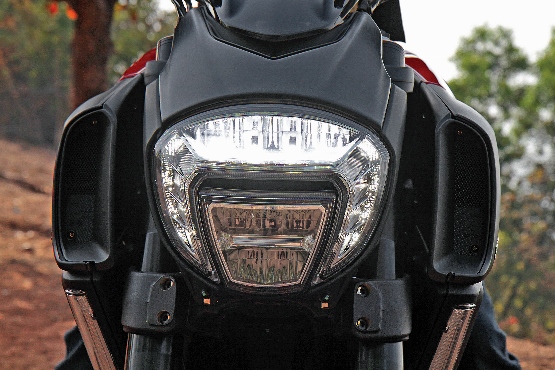 Swing a trembling leg over the Diavel and you immediately get a hint of 'there's more than meets the eye'. The Diavel is much like a Great Dane. The first layer (the way it looks) is menacing and intimidating to the uninitiated. Underneath that skin lies a far softer side to the Diavel, for despite the way it looks and in spite of a kerb weight of over 200 kilos the Diavel doesn't feel bulky. And, mind, that weight figure I just quoted does not consider fluids or even the battery for that matter. Clearly, Ducati have worked enough on the design front to ensure that the motorcycle feels friendly to all sorts of riders. Part of this feeling of friendliness also comes from the riding position, which is spot-on. It's comfortable yet sporty, which lends itself well to all kinds of riding — sporty or simply about town.