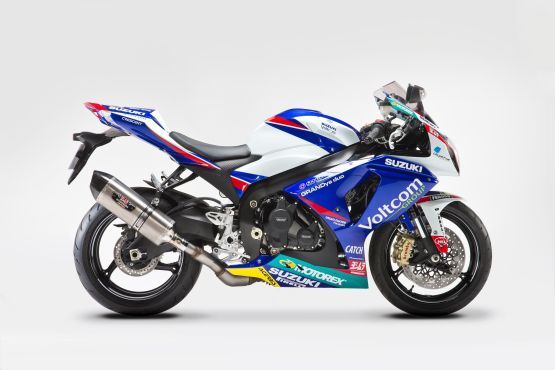 Suzuki Motorcycles have revealed their new limited-edition GSX-R1000 with a World Superbike (WSBK) replica paint scheme.
Only available in the UK, the replica Gixxer sports the colours of the Voltcom Crescent Suzuki WSBK team. With only 25 units to go on sale, this limited-edition GSX-R1000 is priced at £11,000 (Rs 11.03 lakh).
The WSBK limited-edition also comes equipped with a Yoshimura R77 exhaust, GB Racing engine covers and single seat cowl which have been personally signed by Crescent Suzuki team riders Alex Lowes and Eugene Laverty.
Addressing the media at the launch, Rob Cooper, Marketing head, Suzuki commented that, "Following the popularity of the Tyco Suzuki replica GSX-R600 released earlier this year, Suzuki is delighted to follow it up with a Voltcom Crescent Suzuki edition GSX-R1000. In the UK we're in a great position, where we have a British-based team with home-grown riders competing on the world stage, so it's an excellent opportunity to show support your support.'
The GSX-R1000 WSBK limited-edition will be retailed across Suzuki Motorcycles dealers in the UK only by special order.
Story: Sayem Parvez Syed