Suzuki jump back into the competitive middleweight category with the attractive GSX-8S.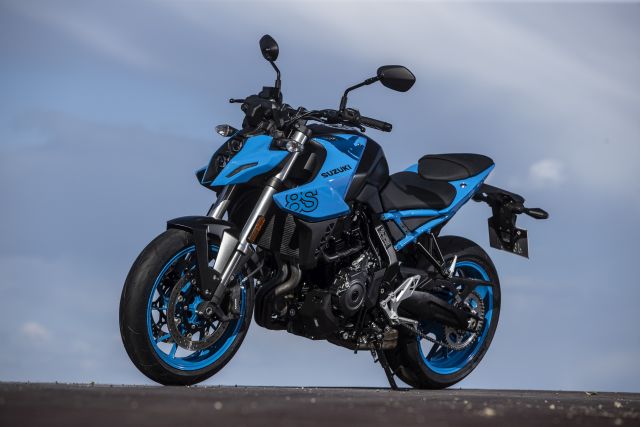 Story: Adam Child
Photography: Chippy Wood and Jason Critchell
Suzuki have a long history of producing affordable and fun-to-ride naked middleweight bikes. In fact, for many riders over 40, Suzuki's 1996 Bandit 600 will be remembered as the original—and possibly the best—entry-level middleweight of them all. It was handsome, easy to ride, enormous fun, and cheap—and a huge sales success across the world.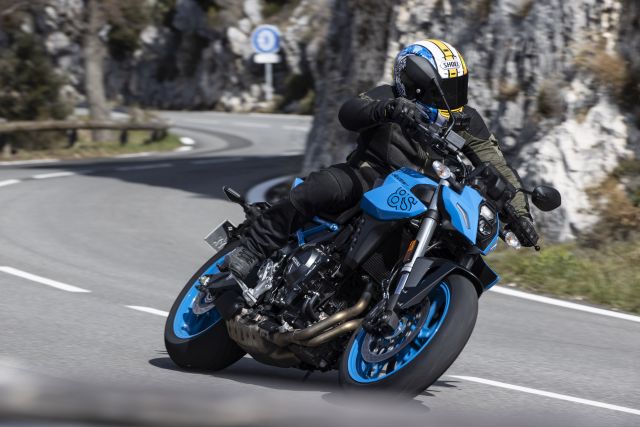 In 1999, Suzuki, seemingly with a golden touch for nailing this budget market, introduced the SV650 V-twin. Like the Bandit, it was offered naked or faired and was as undemanding as it was satisfying to own and ride. In time the SV morphed into the Gladius, then, by popular demand, back to the SV and it is still on sale today.
Now, in the spring of 2023, Suzuki are introducing the all-new GSX-8S as, you have guessed it, an affordable, fun, and easy-to-ride middleweight. However, despite the ethos being the same as its legendary predecessors, this is a completely new model for Suzuki who, having remained dormant for far too long, have erupted into life with the intention of grabbing a significant slice of the key middleweight market.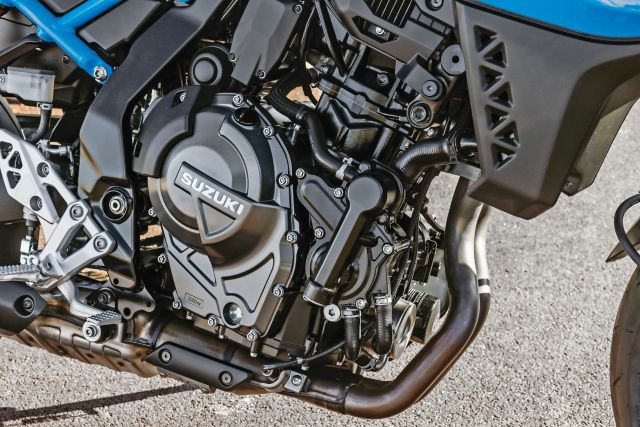 The GSX-8S is powered by Suzuki's all-new DOHC 776-cc parallel twin platform which features a 270-degree crank and produces a claimed 83 hp at 8,500 rpm and 78 Nm at 8,000 rpm. It is the same motor that is housed in the new V-Strom 800DE; the only differences being in the fuelling and exhaust. Both use the same reverse airbox which sits under the seat.
Ride-by-wire allows three engine modes (A, B, and—wait for it—C) and there are three traction control settings (plus Off). Rider aids are not lean-sensitive, which means no cornering ABS, but Suzuki's bi-directional quick-shifter does come as standard.
A colour five-inch TFT dash is, like the engine, shared with the 800 (and 1050) V-Strom and looks extra-neat. Styling is all new, so are the swing-arm and subframe while, in the metal, the GSX-8S exudes a similarly compact and up-for-it vibe as a naked KTM roadster.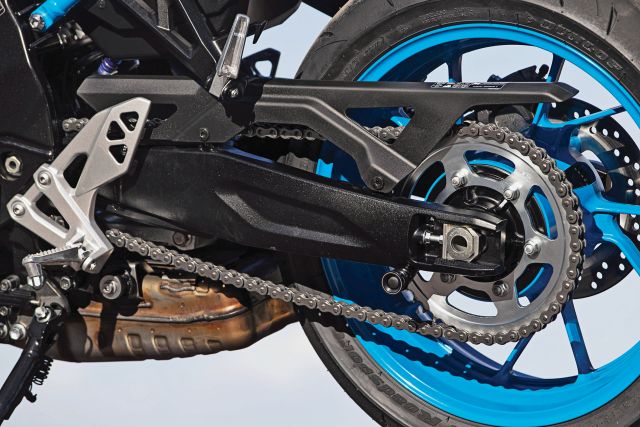 This is an important bike for Suzuki, who desperately want to claw back lost ground in this competitive middle market. We managed a full day of solid riding in the south of France, starting in Nice and heading along the famous Route Napoleon.
Leaning nonchalantly on its side-stand in the early morning sunlight on the exclusive Nice seafront, the GSX-8S does not look out of place. It is a good-looking bike with a modern European flavour. It appears that Suzuki have been watching carefully.
The build quality looks impressive and the paintwork durable. I particularly like the simplicity of one solid colour and the absence of garish graphics. Yes, the GSX-8S is more expensive than Honda's new Hornet and it is going to cost more than the Yamaha MT-07 and Triumph Trident 600, too, but it does exude quality—and that quick-shifter does come as standard equipment.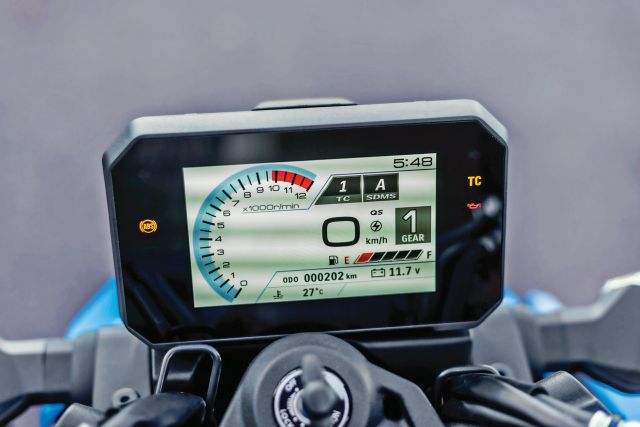 The new colour five-inch dash sets the tone nicely. It is as easy on the eye as it is to navigate and attractive in a minimalist and unshowy way. There is a prominent gear position indicator, I do not have to squint to read information, and I find that I can change the riding mode without even thinking how to do it.
Negotiating my way out of Nice, filtering past posh shops while checking out the multi-million-Euros yachts in the harbour, my first impression is positive. In the middle B-mode fuelling is soft and mellow. At walking speed, with hardly any throttle, the Suzuki crawls forward effortlessly, feeling impossible to stall (aided, as it is, by Suzuki's Low RPM Assist). The transition from 0 per cent throttle to 20 per cent throttle is seamlessly smooth; new riders are going to adore this.
The clutch is a little on the heavy side but, once under way, largely redundant due to the standard bi-directional quick-shifter. At low speed, I still prefer to use the clutch on down-changes for a smoother ride, but that is true of all bikes.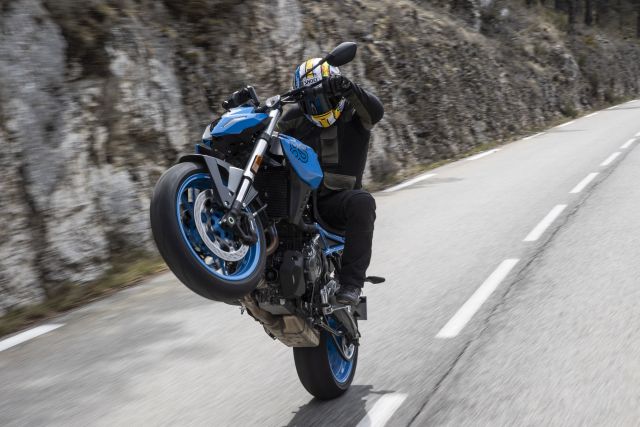 On paper, the GSX-8S is on the heavy side compared to the competition: at 202 kilograms (that is, kerb weight) it is 12 kilos heavier than the Hornet and nearly 20 kilos heavier than Yamaha's smaller capacity MT-07. Nevertheless, at low speed, where you really notice a bike's mass, there is a lovely balance and lightness of touch to the 8S. The seat is low at 810 millimetres and, combined with excellent low-speed manners and throttle response, helps make the twin perfectly suited for inexperienced riders, while those with a few more miles under their belt will be able to exploit its natural agility and slim profile to carve up their regular commute.
Urban credentials established, I left the Riviera behind and headed into the hills, where I was able to work the new 776-cc parallel twin. It may only produce a peak figure of 83 hp but its spread of torque is stunning. The GSX-8S, with its tractive 270° crank, drives urgently from low rpm while throttle response is instant. As the revs build into the mid-range, that drive simply gets stronger and stronger, something I was not fully expecting and which feels a step above the competition. I mean this in a complimentary sense, but the way it punches out of corners makes the twin feel like a vibration-free single. It is immense fun to short-shift through the middle gears and let that perfectly metered torque shovel the GSX-8S forwards. There is also a charismatic bark to the short exhaust that makes a ride in the twisties even more rewarding.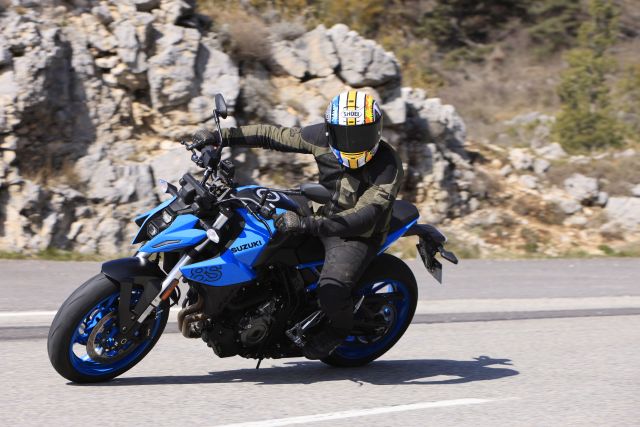 This is a motor created for the real world; that is happiest driving from 50 km/h to 110 km/h, precisely where we spend most of our riding time. I tried the sharper "A" riding mode but much preferred the softer "B", especially since both produce the same power.
In the cool of the morning, I rode with the traction control active (it is easy to change on the move) and the combination of a punchy motor, a brisk riding pace, and Dunlop Sportsmax RoadSport 2 tyres that never felt like they were up to temperature, gave it a decent workout. But even if I never had full confidence in the grip levels of its rubber, the GSX-8S' handling remained easy and forgiving.
A relatively long wheelbase and a few extra kilos compared to the competition add a welcome sense of stability as speeds climb. The bike is still easy to turn and rolls sweetly into corners. It is not aggressive or as easy to flick through a set of S-bends as the Yamaha MT07, but wide bars make the Suzuki feel lighter than it actually is—and it certainly likes to hustle. As the French roads opened up, the twin ran out of puff as the rpm crept into the upper reaches of its rev-range, but with so much punch on tap lower down you do not need to chase the revs to have a truly spirited ride.
As for the brakes, twin 310-mm Nissin discs and calipers up front have to haul up over 200 kg of machine plus rider, but they are up for the challenge. In fact, on this type of bike, you do not need anything more. The rear shock, meanwhile, has spring preload adjustment but there is no adjusters on the 43-mm KYB forks (which is broadly in line with the competition, KTM's 790 Duke apart).
The ride is compliant and forgiving and, under everyday riding conditions, hard to fault. The rear shock, however, is on the soft side, especially when you ask a little too much or hit a bumpy section at speed. It is one of the few areas of the GSX-8S that feels low-budget and would benefit from more damping control.
However, you need to remember who this bike is aimed at because, for just over £8,000 (Rs 8 lakh), the GSX-8S performs like a quality machine able to fulfil the needs of a wide spectrum of riders, sizes, and capabilities. With a quoted 23.8 km/l, it should also be inexpensive to run.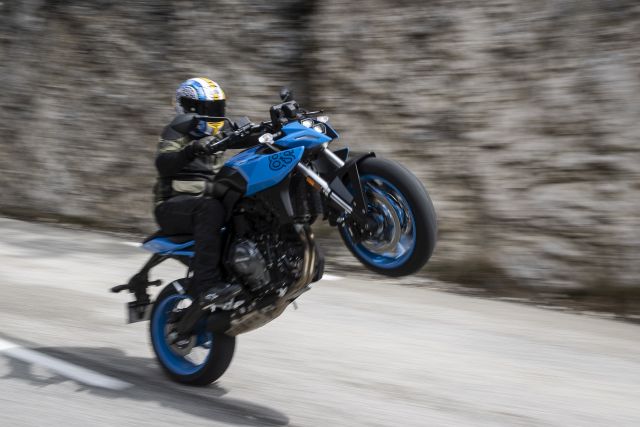 Overall, Suzuki need to be complimented. The all-new engine is a gem with real punch for this class, plus a lovely mid-range and perfect fuelling at low speeds. The standard quick-shifter is a nice touch too. Suzuki have also upped the quality all-round in terms of build and finish and I cannot remember an earlier entry-level Suzuki feeling this good and looking so stylish. It is also practical, has a classy and useful dash, excellent switchgear, easy-to-understand electronics, and, despite having a relatively low seat, is comfortable and fits all sizes.
I particularly like the solid and stable feel of the GSX-8S on open roads as well as its apparent lightness and balance in town, both of which will appeal to inexperienced riders. When you ask more of the suspension and stoppers, it delivers—up to a point. I would certainly like more feedback from the Dunlop rubber, while sporty owners will benefit from more support and control from the shock.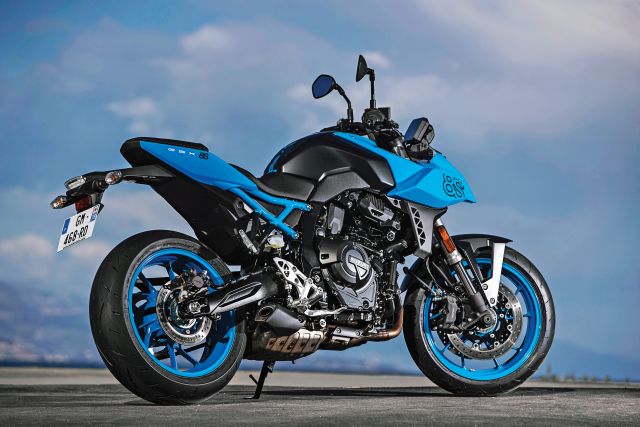 The big test will be when the GSX-8S goes up against some seriously strong competition. How will it fare against the cheaper Honda Hornet? Or the fun-bags MT-07? Or the WP-suspended KTM 790? It is going to be close but Suzuki are certainly in with a chance of taking the top step with the new GSX-8S.
Suzuki GSX-8S
Technical Specifications
Price: £7,999 (Rs 8 lakh, in the UK)

ENGINE
Capacity: 776 cc
Type: Liquid-cooled, parallel twin
Valvetrain: DOHC, 16 valves
Bore and stroke: 84.0 x 70.0 mm
Compression ratio: 12.8:1
Fuel delivery: Electronic fuel injection, 42-mm throttle bodies, ride-by-wire
Transmission: Six-speed with quick-shifter, chain final drive
PERFORMANCE
Power: 83 hp at 8,500 rpm
Torque: 78 Nm at 6,800 rpm
Fuel consumption: 23.8 km/l (claimed)
ELECTRONICS
Rider aids: Three riding modes.
Traction control: (x 3 and "Off"). Suzuki bi-directional quick-shift system
CHASSIS
Frame: Steel
Rake/Trail: 24°/104 mm
Wheelbase: 1,465 mm
SUSPENSION
Front: KYB 43-mm USD, non-adjustable, 130-mm travel
Rear: KYB monoshock, preload only, travel not available
Tyres: Dunlop Sportmax Roadsport2
Front: 120/70 ZR17
Rear: 180/55 ZR17
BRAKES:
Front: Twin 310-mm discs, four-piston radial calipers, ABS
Rear: Single 240-mm disc, single-piston caliper, ABS
DIMENSIONS
Weight: 202 kg (kerb)
Seat height: 810 mm
Bar width: 755 mm (overall width)
Length: 2,115 mm
Ground clearance: 145 mm
Fuel capacity: 14 litres
Colour options: Pearl Cosmic Blue, Pearl Tech White, Metallic Matt Black