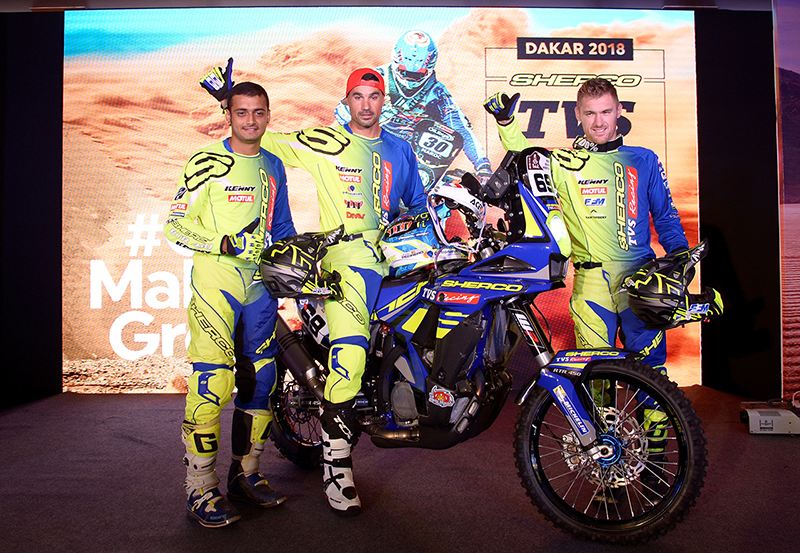 The team is hoping for a top-ten finish at next year's Dakar Rally raid which will kick off on 6 January, 2018.
The Sherco TVS Factory Rally Team recently announced their squad for 2018 Dakar Rally which will include their top rider from Spain, Joan Pedrero. The team also includes French rider Adrien Metge and our very own Indian rider Aravind KP. All three riders have been performing well in international rallies such as the Baja Aragon, Merzouga Rally, PanAfrica Rally, and OiLibya Rally of Morocco and based on this performance, Sherco TVS are hoping for a top-ten finish in their fourth consecutive year at the Dakar.
Last year, Joan Pedrero was able finish 13th overall at the Dakar and, this year, the French ace is hoping to better his results and make his team proud. Sherco's second rider, Metge, finished 22nd overall and he too is optimistic about finishing better than last year. Aravind KP is also quite excited to be a part of the squad and the second Indian at the Dakar.
Talking at the event, Thomas Teissier, General Manager, Sherco Motorcycles commented, "This is the fourth year of our partnership, and with each passing year our preparation for Dakar has become more focused and fierce. We have a strong relationship with TVS Racing, and we have worked together on the existing team structure. We are excited to have Aravind KP in our team again. The preparation has been good so far, and I have full faith in the abilities of our team for Dakar 2018. The preparation in the last two months before the race will be very crucial, and I am sure that the team will perform to the best of their ability."
Arun Siddharth, Vice President Marketing – Premium Two Wheelers, International Business & TVS Racing, said, "TVS was the first Indian manufacturer to participate at Dakar, and this year we have stepped up our participation in, and preparation for, international rally-raids. Races such as Panafrica Rally, Merzouga Rally and OiLibya Rally have helped us get more exposure, thus helping us improve our readiness for Dakar. Based on our performance at the other rally-raids this year, we are aiming for a top-10 finish at Dakar 2018."
The 2018 Dakar is in its 40th year and is still as challenging as it was when it started. This year the rally will start in Lima, Peru and will progress to La Paz and Tupiza, Bolivia before concluding in Córdoba, Argentina. The participants will be covering over 9,000 km from Peru to Argentina where they will encounter tarmac, dirt, sand, gravel, high altitudes, searing heat, torrential rains, and bone-chilling cold conditions.