When it is safer to ride on tarmac, why would one take a motorcycle off it? Simply because it's more fun. So, when invited to be a part of Royal Enfield Unroad Himachal, we said, 'YES!'
Story: Joshua Varghese
Photography: Royal Enfield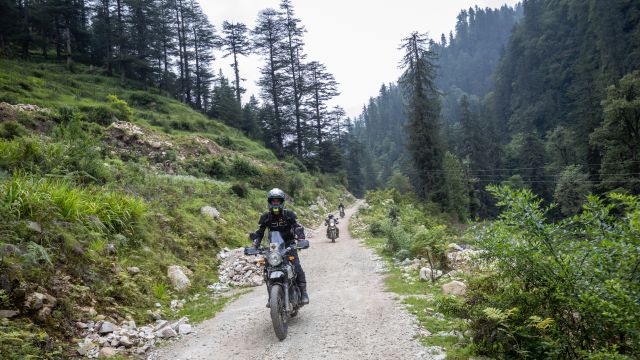 A trip to the mountains is usually replete with scenic landscape, clean air, breathtaking views and the like; in a nutshell, an adventure junkie's paradise. Travelling towards Jibhi, Himachal Pradesh, I was in for an experience that promised a more involving adventure ― the Royal Enfield Unroad Himachal. This customer engagement event primarily focuses on the off-road experience; choosing to cruise over tarmac only for transit between the tricky trails.
An ebullient bunch of 15 riders turned up on Day Zero at the camp in Jibhi which would act as a base for the following three days. I was given the key to an impeccably maintained white Himalayan that sported Barkbusters lever guards (a crucial piece of kit if you intend to explore the full potential of your Himalayan off the tarmac; it saves the hand levers from breaking off in the event of a nasty fall).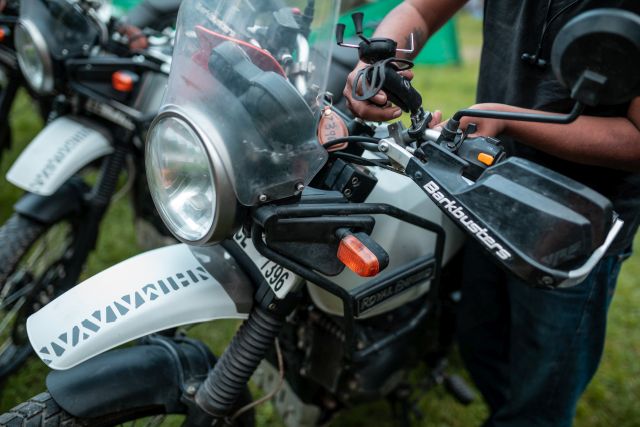 Pramit Dhyani and Sohrab S Sandhu were the representatives from Royal Enfield. They introduced us to the veteran motorcycle rallyist, Sandeep Kanwar, who is a resident of Jibhi and was instrumental in charting the routes for all three days.
Day One
The plan for the day was to cover three trails before sunset. We set out after breakfast, disrupting an otherwise peaceful morning with a chorus of sonorous Royal Enfield exhaust notes. On the way to Sajwar, we were treated to some picturesque trails. Tarmac gave way to terrain that seemed to throw up challenges with each corner that we rounded.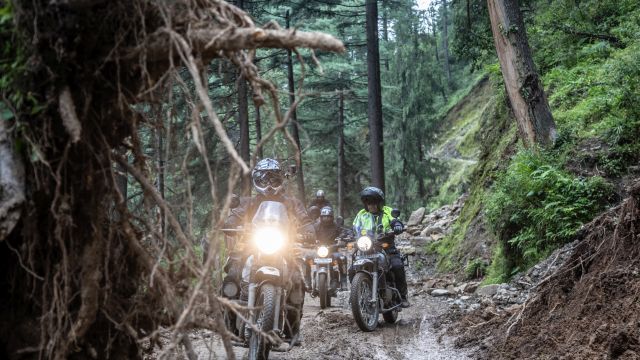 The agenda was to ascend a mountain and take a break at a temple on the top which also offered a stunning view of the valley. However, our motor adventure was forced to transform into an escapade of the pedestrian variety because of a landslide that blocked the trail. We left our motorcycles parked at the newly created dead end and hiked over the debris towards the temple.
After letting the view sink in, we walked back to the motorcycles and hit the trail again, this time off to a new location, Sari. The second trail made the first one seem like an appetizer. It was full of loose gravel, small water crossings, and an ample dose of slush which, like cream, only got thicker as more motorcycles whipped through it. While riding through thick slush, momentum is of paramount importance. As you approach the slush, select a line through it and look ahead. If you look down at your front wheel or panic when your rear wheel slides, you are most likely to find yourself in the slush. Unfortunately, we were unable to see this trail through as well due to another landslide.
The third and final trail of the day led to Tandi and was more relaxed than the others. A viewpoint awaited us at the end of the trail where we were treated to a splendid sunset. At the end of the first day, newbies and seasoned riders alike got a taste of adventure and they wanted more. Although we had covered a mere 40 km that day, most of us were physically exhausted. Word of advice: before going on a ride like this one, spend a couple of weeks getting into shape. Thankfully, I did and it helped.
Day Two
The second day saw us cover the longest distance in a single day during the whole trip (200 km). It may not sound like much but more than 150 km of it was hardcore off-road. The plan was to reach the Shikari Devi temple, which is believed to be in existence since the Mahabharat period. Interestingly, the local people say that the temple remains roofless because all attempts to build a roof over it have proved futile. They also claim that snow never falls or stays on the temple.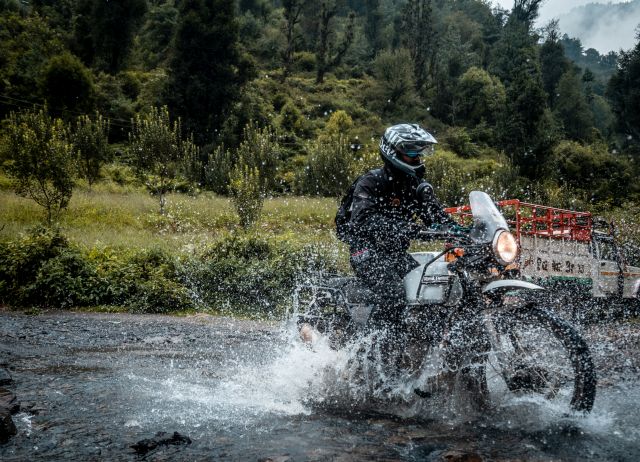 The route was thrilling, to say the least. We rode through tightly packed wet sand and a meadow before arriving at the forest reserve that led up to the temple. The forest floor turned out to be a slippery nightmare and our motorcycles struggled for grip as we climbed the hill. After reaching the top, some of us energetic (read "physically fit") folk hiked up almost 500 steps to the shrine to catch a glimpse of the famous temple.
After a brief lunch stop, we began the descent, made all the more arduous owing to steep and slippery slopes. While descending a slippery slope, I tried to lay off the brakes as much as possible and instead used the gears to slow down. Another important advice more experienced riders gave me was to use both brakes without locking either wheel unless I was comfortable with a sliding motorcycle. Perhaps, if the Himalayan were equipped with ABS, it might have induced me to tackle those slopes with greater confidence.