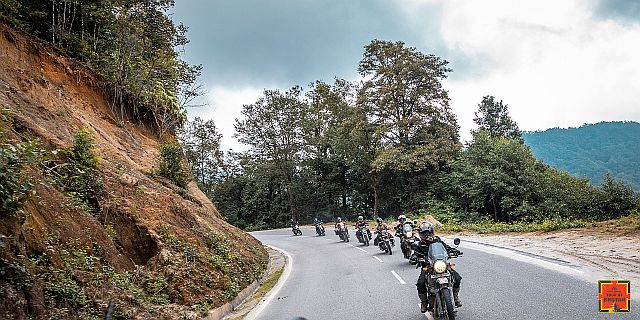 Phuentsholing–Paro–Haa Valley
The real start of our taste of Bhutan. While exiting Phuentsholing, we passed our first immigration check-post, one of the many situated around the country. After the necessary paperwork, we started once again towards the city of Paro. Heading up the mountain, we were greeted by thick clouds which dropped visibility down to almost zero. The pace was slow for quite a while and then, all of a sudden, we broke free and what stood in front of us was a road dropped from the heavens. Smooth tarmac and twisty roads winding their way across steep mountains of the country made us giggle like children at our first regroup point. This was just a taste of this country and it just got better and better. Arriving at Paro the entire group had smiles from ear to ear.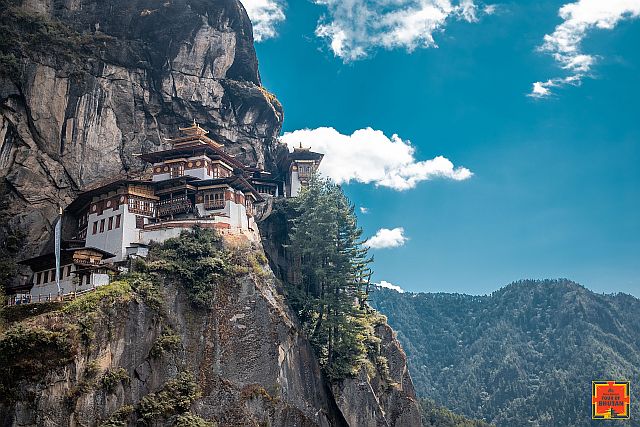 The morning in Paro started with not a ride but a trek to the famous Taktsang monastery, translated as "Tiger's Nest". It is quite a long trek and a must-do if you visit Bhutan. The trek took quite a few hours of the day and, after lunch and a shower, we were ready to ride again by late afternoon. Haa Valley was a short ride, too, but it took us past Chele La, a pass at an elevation of 13,084 feet. By the time we reached the top, the sun had already set and we had to ride towards the valley in complete darkness, down a very steep and narrow road. However, it was not scary but quite full of fun.
Haa Valley–Thimphu–Phobjikha–Punakha
We left Haa for Thimphu at the usual break-of-dawn time. Riding in formation, we rode in two separate groups as we entered the capital city of Bhutan, Thimphu, a bustling city with exorbitant real estate. Traffic rules are strictly enforced and roadways are well lit and have decent road signs. It was the place for our rest stop and we all spent the next day exploring the city and even getting in a nice live music event at night. A giant statue of Buddha built on a mountain overlooks the city and gives you a brilliant view of Thimphu below.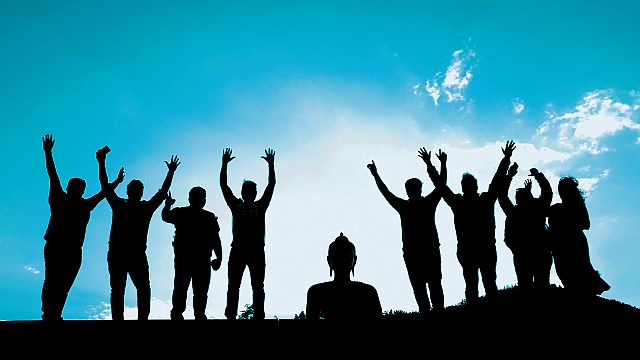 Next stop, Phobjukha. "Wow" describes this place best. Phobjikha is a protected reserve which is a migratory stop for the famous blackneck cranes that fly in from Tibet and listed among the endangered species. It was cold here. Real cold but arguably the most beautiful location I saw in Bhutan. It was unfortunate that we could spend only one night there. A short ride the next morning took us to Punakha. This is the old capital of Bhutan, famous for the Punakha Dzong, a fortress which is one of the oldest and largest fortresses in Bhutan. A must-see really.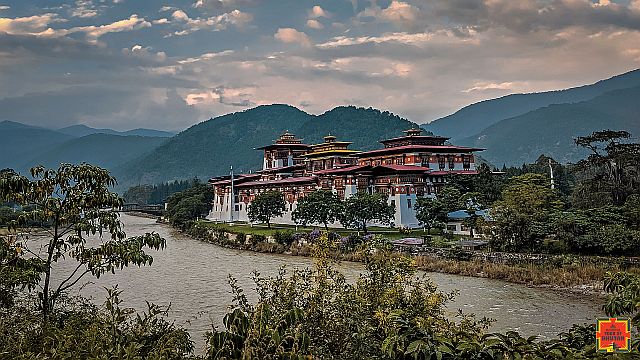 Punakha–Phuentsholing–Gangtok–Siliguri
Leaving Punakha, we headed back to the border town of Phuentsholing. This ride had an undertone of sadness for we all knew we were coming to the end of our exploration of this beautiful country. Arriving at Phuentsholing, it was time for an early dinner and some shut-eye.
Early the next day, we said goodbye to our Bhutanese team and rode back to good ol' India, where we were instantly greeted by the constant cheering of horns and scary road manners. Oh, well, we Indians may be nuts, but home is home and India is where the heart is. Our destination was Gangtok and it was the longest ride of the tour. It was a tiring one, too, especially the last bit of getting into the city of Gangtok. It is really crowded and the streets are too narrow.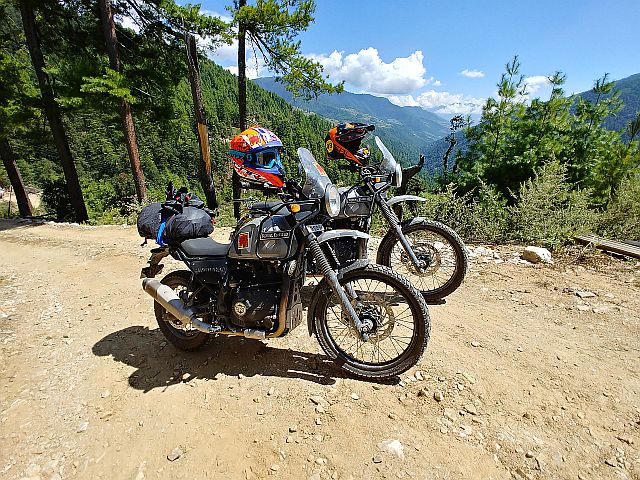 We left Gangtok at the break of dawn so as to avoid the traffic and headed back to our start point in Siliguri. There were hugs and high-fives all around as the Tour of Bhutan came to an end on a mixed note of elation and sadness. It was time for us all to get back to our day-to-day reality.
There are a few things I would like to mention here. The Royal Enfield team leaders, Aakash and Unnikrishnan, did a superb job in every way. They were very professional in their management of the event. They were strict when they needed to be for the well-being of all riders, but were mainly very friendly and made sure that no one ever felt left out. Rahim and Arun were the mechanical team and were unbelievably efficient throughout the trip. They dealt with a number of minor breakdowns and two or three major ones. On one occasion a heavily modified motorcycle with a load of after-market lights and, of course, altered wiring suffered short-circuit and went up in flames. Almost the whole wiring harness was replaced in about four hours.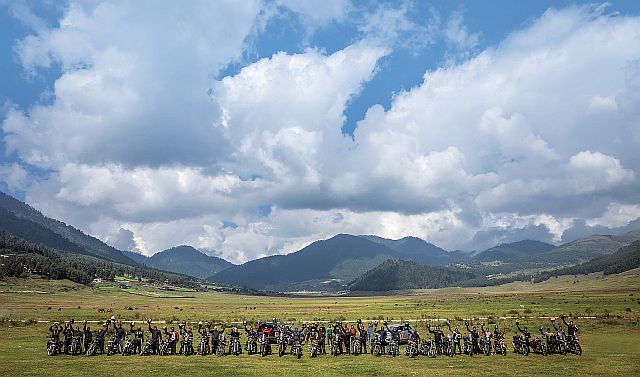 The Bhutanese and Indian teams who handled all our luggage and paperwork were superb, to say the least. Vibhor, the official photographer, captured these memories and made us all look quite good while doing it. The Bhutanese doctor was always available when needed.
Then there were the participants. These were people who chose to do this trip as their vacation. They were from all over India, some rode to Siliguri and some rode their bikes back home across the country. These people may not have been the fastest riders; some of them were doing a trip on a motorcycle for the first time, but every single person helped each other in every way, be it marking routes or staying to help with breakdowns until the support vehicle arrived. To them, I say that they are true motorcyclists and hats off to the lot, organisers and participants alike, who are now my friends.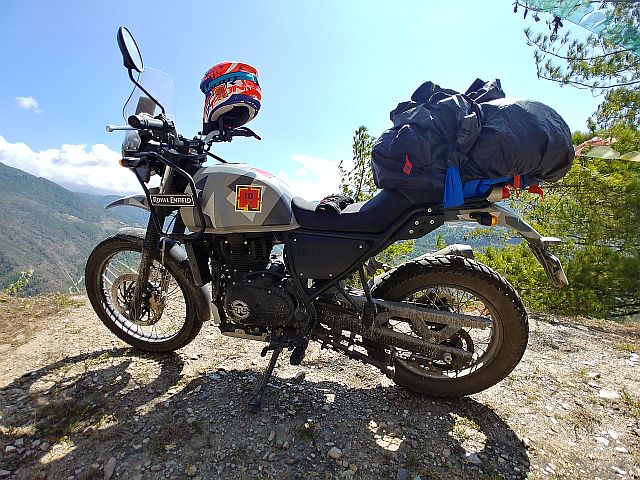 Last but not least, my main companion, an extension of myself, the one that shared every single inch of the road with me — the Royal Enfield Himalayan that I rode. I thoroughly enjoyed the ride and would be very glad if I had to do the trip on the same motorcycle again. In fact, I might go as far as saying that I may even pick the Himalayan as my preferred steed. This is a brilliant motorcycle with a no-nonsense attitude that imparts adventure to your soul and had me loving every moment I spent astride it. The Himalayan was not just a mode of transport for the trip, but one of the main reasons why the trip was so great.