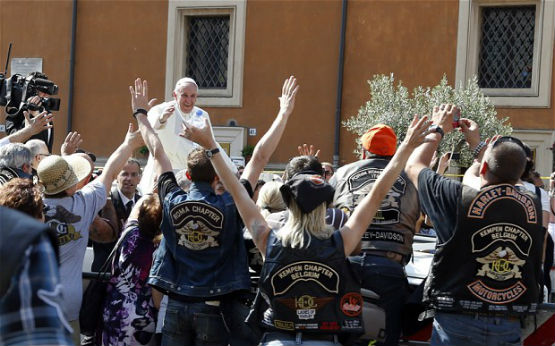 No, this is not a prank, the Pope does actually own not just one but four Harley Davidson hogs, two of which he now intends on auctioning off to raise funds for a soup kitchen and hostel for the homeless run by the Caritas charity located near Termini station in Rome.
The Pope came to acquire these fine automotive specimens after he blessed 35,000 odd Harley Riders in June at the Vatican, where they had ridden down to in celebration of Harley completing a 110 years of existence. Watch this short video of the Pope interacting with a leather clad biker at the Vatican:

There's another video of him addressing the massive throng of bikers gathered to seek his blessings
Harley gifted the Pope the four prized rides after this event as a gesture of appreciation, but sadly any hopes of seeing the Pope astride one of his massive cruisers, tearing up the streets of the holy city are all but dashed after he announced his intention of selling the bikes to raise funds. If you're still clinging to the idea that he might take a quick spin on one of the remaining two Harleys forget about it, as it is being reported that they will be donated to the Vatican Police.
So if you happen to be in Rome, and have always wished to own a wicked Harley, but with a proverbial halo around it's head,and resplendent in a godly aura, you can actually make that dream come true!
Picture Courtesy: Reuters
Story: Harket Suchde